Arundhati Roy: The Ministry of Utmost Happiness review - brilliant fragments of divided India |

reviews, news & interviews
Arundhati Roy: The Ministry of Utmost Happiness review - brilliant fragments of divided India
Arundhati Roy: The Ministry of Utmost Happiness review - brilliant fragments of divided India
A novel of love and war in a shattering time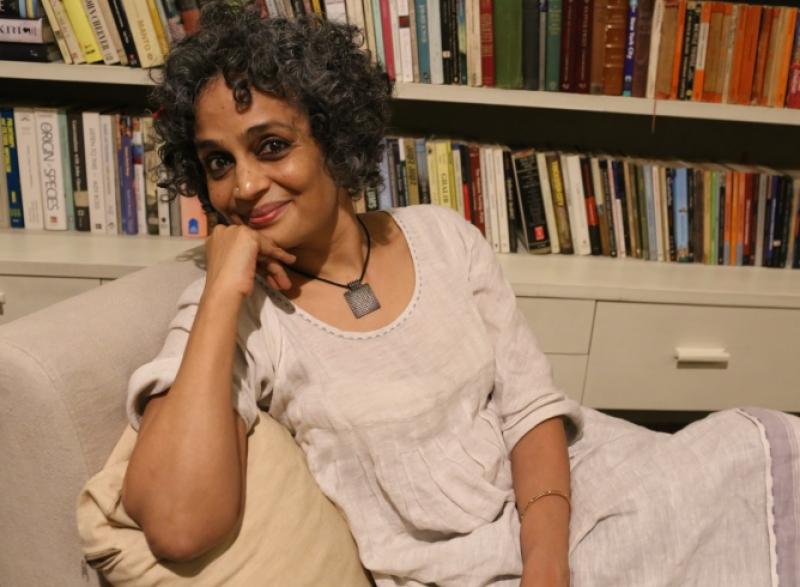 Arundhati Roy: a nation in pieces
Just as in the United States, the quest among Indian authors in English to deliver the single, knock-out novel that would capture their country's infinite variety has long been the stuff of parody.
More than two decades ago, the writer-
politician
Shashi Tharoor published
The Great Indian Novel
. Both a smart historical satire, and a pastiche of the ancient epics, his witty effort mocked all claims to final authority in fiction – even as it coyly tried them on for size.
Two decades after her debut enchanted the reading world, Arundhati Roy now stands in the intimidating shade of "Great Indian Novel" expectations. The years between have seen her blossom as a thorny, courageous outlier in India's cultural and political landscape: an activist, a polemicist, a one-woman awkward squad. Allies, and enemies, will therefore look forward to a humdinger state-of-the nation novel, fairy-lights flashing and horns tootling like the illuminated trucks and buses that scarily speed past you on Indian highways at night.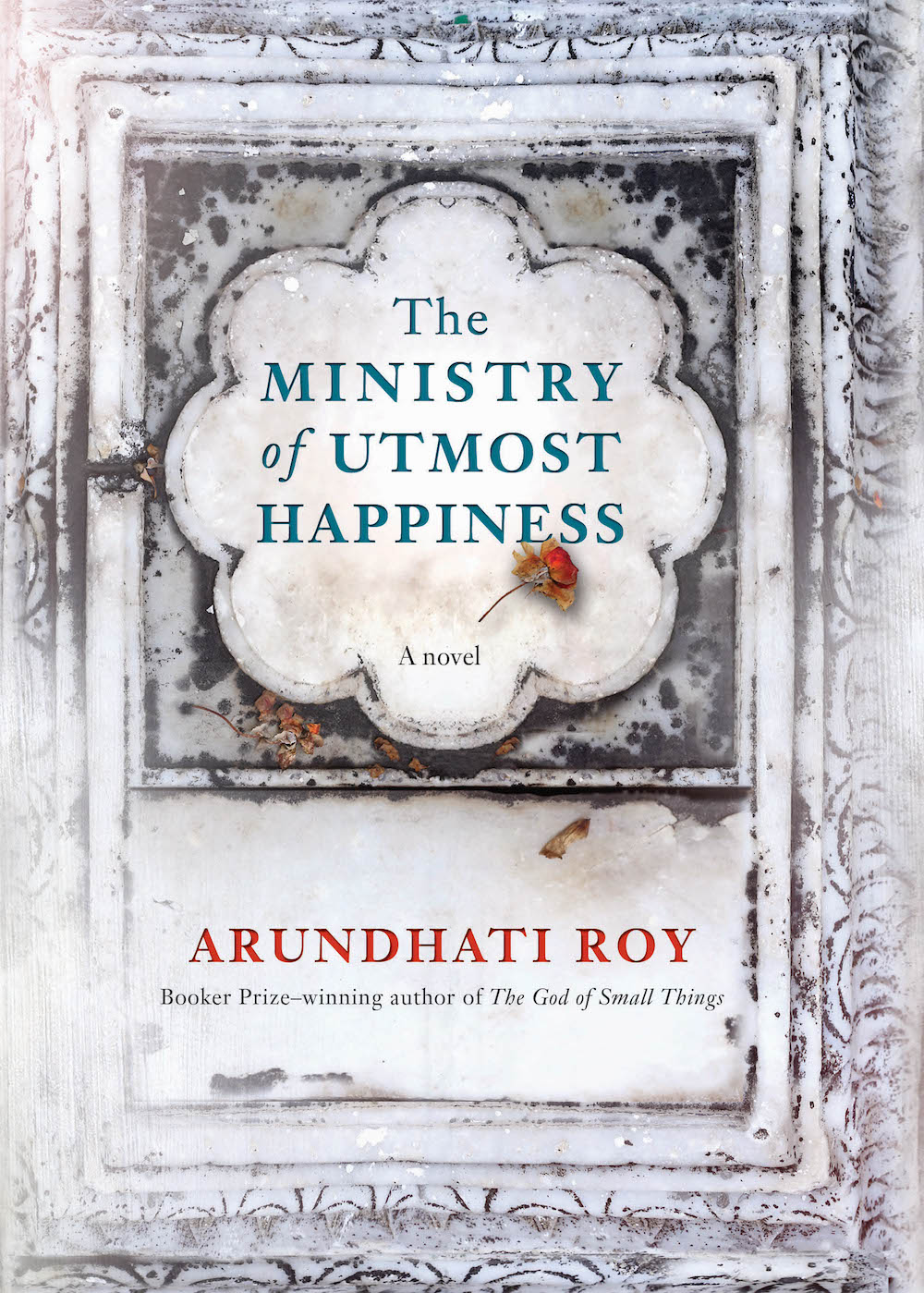 Well, The Ministry of Utmost Happiness goes to many places you would expect such a vehicle to visit – from the bloody insurgency in Kashmir to the ascent of Hindu nationalism and the unending urban "war of the rich against the poor". But it breaks up the subcontinental jigsaw into fragments of a "shattered story", then defies us to piece it together in a better, more humane way than the men of power have ever done. Immune to systems and ideologies, the novel ultimately finds grace only at the micro-level intimacy of a mother – who may not even be genetically female, let alone a biological parent – caring for a child. The gods, if they still dwell among us, really do live in small things.
Riskily, Roy begins on the teeming streets of Old Delhi with the hijra community of transgender people who have for so many centuries brightened – and irritated – mainstream Indian life. This could backfire, as well-meaning pluralists tend to hi-jack the hijras as a pet cause. Roy's scenes of warm-hearted, sharp-tongued street people whose solidarity overcomes divisions of gender, caste, class and creed can veer close to sentimentality. As Anjum, our resourceful hijra heroine, nurtures her graveyard community of mavericks and runaways, the dancing, nimble prose mostly keeps that danger at bay. Roy does make clear that her tale stands on the side of folk who cross the lines, just as their patron saint did: Hazrat Sarmad Shaheed, first an Armenian Jew, later a heretical Muslim mystic, always a prophet of borderless humanity. Ominously, in the background the "saffron tide" of sectarian "Hindutva" politics flows towards power. Supporters of Prime Minister Narendra Modi – sprinkled with disobliging epithets by Roy, but never named – will not like this book. But they already know her mischief-making ways.
Anjum and her graveyard fellowship depart – too abruptly, perhaps – only to return in the final act. Before we reach Kashmir, the plot explores the anti-corruption protests around Delhi's Jantar Mantar observatory, in which Roy took part. An abandoned baby, whose fate will knit much of the later action, turns up among the protestors. Here, Roy directs her gift for burlesque, even farce, at comrades as much as foes. Both here and in Kashmir, the righteous campaigners stumble into folly, pretension and hypocrisy. Roy twists the skewers with aplomb, and makes merry with the bourgeois "common people" and the narcissistic fasters-unto-death.
Only after 140 pages does the Kashmiri connection come to the fore. These shifts of shape and focus will make some readers think that The Ministry of Utmost Happiness has captured the fissiparous tumult of India today a shade too well. A raucous, polyphonic meander through post-modern Delhi narrows and sharpens into a war story, and a love story, with a broad political canvas but a tight emotional core. In the restive highlands, a shared past and present binds four former student chums. The mysterious hub of this quartet is the caste-crossing South Indian artist-activist Tilo, a solitary "paper boat on a boisterous sea" whose family background in some respects matches Roy's own. She marries the journalist Naga, a compromised, turncoat insider in Kashmir, but never lets go of her attachment to the romantic militant Musa and his dangerous liaisons with the separatist struggle. Much of this back-story reaches us through the fluent, but evasive, voice of the fourth student pal: the suave Indian government agent known as "Garson Hobart", both a devotee of the mercurial Tilo and, we grasp, her nemesis.
Around the adventures of this foursome, Kashmir writhes in its tit-for-tat agony of repression, resistance and reprisal. A sub-plot shows the many faces of Major Amrik Singh, "daredevil officer" and torturer-in-chief but also – once transplanted to the US – a brave victim of Islamist extremism. A Himalayan fog of war shrouds every deed and motive. Always a supreme mimic, Roy embeds this fractured reality in her multiple voices, from the ruling-class urbanity of "Hobart" to children's fables, gravestone inscriptions and official communiques. An entry in Tilo's notebooks laments that "It's not sophisticated, what happens here. There's too much blood for good literature." Roy dextrously refuses the false unities of "good literature", at the occasional cost of leaving her readers – like her characters – adrift on a lake of perplexity. When Musa and "Hobart" (really, Biplab Dasgupta) meet again, the old frenemies wonder whether "Kashmir will make India self-destruct". Audaciously – probably too much so, for those who seek a firmer guiding hand – Roy implants these tremors and breakdowns into the stylistic fabric of her book.
Back in Delhi, our outsider heroines – gender-mingling Anjum, caste-mingling Tilo – meet. An almost-happy ending looms, with an adopted baby as its engine. Roy can relax and turn her satirist's fire on the yawning inequities of Modi-era India, with its official cult of "Cleanliness, Purity and Sacrifice for the Nation" and its social chasms symbolised by the Delhi freeway flyovers on which twenty lanes of cars whizz past "towers of steel and glass", while underneath seethes the "unpaved, unlined, unlit, unregulated, wild and dangerous" city of the destitute.
At the finale, Roy's cosy, almost Dickensian, community of outcasts lets us share Anjum's "sense of contentment and accomplishment". The sacred kindness of small things keeps chaos at bay. Kashmir, however, still convulses in its pain, while the forces of division march on and "one kind of world flew over another kind of world without troubling to stop and ask the time of day". That "Great Indian Novel" recedes again behind the smoggy horizon. In the meantime, we can enjoy this always bold, sometimes brilliant, story of lives shattered by power and mended by love.
The Ministry of Utmost Happiness by Arundhati Roy (Hamish Hamilton, £18.99)