Waste Age, Design Museum review - too little too lame |

reviews, news & interviews
Waste Age, Design Museum review - too little too lame
Waste Age, Design Museum review - too little too lame
How to create a false sense of security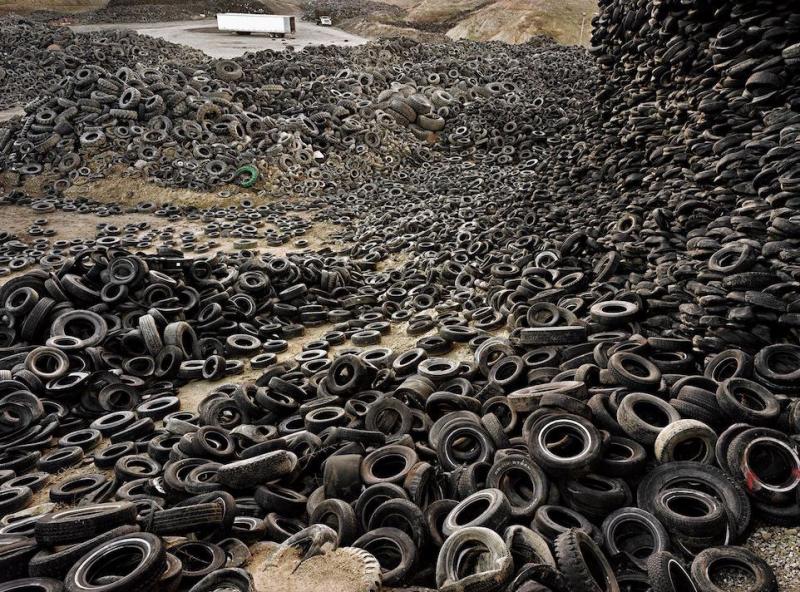 Oxford Tire Pile , Westley, California, USA, 1999 by Edward Burtynsky,
I should have emerged from the Design Museum sizzling with furious determination to help solve the world's rubbish crisis. Trashing the planet is, after all, the most important issue of our time and Waste Age details the enormity of the problem.
The globe is choking In garbage. Sixty-eight million wet wipes are thrown away each year in Europe alone, and, during the pandemic in the UK, 194 billion masks and gloves are chucked away each month. Some rubbish gets recycled, some gets burned but most ends up in landfill or in the sea. A garbage truck of plastic, for instance, is dumped in the ocean every minute. We often get rid of unwanted stuff by sending it abroad and making it someone else's problem. The Trash Track project in Seattle monitored the whereabouts of the city's rubbish and discovered that junk travelled an average of 4,158 miles, often ending up in Asia.
Horrendous statistics like these are already familiar, though; we've read them in the papers and seen them in films and on TV. Simply repeating them is not enough. If the exhibition is to have any impact at all, it needs to make the epic scale of the problem tangible and immediate. We need to have our noses rubbed in the ghastly mess we've created.
Ed Burtynsky's photographs of a tyre dump in California (main picture) and a mountain of plastic waste in Nairobi illustrate the point (pictured below: An e-waste sorting and recycling facility, Belgium by Recupel), but where's the actual rubbish? Hardly a speck is in sight beyond a string of bottle tops collected on Cornish beaches, which is rather decorative. Why not make visitors wade through a sea of plastic to reach the show? The curators would doubtless howl "health and safety" at the very idea; it seems there's no one on the team with any imagination.
Why not commission David Mach to install one of his monumental tyre sculptures or Tim Noble and Sue Webster to construct one of their exquisite self-portraits made from rubbish? One of the aims of the show is to encourage us to think of rubbish as potential rather than waste, a source of valuable raw materials. And there could be no better demonstration of the creative use of garbage than the work of these artists.
The seeds of our troubles were sewn in the 1930s with the concept of planned obsolescence. To ensure a steady demand for new goods, products were designed to wear out prematurely. Advertisers, meanwhile, convinced us that happiness lay in acquiring the next desirable thing and the scene was set for an endless cycle of shopping. We became consumers rather than citizens, longing for the latest model. The result? Eighty per cent of products are thrown away in the first six months of their life and 25 million tons of cotton and viscose go to landfill every year.
A throw-away society might be manageable if everything were biodegradable, but along came plastic. Invented by Alexander Parkes, Parkesine was launched in London at the International Exhibition of 1862 and some 70 years later polyethylene, nylon and polystyrene were produced. Renowned for being indestructible as well as strong, attractive and versatile, plastics have proved incredibly useful which is why 160,000 carrier bags roll off the presses every second. They are indestructible, though, which is why a flood of used plastic is engulfing the world.

We are encouraged to believe we are helping the environment by refusing plastic straws and recycling plastic packaging; but even Boris Johnson accepts that this is nonsense. Its the equivalent of trying to mop up a tsunami with a sponge. No amount of recycling could cope with the mountain of stuff pouring off the production lines.
So what's to be done? The exhibition has the answer: "Precious Waste", according to which rubbish is regarded as a vital resource, materials are recycled and new products are made from old in a circular system that doesn't rely on relentlessly plundering the earth's resources.
And forward thinking designers are showing the way. Using chemical recycling that allows new fabrics to be made from old, Stella McCartney has produced an "infinite hoody". Charlotte McCurdy and Phillip Lim have made a dress from plant-based fabrics covered in algae sequins (pictured above right) and faux leather is being made from bacteria grown in waste coconut water. Fed up with the fishing nets and plastics polluting their beaches, the government of the Maldives commissioned Adidas in 2017 to turn the flotsam into trainers.
Construction is even more wasteful than fashion. If builders don't change their ways, by 2025, 2.2 billion tonnes of construction waste will be dumped on the world. Alternatives are appearing, though, in the form of bricks made from demolition waste, tiles from recycled glass, sound insulation from textile offcuts, stone slabs from sea shells and "wood" veneer from corn husks (pictured above left). Oddly there's no mention of hempcrete, a hemp and lime alternative to concrete, which is another major pollutant.
And what about those plastics? Sony is packaging headsets in cartons made from bamboo, paper and sugar cane; at Oxford University chemists have spent ten years researching the production of polymers from orange peel, sugar and carbon dioxide and, in London, Rodrigo Garcia Gonzalez has developed Notpla, packaging made from seaweed, and Ooho, an edible container for water.
These are promising initiatives, but the presentation is so dull that it inspires little enthusiasm. And they're a drop in the ocean. Unless such products become mainstream there isn't a hope in hell of transforming the way industry works. And this requires legislation; until producing plastic from oil is outlawed, start-ups like Notpla will remain little more than nice ideas. Boris berates Coca-Cola for making 100 billion plastic bottles a year, yet makes no attempt to do anything about it.
This is where the exhibition also fails. Waste Age gives the impression that we can design our way out of the problem, when a massive shift in attitudes is needed along with some serious legislation. Until we stop defining ourselves primarily by what we own and curb our addiction to retail, nothing will change.
Change is already afoot and, to be fair, the exhibition does include initiatives such as Ifixit, an online site that provides manuals, spare parts and tools for repairing defunct electronics. "If you can't fix it, you don't own it", reads their manifesto. Repair cafes and parties are springing up all over the place. "In a disposable society to repair is to rebel" reads a placard at a demo, and France now requires companies to give information on the repairability of products from laptops to lawn mowers.
Some companies already factor in the demand. Fairphone makes mobiles that can be repaired and upgraded and Framework's laptops can be repaired, upgraded and customised while their DIY edition comes as a kit that you assemble and customise yourself.
Attitudes are changing, then, but time is running out. They say the oceans will soon have more plastic in them than fish, but there's no sense of urgency at the Design Museum. So I came away angry at being seduced into thinking everything will be fine – the designers will fix it – instead of being fired up actually to do something. The best thing about Waste Age is its title; the basic premise is a sham.
Waste Age is at the Design Museum until 20th February 2022
I came away angry at being seduced into thinking everything will be fine – the designers will fix it – instead of being fired up actually to do something
rating
Buy
Explore topics
Share this article