Marina Abramović, Royal Academy review - young performers stand in for the absent artist |

reviews, news & interviews
Marina Abramović, Royal Academy review - young performers stand in for the absent artist
Marina Abramović, Royal Academy review - young performers stand in for the absent artist
This pioneer of performance art is the first woman to show in the main galleries
Saturday, 23 September 2023
'Nude with Skeleton', 2005 by Marina Abramović
One of the most cherished memories of my 40 plus years as an art critic is of easing my way between Marina Abramović and her partner Ulay. They were standing either side of a doorway at Documenta in Kassel, Germany, leaving just enough room for people to squeeze through, trying not to touch their naked bodies.
That was in 1977; Imponderabilia (pictured below right) is now being performed again at the Royal Academy by young artists trained for the purpose by Abramovic. For me, this induces a strong sense of déja vu; and although the feeling may be inevitable in a retrospective, it's especially strong when the artist's main focus is on live performance.
Tracey Emin once said "My work won't be half so good when I'm gone." This is even more true of Abramović, since she often put herself in harm's way by making herself extremely vulnerable or testing the limits of her endurance.
In Rhythm 0 1974, for instance, she invited the audience to use any of the items laid out on a table to do whatever they liked to her. "I am the object," she stated. "During this period I take full responsibility." And since the tools included knives, an axe, a saw, chains, razor blades and a gun and bullets, the risks were considerable. The performance ended, in fact, when people intervened to stop a man pulling the trigger while holding the loaded gun to her head.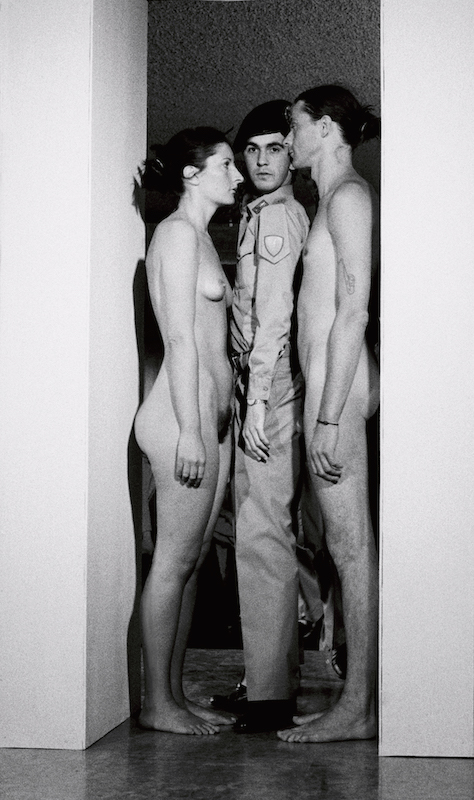 Not surprisingly, the RA is not revisiting this one. Instead, we have to make do with the table, to which the gun is securely fastened, and a single black and white photograph. What's missing, of course, is Abramović herself.
The first gallery is devoted to The Artist is Present a performance that took place during her 2010 retrospective at New York's Museum of Modern Art (Moma) in which Abramović sat for 8 hours a day gazing into the eyes of one stranger after another. The event became so popular that 1,500 people queued for many hours to sit opposite her.
The RA is not able to offer a similar draw since, in May, Abramović underwent numerous operations during which she nearly died, and performing live is not currently on her agenda. The Artist is Absent would be an appropriate title for this retrospective, which is especially sad since it's the first time a woman has been allowed to occupy the main galleries. By and large, though, the work is so strong that even her black and white photographs and videos make a huge impact.
Filled with guttural howling, the main gallery sounds like a torture chamber. Dominating the space are large screens featuring some of the amazingly innovative performances she made with Ulay. Sitting opposite one another, they take it in turns to yell into each other's face or slap one another's cheek with increasing speed and force. Joined mouth to mouth, they inhale one another's breath until lack of oxygen makes either one pass out. Ulay aims a bolt at her chest while she leans back, hanging onto the stretching crossbow; one false move and she's dead.
The next gallery is devoted to a walk the couple made in 1988 along the Great Wall of China. Starting from different ends, they planned to marry when they met in the middle (pictured below), but 12 years of performing together had taken its toll on their relationship. And, instead, they split up and their incredibly productive partnership came to an end.
It took Abramović some seven years to find her way again. The furniture-like Transitory Objects she began designing in the late 1980s don't encourage the interaction she hoped for since they are cold, hard and uncomfortable. But in 1995, she began partnering with skeletons; death became her metaphorical companion and her work began, once more, to zing with relevance.
Most compelling is Nude with Skeleton 2005 (main picture), a video reprise of the traditional subject of Death and the Maiden. The artist lies naked beneath a skeleton that is activated by the depth of her breathing. Both moving and spooky, the performance, which is also being recreated at the RA, acknowledges the bones beneath the flesh and thereby embraces the inevitability of death.
In Stromboli, 2002 she lies on the sand like a drowned body gradually being reclaimed by the incoming tide. Similarly powerful is The Current 2017 (pictured below), in which she lies on a raised platform silhouetted against a stormy sky. Nothing moves except the clouds and her wind-blown hair. Time seems to stand still; it's as if she were a corpse waiting for the vultures to pick her bones clean.
As a child the artist lived with her grandmother, a devout Christian whose uncle was the patriarch of the Orthodox Church in the former Yugoslavia and was revered as a saint. And Abramović seems keen to follow in her ancestor's footsteps. She has described her performance at Moma as akin to a religious experience. "For a while," she said, "Moma was like Lourdes."
But even before people's overwhelming response to The Artist is Present, she had begun to see herself as some kind of religious figure and to identify with St Theresa. In The Levitation of St Therese 2009, the artist hovers above a kitchen worktop as though weightless, arms outstretched in the shape of the cross, as though she were a Christian martyr. The fact that her image is so obviously superimposed on the background makes this phoney levitation and its implications frankly embarrassing.
On the other hand, nothing can take away from the beauty of some of the later work and the importance of those pioneering, early performances. Seeing her and Ulay sitting back to back, their hair tied together in a single knot so they can't escape from one another's company is another enduring memory. As a metaphor for the delights and limitations of a close relationship, it is unsurpassed.
Filled with guttural howling, the main gallery sounds like a torture chamber
rating
Explore topics
Share this article