Top Boy, Season 5, Netflix review - grime and punishment |

reviews, news & interviews
Top Boy, Season 5, Netflix review - grime and punishment
Top Boy, Season 5, Netflix review - grime and punishment
Ronan Bennett's Hackney crime epic reaches a fiery conclusion
Saturday, 16 September 2023
Ashley Walters as Dushane, Simbiatu Ajikawo as Shelley
And so Ronan Bennett's Hackney gangster odyssey reaches its conclusion, having made the leap from its Channel 4 origins back in 2011 to become, over its last three series, one of Netflix's top-rating and most acclaimed shows. And it has managed to do it without diluting or compromising its London roots, despite detours to Jamaica, Spain, Morocco and even Ramsgate.
The message was always bleak, and throughout these last six episodes the song remains the same. Right back in the first series, Dushane (Ashley Walters), setting out on his tortuous drug-dealing path, declared that "I haven't anything to be but this". The destiny that put him on a career ladder into ever-deeper darkness for ever-greater stakes eventually delivered the only conclusion possible. The end was contained in the beginning.
An extra twist of sordid amorality is added this time around by the arrival of the unpleasant McGee gang, fronted by the bumptious Jonny (Barry Keoghan, a long-standing Top Boy fan). They're an Irish family of racketeers and extortionists who've discovered that running a chain of carehomes for the elderly is a richly rewarding scam. They've also decided they want to help themselves to half of Sully's drugs business, with consequences which aren't too difficult to foresee (pictured below, Kane Robinson as Sully).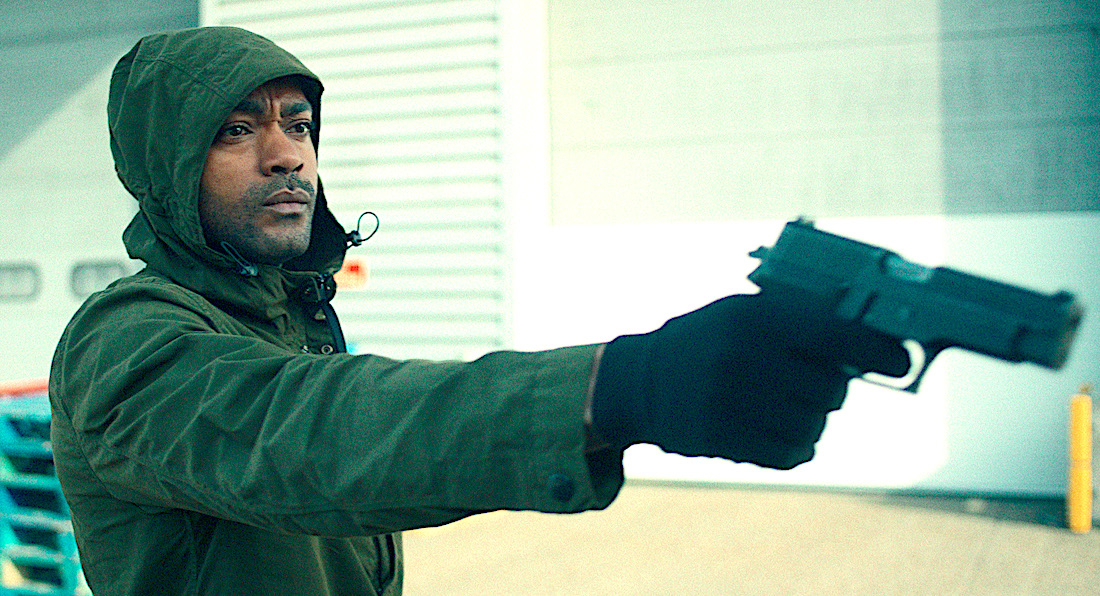 That so demoralising a saga could keep you gripped right up to the final frames is a credit to Bennett's writing, the efforts of a cast who have inhabited their roles so fully that you could never see the join, and a production that didn't miss a trick in its depiction of street-level grime. And not forgetting Brian Eno's reliably eerie and unsettling electronic score, or indeed Netflix's on-screen captioning which helpfully renders gangsta patois into text. The east London locations have the world-weary familiarity of a grease-spattered old overcoat as the downtrodden citizenry go about their drab daily chores, while Dushane and his compadres speed around town in top-of-the-range Maseratis, Audis and Range Rovers, as though existing in a parallel dimension.
It is by no means always the case that crime doesn't pay, but these concluding six episodes lay out a number of ways in which it doesn't. Jaq (Jasmine Jobson) is forced to confront the drug-induced fate of her sister Lauryn (Saffron Hocking), which forces her to reassess her career choice as a drug dealer. Her existential crisis wrings exactly zero empathy out of Sully, who is firmly of the opinion that junkies are responsible for whatever happens to them because they choose to buy drugs. We get another spin on this from the grim little side-plot about a middle-aged woman – although maybe she just looks middle-aged – pushing her tearful, filthy baby around in its pram while she frantically searches for her next hit. It would make a powerful cautionary tool for the Department of Health and Social Care.
A key Top Boy theme has always been the way that social deprivation keeps trickling downwards through the generations, and how the crimes of the fathers are visited on their sons (and daughters), though there may be a little glimmer of hope in the story of Stef (Araloyin Oshunremi). Rocked by the murder of his brother Jamie, Stef rehearses his vengeance by practising with his lovingly-cleaned .45 automatic pistol, but ultimately gets a glimpse of a better path. This is, no doubt, thanks to the influence of his girlfriend Erin, played with sunny optimism by Savanah Graham (pictured above with Oshunremi).
There's some sound financial advice too, which could be summarised as "don't entrust your life savings to a shady backroom accountant called Lithe". Obviously Dushane couldn't dump his ill-gotten cash into a Santander Easy Access Saver account, but he might have seen this one coming. It's his cashflow crisis which prompts the show's apocalyptic closing scenes, in which the Summerhouse estate goes up in flames as the book is finally closed on Dushane and Sully's long-running anti-bromance.
Top Boy is frequently compared to David Simon's Baltimore crime drama The Wire, but I also keep thinking of the star-crossed relationship between Gennaro and Ciro in Sky Atlantic's Gomorrah. Time for a retrospective Gomorrah binge, perhaps...