Slow Horses, Series 2, Apple TV+ review - Mick Herron's spies make a welcome return |

reviews, news & interviews
Slow Horses, Series 2, Apple TV+ review - Mick Herron's spies make a welcome return
Slow Horses, Series 2, Apple TV+ review - Mick Herron's spies make a welcome return
The losers of Slough House are as winning as ever
Gary Oldman as the 'monstrously flatulent' Jackson Lamb
Apple TV+ is using the arrival of season two of Slow Horses to offer a generous three-month free trial to its streamer service. Ample time to catch up with season one and watch it multiple times before all of season two is available at the end of December. Go for it.
Mick Herron is now preparing the ninth Slough House novel for publication in 2023 (there have also been three related novellas in the sequence), while the TV series is just embarking on volume two, Dead Lions. Predictably, the literary critical backlash has already begun: the books are formulaic, the magic doesn't last, etc. Maybe so, but to devotees of both books and dramatisation they are still uniquely pleasurable.
That's largely down to the indelible characters Herron has created, led by the monstrously flatulent Jackson Lamb. He's the gangmaster of the bunch of shop-worn spies known as "slow horses" who have been sent to the career graveyard of Slough House, a squalid building near London's Barbican Centre. I wasn't convinced that Gary Oldman's greasy slob would be quite upper crust enough for Lamb – whom I envisioned after reading the books as more fallen angel than sarf London thug – but Oldman has inhabited the role so thoroughly, down to the last fart, that it's hard to imagine another actor playing it. (He has revealed in an interview he will be making at least two more series.)
And as a counterbalance to the snotty toffs at HQ, "the Park", led by Kristin Scott Thomas's Diana Taverner, he is key: Lamb is a sneaky, quick-witted maverick, bless him, as well as being as ruthless as Taverner. Shining through the unwiped glasses under a curtain of lank hair are the alert eyes of a predator that miss nothing. His charges regularly strive to prove they are as good as he is at spycraft; mostly they fail. In series two Lamb is less permanently parked at his filthy desk, chain-smoking and necking scotch as he barks out instructions and reprimands. For a display of his innate sleuthing skills, check out the sequence in episode one where he dons a bucket hat and masquerades as a dead man's brother to search for vital evidence.
Lamb is also the source of most of the series' salutary humour, with a trusty collection of stinging one-liners. A priceless exchange in episode one has him meeting Taverner on a park bench, which she is disgruntled about in case her expensive coat gets marks on it and has to be cleaned. "You can get coats cleaned?" Lamb zaps back in mock amazement, playing on what he knows is her low opinion of him and unsettling her with his teasing. Some of Lamb's zingers are now being recycled by the slow horses, who pull each other up for it.
Most driven to succeed is the slow horse Lamb chastises the most, River Cartwright (Jack Lowden), maybe because Lamb has an unpleasant shared history with River's grandfather, once a senior MI5 man; played by Jonathan Pryce with a hidden core of steel, is he River's greatest asset, or the opposite? Lowden is effortlessly terrific as River, an exasperated Bourne who has run into a dead end but still has the legs and ambition to run elsewhere. A great moment in episode one comes when he is being interviewed for an upscale security job and realises the interviewers are only interested in him because he works for Lamb and they want to know more... about Lamb. The look of pained despondency on Lowden's face would be sad if it weren't so funny.
New to Slough House this season is Aimee-Ffion Edwards as the aptly named Shirley Dander, whose very surname suggests both a temper and less than perfect personal hygiene. A tomboyish young woman, she's obliged to share an office with the dire IT whizz Roddy Ho (pitch-perfect Christopher Chung, pictured below with Edwards), who still has the self-esteem of a rutting stag and the personal warmth of a venomous snake but somehow always manages to be a ludicrous worm. There's also newbie Marcus (Kadiff Kirwan), who sits in solitary silence.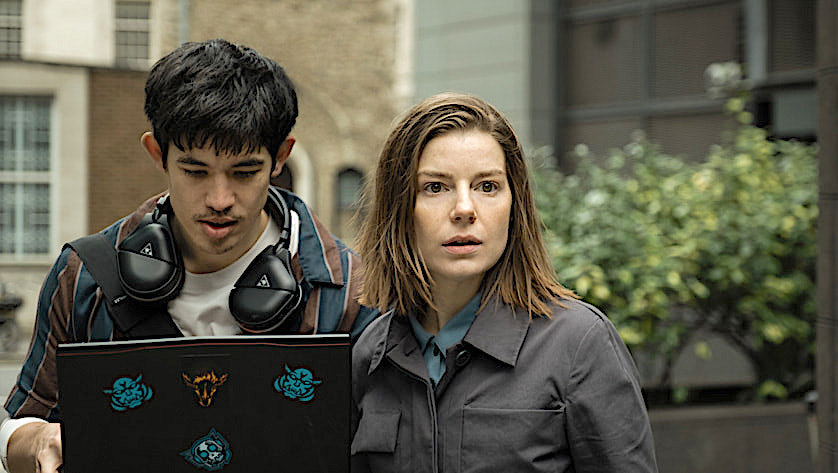 Meanwhile, Min (Dustin Demri-Burns) and Louisa (Rosalind Eleazar) have become an item; and Catherine Standish (the brilliantly cast Saskia Reeves) is still the unlikely mother hen of Slough House, counting out her existence in unwashed coffee cups and apparently unaware of Lamb's part in the death of her MI5 boss/lover, revealed in series one, which drove her to alcohol. She's a character who feels like she's strayed in from the world of le Carré.
The new series, in addition to this faultless cast, has great set pieces, the usual snitty dialogue and an initially simple storyline – Dickie Bow, a former spy turned porn shop manager (the peerless Phil Davies), goes in pursuit of a Russian sleeper spy and triggers a whole new mess – so it won't disappoint as a well executed spy drama.
National security is hardly the big issue here, though. More important will be how well Lamb and co deal with the Park suits, epitomised by Freddie Fox's slimy James "Spider" Webb, thorn in River's side and this season in Min and Luisa's too. Le Carré's characters similarly have enemies other than the Soviets: some, private demons; others, rivalries begun on the playing fields of Eton and Oxford. Herron's mob are more plate-glass, struggling for their jobs against political intrigue and vested interests; 21st century social underdogs, not just career misfits with insufficient resources. The Russians, when they turn up, are like exotic flowers in a scruffy patch of wild meadow.
In the Park vs Slough House mini-battle, it's clear which side Herron is intrigued by. And it's hard not to see the slow horses as his version of contemporary Britons, innately capable and plucky and trying to make the best of it in a moribund culture they can't control. He's more a modern Dickens than the new le Carré.