David Crosby: Remember My Name, Sky Arts review - a rock icon looks in the mirror |

reviews, news & interviews
David Crosby: Remember My Name, Sky Arts review - a rock icon looks in the mirror
David Crosby: Remember My Name, Sky Arts review - a rock icon looks in the mirror
America's town crier - still singing out
Crosby, proving he's worth a shit
Rock documentaries are so often disappointing, the result less a portrait than a whitewash.
A J Eaton's 90-minute rock doc
David Crosby: Remember My Name
, which premiered on
Sky Arts
, was an unflinching close-up, utterly absorbing and all the more affecting for its searing honesty in showing a man who's gone through the fire and is willing to show the burns. That he was the arsonist only adds to the power of the story and to the viewer's sympathy for the man at its heart, though sympathy is probably not what he wants.
Croz has been part of two of the 20th century's most distinctive bands: The Byrds, from which he was fired, and Crosby, Stills & Nash/Crosby, Stills, Nash & Young, a dysfunctional family which would get together with the best of intentions and then have a massive row over the dessert. The sounds they produced were magnificent, all tight-knit harmonies and bright-shiny acoustic guitars, and songs which will live on long after we have all become stardust: "Teach Your Children", "Helpless", "Ohio" and "Marrakesh Express" among them (pictured below, Crosby, far left, with The Byrds).
At the outset, Crosby volunteers that he has "huge regret about the time I wasted being smashed", a lifestyle that's led to two heart attacks, eight stents, a liver transplant and diabetes. "But I'm happy", even though he's afraid of death and reckons he has only a couple more years. His wife worries that each time she waves him off on tour she may not see him again: "When the light does go out, I hope it's when he's singing" she says, her eyes full of tears. He tours because it's what fulfils him, though he also needs to pay the grocery bills.

An Angeleno, born to an award-winning cinematographer who was "a crusty old man" and a mum who was "really good at loving", he was given a guitar and turned on to fifties jazz by his brother. His mother took him to symphony concerts in the park and played Josh White records – he remembers hearing him sing "Strange Fruit" and her crying as she explained the lyrics. Young David fell in love with the Everly Brothers to whose close harmonies he added a third part. He was "a chubby kid, not popular, not good at sport, thrown out of schools, wanting attention".

And he found it with The Byrds. The band hung out with The Beatles, Croz "learning how to be a rock star", growing his hair, "becoming a character". Bob Dylan came to pay court and their electric version of "Mr Tambourine Man" sent him scurrying off to put together a band. At Monterey, Croz talked from the stage about his JFK assassination theories and shortly thereafter manager Chris Hillman fired him in the driveway of his Laurel Canyon home. "I was a difficult cat, big ego, no brains. Goofy," he reflected.

He found peace, and himself, aboard a wooden schooner, bought with $25,000 loaned by Monkee Peter Tork. Mayan provided solace and inspiration, a life that was "totally real". Later he met a young singer-songwriter named Joni Mitchell. CSNY was born in her kitchen – Croz drives by the house, where Young auditioned in the yard. Falling in love with her was like "falling into a cement mixer". He opened doors for her but she only grumbled, dumping him publicly with "a fuck-you and goodbye song" which she sang not once but twice at a dinner party. Croz acknowledged that Graham Nash, whom she dumped in much the same way, was "better for her" (pictured below, Young, Crosby, Stills and Nash).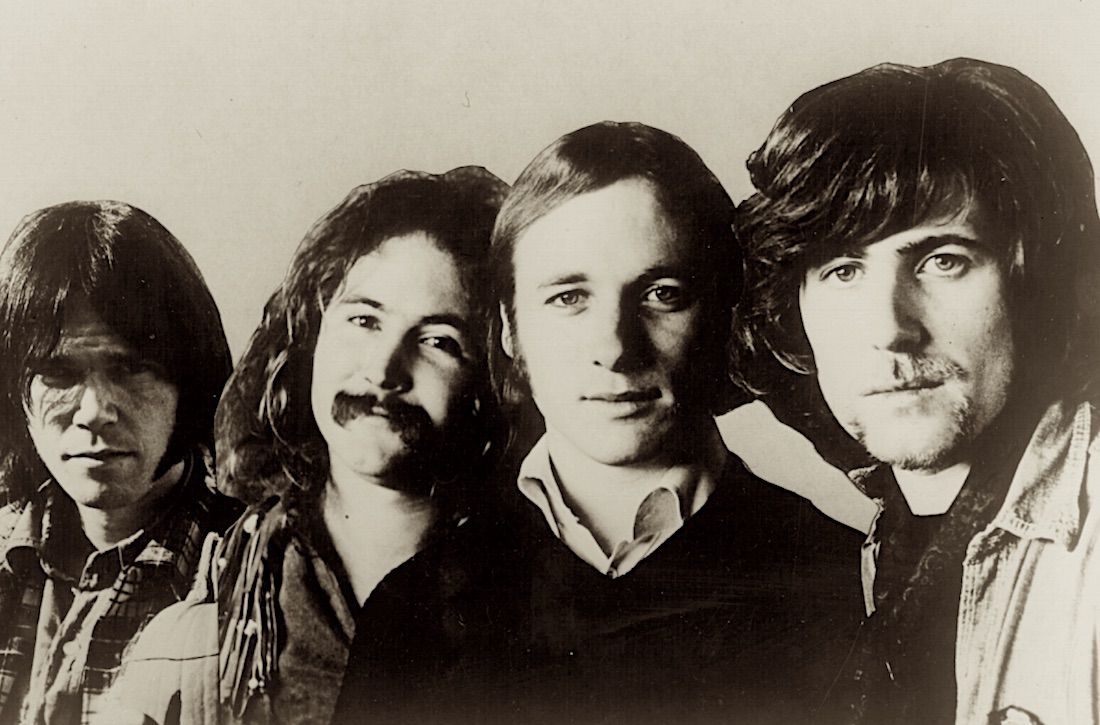 CSNY "might have been the first American supergroup", he muses, thinking of the band's 1974 stadium tour. All four "are still slaves to the music" and, offered the choice of "no music and extreme joy at home", Croz picks music. Dedication to the art. They embodied the sound and spirit of the Aquarian age, Croz the template for Dennis Hopper in Easy Rider. "Ohio", about the notorious Kent State shootings, was "the best job we ever did" as "town crier".

Coke and heroine almost killed him: "I overdosed. They had to bring me back a couple of times…. I let those guys down when I became a junkie." Nash and Jackson Browne did their best to get him to quit. There were arrests and an escape from a rehab centre, which made him a wanted man. A private pilot, probably a runner, flew him cross-country where he found his beloved boat, but it was in a bad state and after a few days he turned himself in. He spent nine months in jail, four in solitary. The coldest of cold turkey. The rocky road to redemption had begun. A judge granted permission for him to marry Jan Dance if she too got clean. "She taught me how to love". When he dies, she says tearfully that "I might just disappear".

Yet today, says Croz, "all the main guys I made music with won't even talk to me. McGuinn, Nash, Neil and Stephen all dislike me, really strongly". A tragedy, and one for which he blames no one but himself. "My big fuck-up is getting mad… Once the adrenalin kicks in I'm an instant arsehole". Making music "proves that I'm worth a shit".