Sylvia, Old Vic review - great leads, rambling story |

reviews, news & interviews
Sylvia, Old Vic review - great leads, rambling story
Sylvia, Old Vic review - great leads, rambling story
Sylvia Pankhurst suffers for her commitment to votes for women and to socialism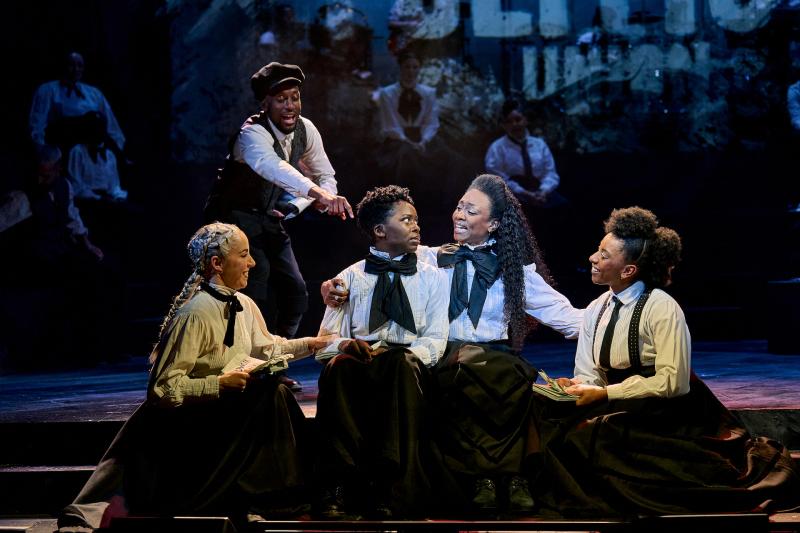 Happy families, not: Kirstie Skivington, Razak Osman, Sharon Rose, Beverley Knight and Ellena Vincent in 'Sylvia'
For many years, I would ask groups of students to vote in elections because "it's important to honour those who gave up so much to ensure that the likes of us can". Some would nod, others would shrug, a few might have inwardly scoffed – too cool for school, innit?
Kate Prince's
long-aborning musical
Sylvia
illustrates how our (near)
universal franchise
was won and the emotional and physical cost levied on the pioneers who won the argument in Parliament and on the streets.
Ben Stones' set doesn't give us much to work with – the dark greys on even darker greys suggesting the bleak, smoky confines of early 20th century London, closer to Dickens' time than our own. There's no purple and only a fleeting sash in sight, and any vestigial memory of Mary Poppins and "Supercalifragilisticexpialidocious" (still the most likely introduction of many to the suffragette movement) quashed before it had surfaced. This is going to be a very different kind of musical.
Well, different from the Sherman brothers' ever-popular classic, but from the moment the funk, soul and hip hop vibes start to fill the house with the super opener "First Steps Of A Revolution", a Hamilton inspiration is evident – and why not? If dancing chimney sweeps are off the radar, why not put an awkward, determined iconoclast front and centre, even if we're not unfamiliar with the type?
Two intertwining stories emerge. In one, Sylvia Pankhurst is a key player in the political struggle to secure the vote for women as a key step on the long road to equality, a destination still on the horizon in this country, never mind worldwide. In the other, her commitment to locating that fight within the wider class conflict as interpreted through socialism causes a rift with both her mother, Emmeline, the leader of the Women's Social and Political Union and her loyal eldest daughter, Christabel. As Alexander Hamilton found out, the ties that bind revolutionaries together can be unravelled by erstwhile friends as much as by enemies.
The incomparable Beverley Knight plays the matriarch Emmeline Pankhurst, vesting the mother of female emancipation with a ruthless determination that would embrace the ethos of "By any means necessary" in its condoning of violence and its cynical exploitation of the horrific death of Emily Davison under the hooves of the King's horse on Derby Day – just another card to play. Knight's character has cause on her side but is largely unsympathetic, barely smiling, bereft of affection for the daughter who needs it. But when that glorious voice is let loose in the first act closers, "March Women March" and "Be The Change", we see Emmeline's charismatic leadership, the source of the devotion displayed by both her followers and her most committed acolyte, Christabel (Ellena Vincent). You really do wonder how anyone other than Knight could have pulled off that trick.
Up against that voice and that single-mindedness, Sharon Rose (pictured above with Sweeney) has quite the challenge in justifying Sylvia's name on the neon signs outside, and she proves well capable of delivering her brief. We see the revolutionary as a girl, in awe of the only Labour MP in the Commons, Keir Hardie (Alex Gaumond), then as the socialist freighted with idealism, and ultimately as the fighter whose body paid the price of incarceration and unspeakable force-feeding and whose emotional life was scarred by her exile from her mother and eldest sister. Knight and Rose deliver the show's standout number, "The Split", with an electrifying energy and polished technical skill, Josh Cohen and DJ Walde's soaring soul music matched perfectly with Kate Prince's lyrics.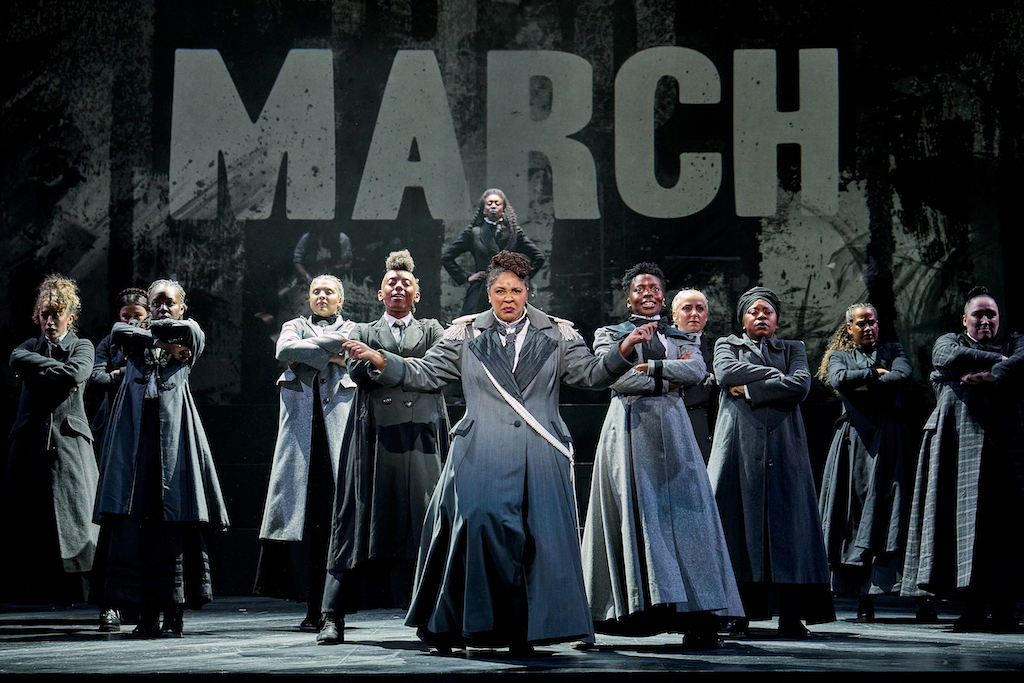 And yet that showstopper irritated as much as it pleased, because it cast any doubts aside about whether this production, six years in the making, had the wherewithal to harness musical theatre's unique storytelling power. Here were two great singers piling megawatts of emotional energy into fine music played with real verve by Sean Green's excellent band… but almost two hours in. We had seen glimpses, and sometimes more, early on, but the book (credited to Prince with Priya Parmar) gets sidetracked into tedious political tensions in the early Labour Movement, Sylvia making doe eyes at the married Keir Hardie, the father figure she lost when her own died. We also glimpse Christabel's transgressive lesbianism and Winston Churchill (Jay Perry channeling Daveed Diggs) bickering with his wife and David Lloyd George. Ironically given its subject matter, there's a case for simply expunging almost all the male characters and allowing the women to tell their story alone.
That said, complaining about a new musical's book is almost as much of a cliché as the "I don't like musicals" that one hears from those whose last exposure to the form was slumped in front of the television one Christmas Day as Dick Van Dyke stepped in time. With its contemporary score, its heartfelt commitment to a crucial political figure who is still without a permanent memorial in London and, most of all, its two magnificent leading performances, Sylvia might be the show to open the door to the refuseniks, despite its issues with pedestrian pacing, clunky rhyming and wobbly focus.
Not quite a British Hamilton then, but a brave and, at times, beautiful show that deserves to succeed.
Sylvia illustrates how our (near) universal franchise was won and the cost levied on the pioneers who won the argument in Parliament and on the streets
rating
Explore topics
Share this article