Scandaltown, Lyric Hammersmith review - Restoration-comedy-style take on 21st Century shamelessness |

reviews, news & interviews
Scandaltown, Lyric Hammersmith review - Restoration-comedy-style take on 21st Century shamelessness
Scandaltown, Lyric Hammersmith review - Restoration-comedy-style take on 21st Century shamelessness
Mike Bartlett's raucous chronicle of London in the age of Boris Johnson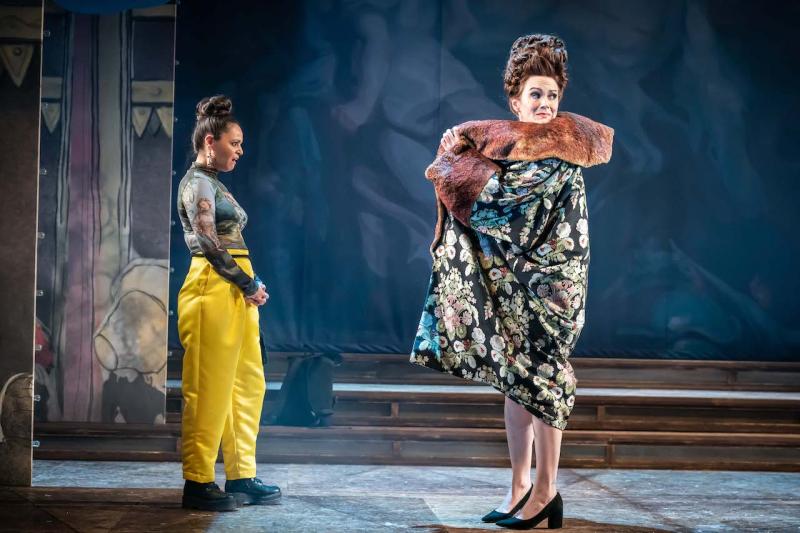 Shocking revelations; Aysha Kala as Hannah Tweetwell and and Rachael Stirling as Lady Climber
If Nero fiddled while Rome burned, then Boris Johnson has played the whole sodding orchestra. Between the parties, the lying, the enabling of Russian financial interests and the record European Covid death-toll he has not just traduced Pitt, he has tap-danced on Churchill's grave in his narcissistic attempt to assert gravitas.
It seems more than fitting, then, that Mike Bartlett has revived the most decadent form of theatre to chronicle London in the age of Johnson. After decades of Puritanism, the Restoration encouraged laissez-faire culture for the lazy and disaffected – here we see a city laid bare as an arena where only the most cynical and careerist can make their mark.
In this 21st Century Restoration comedy (one of three Bartlett plays currently running in London), we begin at the residence of Aunty Julie – played with laconic worldliness by Emma Cunniffe (pictured below left). Aunty Julie enjoys nothing more than a quick bonk with the postman but must pretend to be a model citizen for her niece Phoebe. Phoebe Virtue (an enjoyably indignant Cecilia Appiah (pictured below right), suffers from verbosity and prudishness and departs in haste to check on her brother, Jack, when the imprint on a letter he sends her from his new pad in London makes her suspect he is taking cocaine and, worse still, reading the Telegraph. When she arrives – dressed as a boy and pretending to be the new flat-mate – she sets off a chain-reaction that changes everyone's life, including her own.
There are two important things to note about Restoration comedy; it is not satirical and it is not subtle. Yes, Scandaltown features a Conservative Secretary of State who is a disturbing fusion of Johnson, Michael Gove and Matt Hancock, but that's because there are great gags about Tory sexual proclivities rather than any intent to bring the government down. The Secretary of State, Matt Eton – played with clean-shaven hypocrisy by Richard Goulding – is just one of the people who gets caught up in a bonkers, and indeed bonking, case of mistaken identity when he turns up at a party dressed as Harlequin. Because the fancy-dress shop is doing a deal on the Harlequin costume, two other people also arrive in the same costume; and with masks functioning as a tool of disguise rather than of protection, many post-Covid shenanigans ensue.
Rachel O'Riordan's production is exuberant and devil-may-care, revelling in the sense of release galloping across the country as the threat of Covid seems – for now – to recede. Many names, in true Restoration tradition, are gleefully unsubtle; we have Lady Susan Climber, played with witty ruthlessness in a tour de force by Rachael Stirling, a social media influencer called Hannah Tweetwell and a charity worker called Freddie Peripheral.
The set design, by Good Teeth, evokes billowing baroque clouds which preside decoratively over scenarios ranging from the flat-share where Matthew Broome's Jack Virtue leads his sybaritic existence to a split-stage sex-scene performed as an outrageous dance. If you're here for the plot, then I suspect you've come for the wrong reasons, but loosely it follows the fortunes of brother and sister, Phoebe and Jack, who have lost their mother when young through a freak rhinoceros accident at London Zoo. Their stories collide with Lady Climber when they attend the same fateful fancy-dress party. Hannah Tweetwell (who has clashed with Climber in the past) is trying to frame her by setting her up with Matt Eton; but the Harlequin mix up leads to an unpredictable night that proves transformative for everyone.
Confused? Don't worry. There are plenty of gags to speed you on your way, whether it's Phoebe worrying about a world "filled with evil people like Andrew Neil" or Lady Climber's butler begging not to be sent back to Nadine Dorries. As these jokes suggest, the script as-a-whole is shamelessly anti-Tory, which sometimes leaves the humour feeling a little unchallenging. But after years of government gaslighting there's also an undeniable release in making cracks without a conscience at a regime that has degraded truth and morality to a level that would make even King Charles II blush.
There is a serious message at the end, which Bartlett is right to emphasise, but for the most part this is a decadent bubble bath of superficiality, as much pantomime as Restoration comedy. Go to let your hair down, unless – or maybe even if – you're a Tory MP; while this won't end Johnson's regime, neither would that herd of rhinoceroses, so seize your laughs where you can.
@Hallibee1