Pinter at the Pinter, Harold Pinter Theatre review - harrowing and comic short pieces from the master |

reviews, news & interviews
Pinter at the Pinter, Harold Pinter Theatre review - harrowing and comic short pieces from the master
Pinter at the Pinter, Harold Pinter Theatre review - harrowing and comic short pieces from the master
An ambitious celebratory series kicks off in fine fashion
Friday, 28 September 2018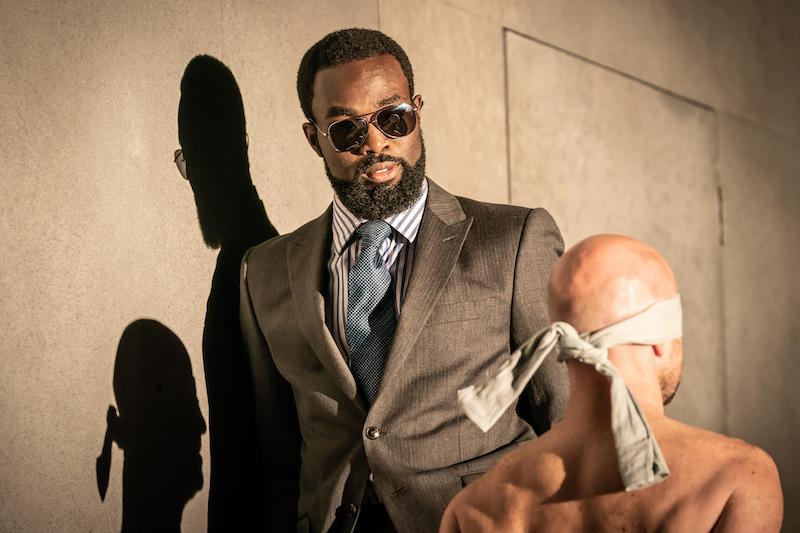 Paapa Essiedu as Lionel tormenting a prisoner in The New World Order
Ten years after Harold Pinter's death, Jamie Lloyd has set about honouring the 20th century's outstanding British playwright in an ambitious West End season of his shorter works at the theatre which now bears his name.
Lloyd, already recognised as a skilled Pinter interpreter, has grouped the 20 pieces into seven programmes and attracted a starry array of actors to the project. Still to come are the likes of Tamsin Greig, Martin Freeman, Penelope Wilton, Mark Rylance, Janie Dee, Rupert Graves, Danny Dyer, Jane Horrocks and Celia Imrie.
Pinter 1 and Pinter 2 are already launched, featuring their own galaxy of acting talents. The first act of Pinter 1, directed by Lloyd himself, is often harrowing to watch, but these political pieces, several about torture, are directed and acted with exemplary precision. The session opens in deceptively jolly mood. As "Rule Britannia" blares out and red, white and blue ticker tape falls from the ceiling, a smiling Minister of Culture (Jonjo O'Neill) steps forward to take questions. Press Conference, written in 2002, then delivers in just a few minutes satirical horrors worthy of Swift: the children of subversives, for instance, would have their necks broken as part of an "educational process".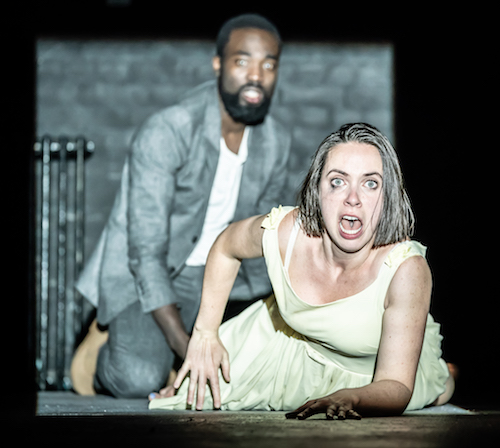 Pinter's language is always absolutely precise. One of his concerns, a common theme in all these pieces, is the way language is manipulated for political or ideological ends. In Precisely, written for a CND event in 1983, Maggie Steed and Kate O'Flynn matter-of-factly discuss 20 million dead, the numbers obviously massaged for public consumption.
And then the first of the three plays about torture bites as Soutra Gilmour's flexible grey-panelled set opens out. Paapa Essiedu, following his award-winning Hamlet for the RSC and a leading role in Press on television, joins Jonjo O'Neill in The New World Order. Two men discuss, with levity and some pleasure - Pinter often enjoys the bantering of music hall - their plans for a naked, blindfolded prisoner as they carry out their duty to "keep the world clean for democracy". Mountain Language, written in 1988, follows. Pinter was outraged by the treatment of Kurds by the Turks and here language is a defining ingredient. Those who can only speak the language of the mountains are on the wrong side and liable to be imprisoned and tortured. Two women wait to see their husbands and are abused. Physical as well as psychological torture is brought to bear and Essiedu, first a sharp officer, later appears as a battered and bloodied prisoner.
Two poems, "American Football", a foul-mouthed celebration of American success in the Gulf War, and "Death" are delivered in character by Kate O'Flynn and Maggie Steed. And sometimes Pinter's own voice rings out between times with quotations from his Nobel lecture.
Before the final piece in this half, the shattering, menacing One for the Road, there is a tiny respite. The Pres and an Officer was discovered by Lady Antonia Fraser on one of her husband's notepads only last year. Pinter died eight years before Trump's election, but it is as if he foresaw an immature, impulsive, trigger-happy person in control of the western world. John Culshaw makes a credibly orange-hued Pres nuking London by mistake. In subsequent performances, other guests will take the role.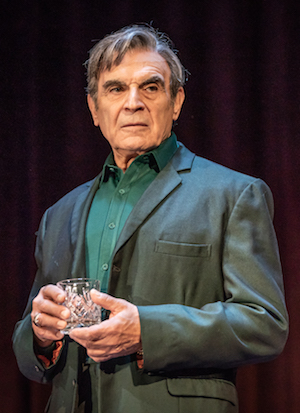 In One for the Road, Antony Sher is the torturer, superficially civilised, silkily taking pleasure in destroying a family. Essiedu is the father, shivering, silent, then gagging, having had his tongue ripped out by someone else. O'Flynn, the wife, is subjected to rape elsewhere and Nicolas (Sher) suggests calmly that she will "entertain" her captors further. Their child has thrown stones at soldiers. After his interview it is clear that he is killed.
Lloyd is unflinching in the presentation of these horrors. If one feels wrung out by the interval, that is as it should be.
In Act Two, Ashes to Ashes, directed by Lia Williams, herself a celebrated Pinter actor, has Essiedu and O'Flynn as Devlin and Rebecca (pictured above) discussing the behaviour of a former lover of hers. Images of the Holocaust become entwined with what begins as the description of a sado-masochistic encounter. O'Flynn pale, wispy almost, shows Rebecca to be disturbed, perhaps bearing the burden our culture carries for historical outrages, even when we have known nothing of them personally. Essiedu completes an impressive list of characters as the insecure and potentially violent Devlin.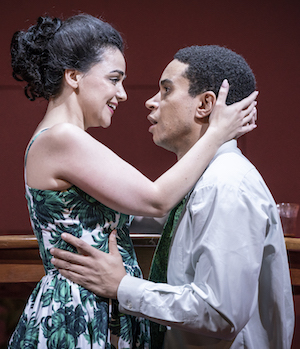 Pinter 2 brings together two plays, both originally written for television in the early 1960s, The Lover and The Collection, which deal with the sliding truths within intimate relationships. In The Lover, Sarah and Richard, a suburban couple, spice up their marriage by each having an affair, except that they each play the other's lover. It is perhaps difficult for modern actors and audiences not to see the clothes and behaviour of 50 years ago as other than fancy dress, so that the contrasts are not now as apparent as they once were. These two - played by Hayley Squires and John Macmillan (Pictured right) - seem to be play-acting from the beginning: the first scene is reminiscent of Laura Wade's Home I'm Darling. The erotic element seems played down too: Sarah, described in Richard's fantasy as a whore, wears a nice, modest bell-skirted frock to charm her "visitor". Richard loses equilibrium and wants to stop the games; Sarah is momentarily confused but she calls the shots and ultimately the pair are reconciled.
In The Collection David Suchet (pictured above left) is very funny as camp old toupéed Harry, until he flashes vicious disdain for the "slum slug", his much younger companion, Bill, and ultimately crumples in despair, uncertain of anything but the coming of old age and perhaps loneliness. Bill is accused by James of having slept with his wife, Stella, while they were staying at a Leeds hotel. As James confronts Bill, an attraction is engendered between them, beautifully modulated by John Macmillan and Russell Tovey respectively. Whatever the truth about the reported one night stand, Stella (Hayley Squires) allows herself a tiny smile and remains silent on the subject. She may, however, have unknowingly opened up a different world for her husband.
Among the treats to come, Mark Rylance will take part in a Q&A and twice deliver Pinter's Nobel lecture in aid of Stop the War.
One of his concerns, a common theme in all these pieces, is the way language is manipulated for political or ideological ends
rating
Explore topics
Share this article