Once on This Island, Southwark Playhouse review - folkloric Caribbean musical charms |

reviews, news & interviews
Once on This Island, Southwark Playhouse review - folkloric Caribbean musical charms
Once on This Island, Southwark Playhouse review - folkloric Caribbean musical charms
Class, calypso and warring gods feature in this enthusiastic revival
A higher power: Goddess Erzulie (Aviva Tulley) fights for love
As British summer really kicks in (umbrellas at the ready), our thoughts might turn fondly to the sunny Caribbean. Good timing, then, for the return of Lynn Ahrens and Stephen Flaherty's 1990 musical set in the French Antilles.
Based on Rosa Guy's novel, it tells a familiar tale of boundary-crossing
lovers
–
The Little Mermaid
meets
Romeo and Juliet
­– though with some location-specific details that give it fresh interest.
One stormy night, villagers distract a crying child with the story of Ti Moune (Chrissie Bhima, pictured below with Martin Cush), a dark-skinned peasant girl who falls for Daniel (Sam Tutty). The latter is a 'grand homme' – a lighter-skinned descendant of the original French planters and their slaves, who lives separately on the other side of the island. Guiding the action are the immortals: Erzulie, Goddess of Love (Aviva Tulley); Agwe, God of Water (Kyle Birch); Asaka, Mother of the Earth (Jonathan Chen); and Papa Ge, the Demon of Death (Cush).
Over the pond, the show received a recent boost in popularity thanks to Michael Arden's Tony-winning revival. Lee Proud's version with students from the British Theatre Academy, if necessarily a more modest affair, boasts some creative touches and boundless enthusiasm; however, the latter could be tempered in order to give the 85-minute show more light and shade. Sound balance, too, needs addressing, so that the performers aren't competing so ferociously with the band, straining voices and losing words in the process.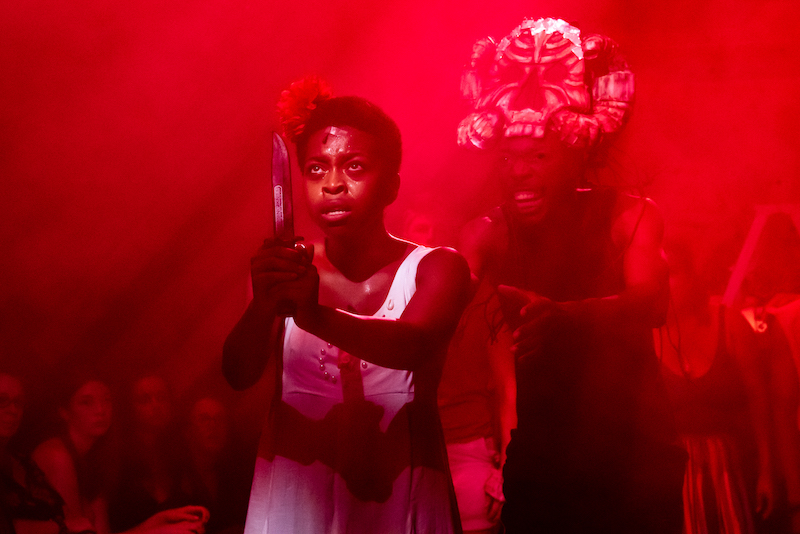 It's a canny choice for a small space, as it's the kind of direct drama that makes a virtue of simplicity and revels in collective imaginative. Proud's production charms when it honours that, illustrating the peril of a storm with rippling fishing nets, or the organic soundscape of the Caribbean via actors as chirping birds and brooms brushing past one another as leaves rustling in a tree. However, the folk story-style narration becomes cloying when overegged, as it sometimes is here; natural speech is best, with vital points communicated clearly but given space to breathe.
One of the highlights is a brief history lesson on colonialism and miscegenation, a weighty topic leavened with wit and expressive movement. Unsurprisingly, movement is strong throughout established choreographer-turned-director Proud's production, from set-pieces such as a fast and furious Afro-Caribbean dance driven by propulsive drumming through to key physical differentiation between the two island tribes. There's decent delivery, too, of the calypso-infused score, though Ahrens' somewhat generic lyrics need zippier execution. Best of the batch is "Mama Will Provide", given an impish rendition by Chen (as with Arden's production, an effective piece of cross-casting).
Bhima is luminous as the big-hearted Ti Moune, bringing infectious joy and curiosity, powerful movement and a voice that Southwark Playhouse can barely contain, though she could find more levels within her performance. Marie-Anna Caufour impresses as Ti Moune's adoptive mother, and Tulley provides a welcome respite from the frenzied action, finding real yearning and soul in Disney-ish ballad "The Human Heart". In fact, this is – on the whole – a female-driven tale, and one that doesn't just allow but demands a diverse company, both elements desperately needed in our musical theatre landscape.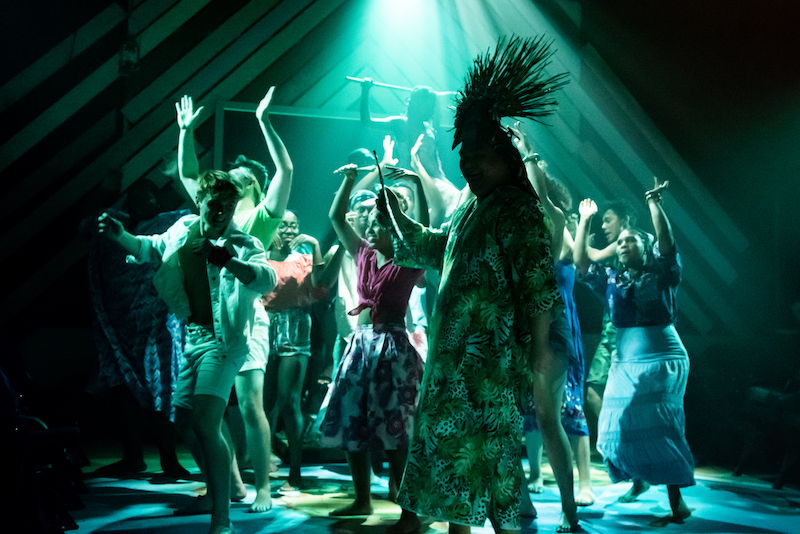 Playing the show on a narrow traverse stage yields mixed results: though Proud creates some effective choreography to suit (pictured above), the action feels diffuse, and somewhat hemmed in by the audience. However, Simon Wells' design includes clever details like newspaper used for the toffs' cuffs – honouring the community vibe of the piece. "Some say" is a repeated riff; truth isn't important, so much as the act of spinning a yarn in the grand tradition of oral storytelling, whether explaining elemental events that you don't understand or bringing people together.
The more complex aspects don't fare quite as well. It would have been fascinating to further unpack strands like the 'curse' placed upon the first child born of a French father and native mother, confining him to the island where he might long for France, while blaming the indigenous people for the blackness that traps him. Fuzzier messages, such as the circle of life continuing as everything feeds back into the island, are easier to convey in this form than knotty issues like colorism and prejudice – though it does have some resonance as a current work by placing the rich in gated hotels, segregated from natives and workers.
On the whole, though, this is a light-hearted, appealing summer outing. After all, it combines the chance to experience a seldom-seen musical with a heartening glimpse of emerging British talent – and the irresistible evocation of a storm giving way to balmy weather.
It's female-driven and demands a diverse company - both elements desperately needed in our musical theatre landscape
rating
Share this article