The House of Shades, Almeida Theatre review - Anne-Marie Duff blazes in Beth Steel's excoriating new drama |

reviews, news & interviews
The House of Shades, Almeida Theatre review - Anne-Marie Duff blazes in Beth Steel's excoriating new drama
The House of Shades, Almeida Theatre review - Anne-Marie Duff blazes in Beth Steel's excoriating new drama
Inter-generational story from a Northern mining town melds naturalism and tragedy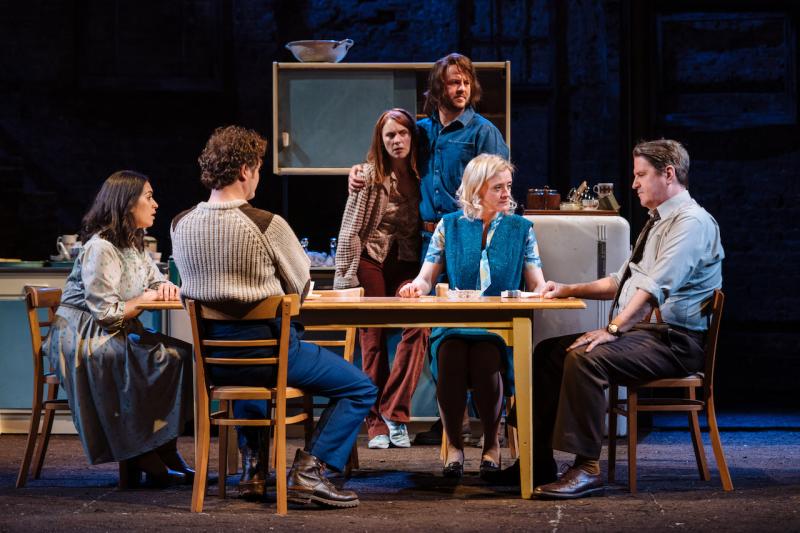 Simmering tensions: Emily LLoyd-Saini, Michael Grady-Hall, Kelly Gough, Daniel Millar, Anne-Marie Duff, Stuart McQuarrie
Anne-Marie Duff blazes across the stage like a meteorite in Beth Steel's excoriating drama about the changes sweeping through a Northern mining town over the course of five decades. As Constance Webster, a frustrated miner's wife, her angry energy simultaneously lights up every room she appears in and sets it on fire; the more strongly she tries to escape her world, the closer she comes to destroying it.
Steel has made her name with great state-of-the-nation dramas. In Wonderland she excavated the emotional traumas left behind by the miners' strike, while in Labyrinth she created a riveting examination of high finance and the Latin American debt crisis. Here she revisits the dramatic shifts in Britain's northern industrial landscape, bringing to the fore the struggles of its women at the same time as she interrogates the causes of Brexit.
Yes, it's ambitious, not least for the fact that Steel has infused this intergenerational story with the spirit of ancient Greek tragedy. In an interview, she described how at one point during the writing process she decamped to Athens with a suitcase full of dramas written by Aeschylus, Sophocles and Euripides and devoured them over the course of a month. Like Robert Icke in his updated Oresteia she recognised how the Greek perspective could bring a primal intensity to what's essentially a modern family drama. This is a world in which not just the living but the dead have a voice, where the consequences of unthought through actions from the past carry terrible resonances for the future.
If you think that makes it sounds like there aren't many laughs, you'd be wrong. Blanche McIntyre's beautifully paced production opens with a monologue from Beatie Edney's "Neighbour", who lays out local corpses for half a crown while cheerfully confessing "I do draw the line at orifices". As she talks to us, she's washing a corpse as matter of factly as if it were the table on which it is lying. There's more of an overlap between death and life than most think, she jauntily points out; once an individual has breathed their last, "The changes occur slowly, as if the body don't know yet what's happened to it."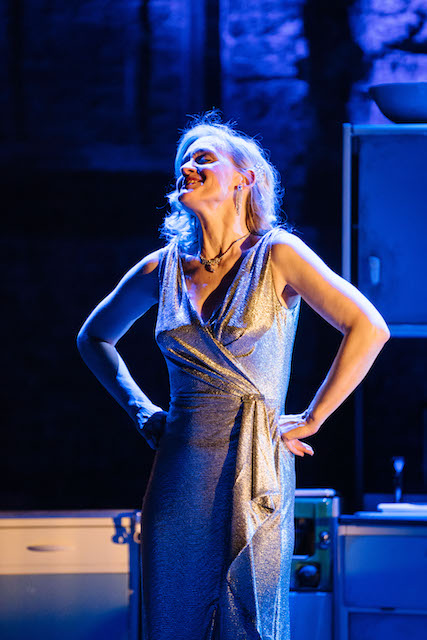 Richard Howell's carefully calibrated light design makes this happen in half-darkness; once the lights go up we find ourselves in the cramped kitchen where much of the action will take place. Anna Fleischle's atmospheric set frames the kitchen so that we see through it to the Almeida's exposed brick wall and a staircase rising up to the left. This means that at the same time as it captures a claustrophobic domesticity, there's a sense of the looming unknowable world beyond. No-one knows exactly who or what might emerge from the shadows, and this creates a constant sense of anticipation that heightens throughout the evening.
Duff's Constance craves glamour and excitement; her conversation is about Hollywood stars like Bette Davis and Rita Johnson while her waking state is continually heightened by a cocktail of booze and songs from the movies. The tensions with her husband Alistair – played with wonderful stoicism by Stuart McQuarrie – are there from the start; while she joshes him about his weight he affects disinterest. The signs that for her this is more than banter escalate as she rues her inability to gain independence by getting a job. She is a woman both liberated and destroyed by her intelligence, and as both her mother and her three teenage children drift in and out of the kitchen, we see that she will hold everyone to account for this tragedy in her life. (Pictured above, Anne-Marie Duff)
The catalyst for everything that goes wrong comes with the discovery that Emma Shipp's empathetic Laura, dismissed by her mother as "simple", is pregnant. Constance's immediate – and somewhat self-absorbed – reaction is fury. As she contemplates how she herself might have to look after the child, she describes in claustrophobic detail how motherhood has restricted her physically and mentally. Yet her solution liberates no-one, least of all herself.
Steel's drama is as powerful as anything you'll see in a London theatre right now, though by the end it feels as if it is splitting at the seams from everything it tries to convey. In the fall out between Constance's twins – Kelly Gough's defiantly working-class Agnes and Michael Grady-Hall's Communist turned Tory, Jack – we witness the tensions underlying Brexit. Yet a conversation between Jack and his niece at the end feels crammed and over-rhetorical. Maybe that's in part because the latter is the only character we haven't been allowed to see develop.
There's a sense of contrivance, too, to the final plot twist, which is as tragic as anything else we have witnessed yet feels like it overloads the end of the play. That's not to belittle Steel's towering achievement. It's poignant that in Constance she has created a character worthy not just of ancient Greek dramas but of works like Ibsen's Hedda Gabler, in which a woman's prime tragedy is that her society is not ready for her. As events in America are showing there are far too many women not just in living memory but right now who must chart that precarious course between doing what society demands of them and realising their ambitions on their own terms.
This is a world in which not just the living but the dead have a voice
rating
Share this article