Henry VIII, Shakespeare's Globe review - unashamedly vulgar take on our last split with Europe |

reviews, news & interviews
Henry VIII, Shakespeare's Globe review - unashamedly vulgar take on our last split with Europe
Henry VIII, Shakespeare's Globe review - unashamedly vulgar take on our last split with Europe
A ten-foot golden phallus is launched from the musicians' gallery
Grrrl power: Anna Savva as Hope and Adam Gillen as Henry VIII
Boris Johnson was of course not the first British leader to engineer a split with Europe for personal gain. This strikes you with full force halfway through this production. While there are no photos of Johnson rushing around at a Downing Street party wearing an erect golden phallus, we are living in a world where – as Peter Pomerantsev has said of another leader – "nothing is true and everything is possible".
In this play the leader with the gilded willy happens to be
Henry VIII
, but as the female chorus sings "He has everything an honest man should not" to a guitar accompaniment, the parallels are irresistible.
That particular quote is not from Henry VIII but from All's Well that Ends Well, one of many Shakespearean lines transplanted by the Globe's resident writer Hannah Khalil and director Amy Hodge from other plays into this work. The intention is to use this device to forefront the stories of its women, yet it's also undeniably a way of enhancing a drama that's more interesting for its curiosity value than its overall quality.
Shakespeare had semi-retired from writing with The Tempest two years before he collaborated with John Fletcher on this script. Quite what the collaboration involved is unclear. But it's fair to say that lines such as "No man's pie is freed/from his ambitious finger" (a description of Cardinal Wolsey) is either the Bard on a bad day or Fletcher straining too hard to achieve the flights of metaphor that distinguished his writing partner's greatest works.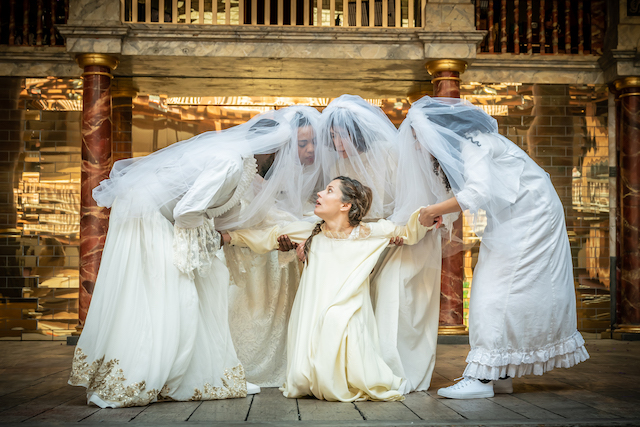 Still, this production valiantly transcends the scratchiness of the script with a bold aesthetic, punchy performances and a well-judged musical score – composed by Tom Deering and Maimuna Memon - that ranges from folk-style ballades to nuanced accompaniments. Among the images that are – for better or worse – impossible to forget are Adam Gillen's petulant Henry VIII masturbating on a golden toilet, and the moment when a ten-foot golden phallus is launched from the musicians' gallery. (There's a lot of gold).
Vulgarity rules in Georgia Lowe's design; there's a gilded mirrored backdrop, and the majority of the courtiers strut around in what might best be described as Cadbury purple. Meanwhile, two female commoners sit and comment on proceedings in inflatable armchairs covered in bird shit.
So far so unforgettable – but isn't it all a bit, well, gratuitous? The play covers the territory rather more successfully depicted by Hilary Mantel of Henry VIII's decision to split the church and marry Anne Boleyn. Yet as the production proceeds Khalil's logic starts to hit home; as one person put it on Twitter, it's not hard to spot parallels between our time and this decadent party-obsessed court with a leader who quite literally is a wanker. As for the aesthetic excess, it shouldn't be forgotten that the play was written during the reign of James I, who – for all his clever balancing of religious politics – openly presided over a culture of sybaritic indulgence. For his courtiers this wouldn't have been shocking at all.
The women amply pull their weight, not least Bea Segura's impassioned dynamic Katharine of Aragon (pictured above, centre). Such is the fascination with Boleyn, it's all too often forgotten that Henry was married to Katharine for 23 years; she was deemed by Erasmus to be far more intelligent than him and was much better at conducting wars. That strength and intelligence shines through in Segura's performance as she watches her husband and his courtiers rewrite the truth to get rid of her. There's a particularly poignant passage in which she reminds us that she has had several children who died, an aspect of her life made all the more cruel by the fact that Henry tries to use it as "evidence" of God's displeasure with their marriage.
Anne "Bullen" as she is known in this script is played by Janet Etuk as a woman who is unintimidated by the sexual excesses of the court and knows how to acquit herself with dignity. Yet though there is a hint of the more calculating aspect of her personality, even in this update she is not given the full complexity her historical character deserves. The character who really shines through is Natasha Cottriall's charismatic angry Mary, whose impassioned singing stands in counterpoint to her father's attempts to argue her out of existence.
Adam Gillen – who has made a career of scene-stealing performances ranging from Amadeus at the National to Mercutio here at the Globe – is an equally scene-stealing Henry, a petulant man-toddler who will stop at nothing to get what he wants. Jamie Ballard struggles a little more to distil the mixture of corruption and gravitas of Cardinal Wolsey, though he achieves full pathos at the end as he sees his authority disintegrating.
This then, is a production that flirts outrageously with vulgarity but has a rigorously intelligent logic at its core. Even with Khalil's additions this work will never be ranked as one of Shakespeare's greats, but it's worth a look – whether you simply want to tick it off on your list, or enjoy its not so sly digs at our own wretchedly decadent times.