The Good Person of Szechwan, Lyric Hammersmith review - wild ride in hyperreality slides by |

reviews, news & interviews
The Good Person of Szechwan, Lyric Hammersmith review - wild ride in hyperreality slides by
The Good Person of Szechwan, Lyric Hammersmith review - wild ride in hyperreality slides by
Frenetic take on Brecht's tale of doing good in a bad world loses focus
Ami Tredrea and company in 'The Good Person of Szechwan - BGT (Brecht's Got Talent)'
As the UK undergoes yet another political convulsion, this time concerning the threshold for ministers being shitty to fellow workers, it is apt that Bertolt Brecht's parable about the challenges of being good in a dysfunctional society hits London.
Anthony Lau's co-production between the Lyric Hammersmith, ETT and Sheffield Theatres also catches a ride on the cultural zeitgeist, since it shares elements of its aesthetic with the multi-Academy Award winning movie, Everything Everywhere All At Once. Rather like that film, I suspect this show will divide audiences.
We open on Georgia Lowe's ultra brightly-lit set, to the rear of which two ramps – wide slides really – allow access from a platform. Loud music is playing (possibly K-Pop, certainly with that genre's "Eurovision from Asia" beat) and there's a child's paddling pool on stage: blocks of primary colours abound. We're already bathed in hyperreality before the play has begun. It soon starts at 100mph, and stays there.
Three gods announce that they're searching, so far unsuccessfully, for a good person, one who can make the earth worth saving. Water-seller Wang (Leo Wan) directs them to Shen Te (Ami Tredrea, pictured below with Jon Chew), a sex worker who rents out rooms to make ends meet. She's helpful and the gods recognise her service with $1000, a sum beyond her imagination.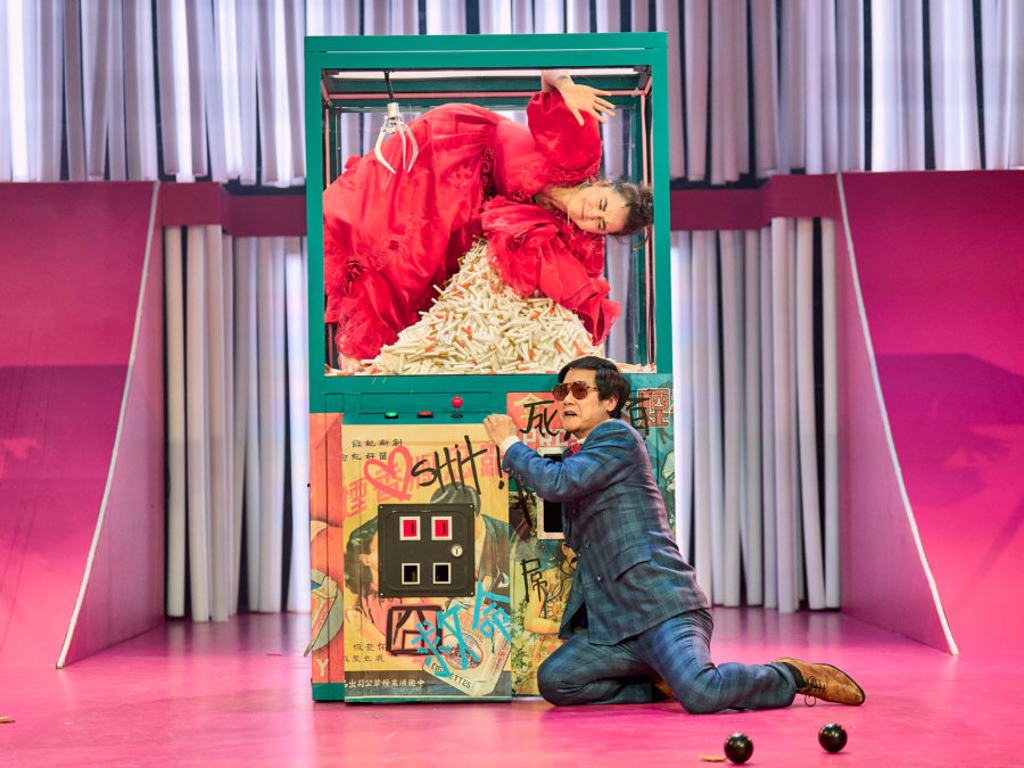 Shen Te opens a tobacconist's shop, but she's a soft touch and is soon handing out money, saving a suicidal pilot who then wants to marry her (for money not love, natch) and paying out to corrupt policemen. She can't go on like this so invents a cousin, Shui Ta, who is as tough as Shen Te is kind and, sure enough, gets the respect she deserves, thrives in business and holds on to the money she makes. She he is not happy though, and the gods soon return for a final reckoning.
Some 80 years on from its first production, the play's satirical and didactic elements can sting and educate as much as ever they did, but, delivered at this frenetic pace, they're lost in the chaos, especially as a 21st century feminist dimension is somewhat shoehorned in.
It's quite fun to see characters actually slide on to the stage: we get the metaphor that society demands that we must lose control and hurtle downwards into it, but the joke soon becomes a distraction. Indeed, no joke is satisfied with a single outing in this show – they're hammered home by repetitions of repetitions, whether good, bad or indifferent.
Tredrea sits in the eye of the storm as the dual-identity protagonist, but she plays her male role as slapstick – the Brechtian way, but overegging an already rich pudding. The three gods (Callum Coates, Tim Samuels and Nick Blakeley) have some fun by adopting the attitude of a middle-management team visiting a regional office to assess progress, but then a giant frog turns up (as if from Japanese animation) and we're off into another surreal episode before we've had time to digest the current lesson. It's one part enlightening, other parts exhausting and irritating.
Lau must be commended for doing something new with a classic play, but, from Jessica Hung Han Yun's eye-bleeding lighting to Carrie-Anne Ingrouille's non-stop movement and at least one too many karaoke numbers, Brecht's message is buried in a sea of tricksiness. It's a relief when Togo Igawa steps forward to deliver a moral to conclude the show and send us on our way – and the lesson is a good one. If we can't be entirely good in a bad world, we should strive to be as good as we can in a world that needs changing.
Perhaps the show should have taken on board a little of that wise counsel and so moderated its full-blooded theatrical ambition and commitment to quite so many innovative approaches. Had it done so, I suspect the audience would leave feeling less punchdrunk and more genuinely enlightened.
The play's satirical and didactic elements can sting and educate, but, delivered at this frenetic pace, they're lost in the chaos
rating
Explore topics
Share this article