Dead Sheep, Park Theatre |

reviews, news & interviews
Dead Sheep, Park Theatre
Dead Sheep, Park Theatre
Political drama continues its reign, as Geoffrey Howe torpedoes Thatcher in a new play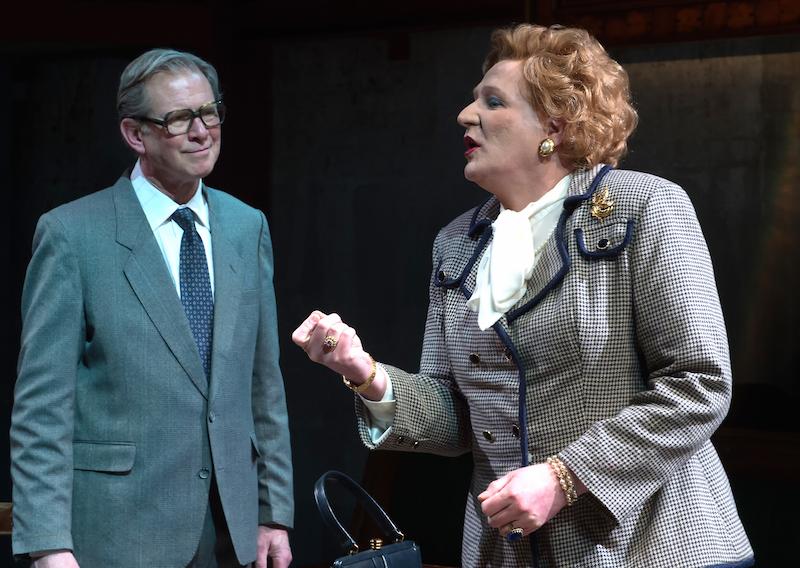 Trouble in paradise: Geoffrey Howe (James Wilby) prepares to challenge the Iron Lady (Steve Nallon)
While seven-way debate rages, broadcaster and debuting playwright Jonathan Maitland takes us back 25 years to a radically different political landscape: a time of regents, and of regicide. It's 1990 – Thatcher the leader claiming divine right to rule, Geoffrey Howe her unexpected assassin. How did the mild-mannered Welshman, whose rhetorical powers Denis Healey compared with those of a dead sheep, become a wolf in sheep's clothing?
It's an intriguing question, answered with wit and insider wisdom, but too simplistic a reading in Maitland's sketch satire-meets-modern Macbeth. Second-half solemnity forces a jarring gear change, with Ian Talbot's pithy production hindered by previewing, recapping and ponderous pontificating. The rules of essay writing have been liberally applied: tell them what you're going to tell them, tell them, then tell them you've told them.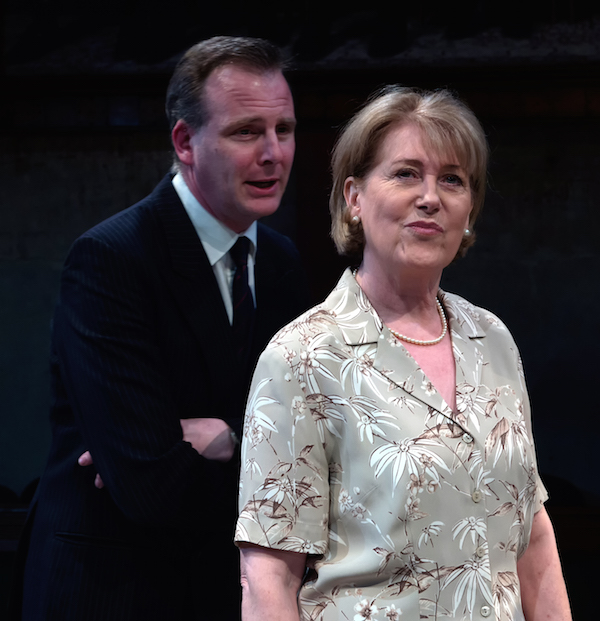 This persistent guiding does mean those unfamiliar with 1980s Cabinet ructions will have little trouble following, bar a few esoteric gags. The action shifts lucidly between time periods, from vulnerable early Thatcher to her honeymoon period with Howe (James Wilby), their "benign synthesis" fractured by divisions over Europe, and finally her disenchanted lieutenant's deadly resignation speech, delivered at the urging of wife Elspeth (Jill Baker, pictured right with Tim Wallers). Morgan Large's green Commons benches effectively place the audience in the thick of it.
While there is something of the puppet about Spitting Image legend Steve Nallon's Thatcher – the rigid arms, rolling head and lurching stride, like a galleon powering through choppy waters – this is not a winking, drag-act imitation, but perfectly modulated channelling, from the timbre of voice at different stages of life to the ruthlessness and fatal detachment building beneath artificial courtesy. As with Bertie Carvel's Trunchbull, masculine physique demonstrates indomitable strength, leaving Nallon free to communicate a terrifyingly subtle form of sadism. The Medusa stare is unforgettable.
Though downtrodden Howe is nominally our protagonist, and sympathetically evoked by Wilby, Nallon's worthy opponent, and most effective scene partner, is Lady Macbeth. Spirited Baker's campaigning voice of compassionate Conservatism vigorously challenges Thatcher's antifeminism and scorched-earth approach – "We must win friends as well as battles". Maitland juxtaposes her solid marriage to Howe with his rockier political one, but the supposed equality of the former is unsettled by the relative distinctiveness of her views. In contrast, his disillusionment and conflicts of loyalty remain oft-stated, insufficiently developed, leaving him a man caught between two strong female voices rather than one finding his own. Accurate, possibly, but dramatically frustrating.
Dead Sheep functions best as sly, sprightly and unexpectedly pertinent comedy roast, with ironic predictions about breakaway Eurosceptics, inert Deputies and PMs swapping intellect for looking good on television. Maitland skewers politicians with Paxman-like efficiency: unlikely new foreign secretary John Major "doesn't even go abroad for his holidays". Numerous incisive cameos are punchily delivered by chameleon-like Graham Seed, John Wark and Tim Wallers; the latter's Alan Clark, here a louche, lascivious snob, steals the show. More entertaining than truly revelatory, but a solid vote-winner.
'Dead Sheep' functions best as sly, sprightly and unexpectedly pertinent comedy roast
rating
Explore topics
Share this article