Curious, Soho Theatre review - a young playwright puts herself centre-stage |

reviews, news & interviews
Curious, Soho Theatre review - a young playwright puts herself centre-stage
Curious, Soho Theatre review - a young playwright puts herself centre-stage
Can a runaway slave help a black actress love the theatre more?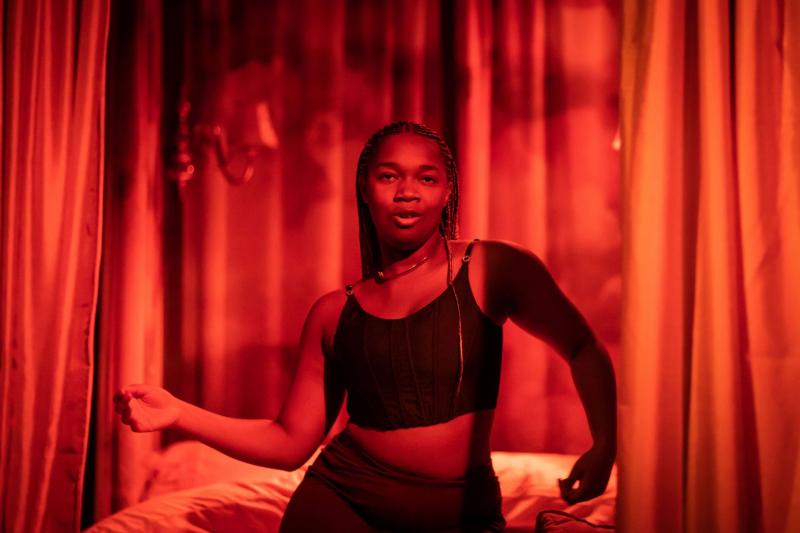 Dual talent: Jasmine Lee-Jones, writer and actor of 'Curious'
Jasmine Lee-Jones has a hard act to follow – namely, herself.
Her award-winning 2019
debut play,
seven methods of killing kylie jenner,
announced the arrival at the
Royal Court
of a blistering writing talent whose two sparring women made the room crackle and pop. Still only 22, she has for her second stage piece opted for something rather different, as if to show she has more than just a sharp ear for great dialogue.
Curious, which its author performs solo at the Soho Theatre, begins with a striking image: in a full skirted ballgown, she runs on the spot under strobe lighting, so that she becomes a flickering image, moving in and out of focus: Black girl interrupted, a great metaphor. Then the lights go down, and when they go up we are in the bedroom of Jaz, her stage self, who is submerged under her bedclothes. An electronic buzzing gets louder. Yes, Jaz is in the process of communing with her "ideal boy", her trusty vibrator which she has dubbed Aladdin.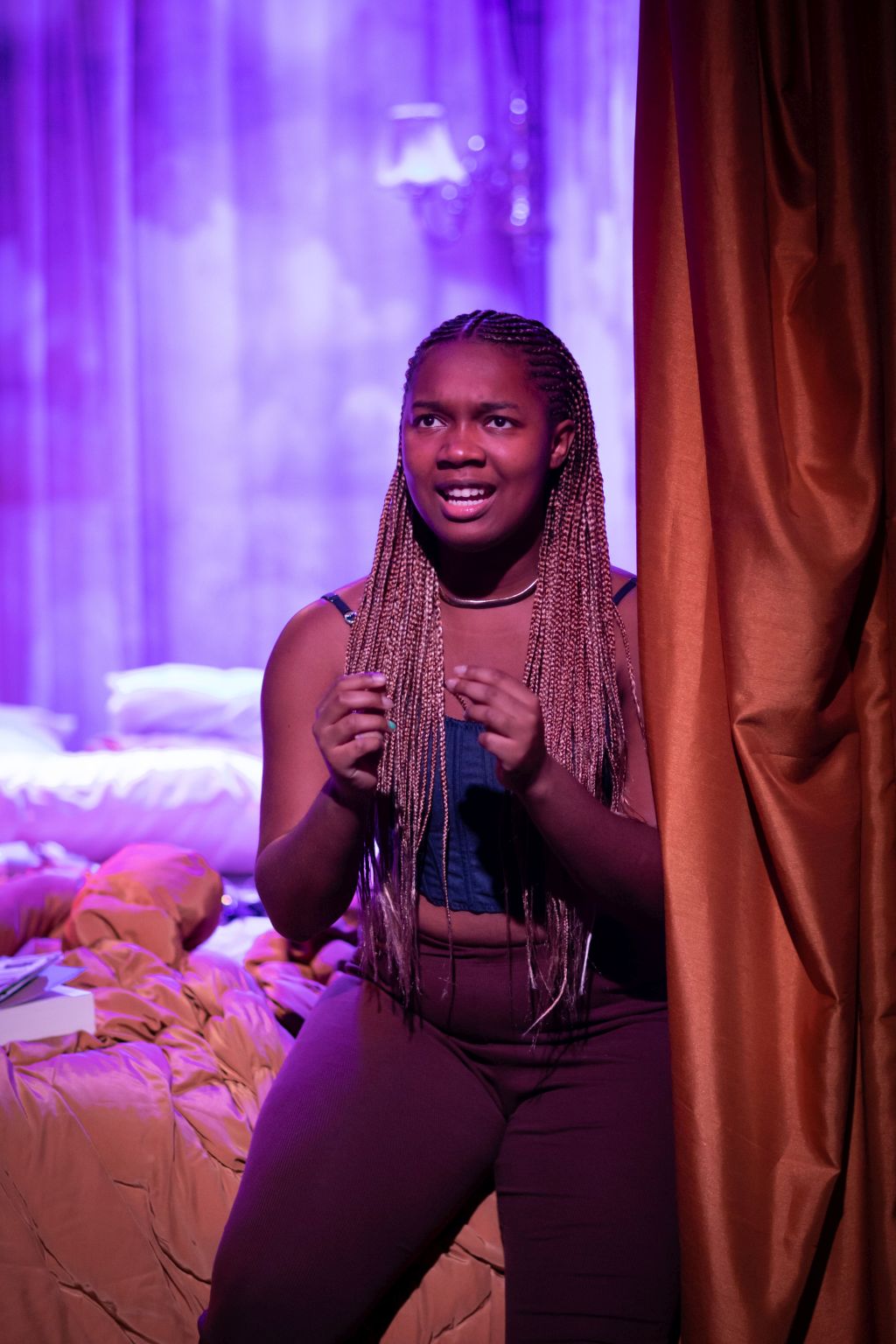 Then another shift: we move to the rehearsal room at her drama school, where she is bored and frustrated at being cast in a Restoration drama as Servant No 2 (a split role she has to share with the other black actor in her year), the lead having been given to a white actor called Rosebud. When she tells us she hates classical drama because of its inherent colonialism, you think, good, we are in for a lively 90 minutes, even though Jaz qualifies that claim almost immediately by saying that she actually does like Shakespeare, Marlowe and Euripides; it's elitism she hates. Restoration drama, she notes, "was not written with me in mind".
But did a black actress ever perform these plays, she muses? We move off on another plotline to the "black cultural archives", where Jaz tries to track down the black woman in a blue dress she has seen in a Hogarth painting. Was this the first black actress on the English stage? Her research reveals her to be a runaway slave called Celia Edline, a stripper and streetwalker who performed under the name Miss Morrish in the early 18th century and was elevated to leading roles.
We aren't done yet with plot strands, as Lee-Jones next introduces her "lipgloss lesbian" bestie, Dee, the woman she came out with but with whom she is not sexually involved. Together they go on a rollicking journey to the "deep south" – that's to say Croydon - in pursuit of "poom-poom in a pulpit": a link-up party in a church. Fortuitously, the intense-eyed archivist helping Jaz with her research into Celia's career is at the party too, so one plot strand plaits up with another and we double back to Celia and her progress under a benefactor, Blythe, Duchess of Wigmore, with whom, Jaz deduces, she has a sexual relationship (and "on top"). Meanwhile, Jaz is testing her own sexuality with the cool-dude archivist.
Back and forth we go across the centuries, Lee-Jones entertainingly populating the stage with her creations, often with great comic impact, though there is an intriguing steel behind her smile at key points. Along the way she discovers truths about Dee, Rosebud, herself, Celia: but a final sizeable plot twist doesn't land with the hoped-for poignancy, and the many strands in the weave tend to crowd out the big question set up in the opening scenes: how, as a Black queer actress, to cope with a theatre that didn't have her in mind. It's a theme you sincerely hope Lee-Jones will return to for another bite.
Jaz and Dee go on a rollicking journey to the "deep south" - that's to say Croydon
rating
Share this article