Salome, Bergen Philharmonic Orchestra, Gardner, Edinburgh International Festival 2022 review - orchestral majesty triumphs |

reviews, news & interviews
Salome, Bergen Philharmonic Orchestra, Gardner, Edinburgh International Festival 2022 review - orchestral majesty triumphs
Salome, Bergen Philharmonic Orchestra, Gardner, Edinburgh International Festival 2022 review - orchestral majesty triumphs
Malin Byström offers presence and power as Strauss and Wilde's sex-crazed princess
Wednesday, 17 August 2022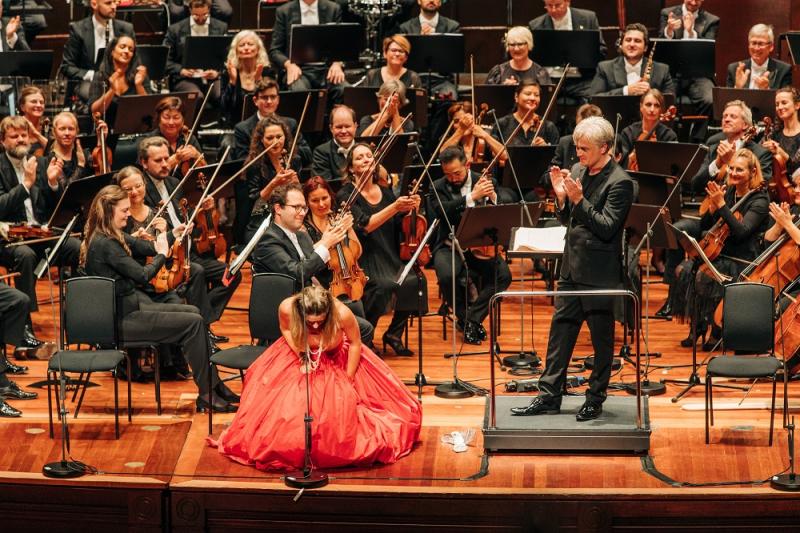 Malin Byström takes a bow with Edward Gardner and the Bergen Phiharmonic
It is quite some years, if not decades, since the Edinburgh International Festival had any claim to be a festival of staged opera. This year we have had just one – Garsington Opera's bewitching Rusalka – surrounded by a handful of concert performances: Beethoven's Fidelio with the Philharmonia under Donald Runnicles, Handel's Saul (yet to come), and Sunday evening's Salome.
There is, of course, much to be said for a really good concert performance; the bar was set almost unattainably high in the 1990s by Sir Charles Mackerras and the Scottish Chamber Orchestra's series of Mozart's Da Ponte operas. I don't think I can recall a wittier Figaro, even with many of the principals on copy, and Cherubino darting around hiding behind the double basses.
The musical advantages for a concert presentation of Richard Strauss's Salome are immediately obvious. The stage of the Usher Hall admits a much larger orchestra than the pit of an opera house, allowing a very large Bergen Philharmonic Orchestra to give full rein to the radiance and sheer volume of Strauss's orchestral palette. No composer before or after has matched Strauss's almost supernatural ability to create a kaleidoscopic sound world, from the most luscious eroticism to angular barbarity, and we heard it all last night.
With an orchestra of over 100 giving it laldy, as we say in Scotland, under the disciplined baton of their chief conductor Edward Gardner, you need a stellar cast if the singers are not to be overwhelmed. No worries here: Swedish soprano Malin Byström has taken the title role in Amsterdam and London, and she has both the stage presence and the power to carry this most unsettling tale of warped seduction with complete conviction. Strauss reserves for Salome the music of most disarming beauty: shut your eyes and forget the story for one moment and her seduction of Jochanaan, whether as the live prisoner or the disembodied head, could be straight out of Der Rosenkavalier or the Four Last Songs.
It's Salome's opera, but we had a superb supporting cast with Johan Reuter as the ever-dignified Jochanaan (his appearance is all too fleeting; would that the severed head could sing!), Katarina Dalayman (pictured below) as her scheming mother Herodias, and a wonderfully anguished Gerhard Siegel as the hapless Herod. Special mention to the quite unexpectedly lovely high tenor voice of Bror Magnus Todenes in the role of Narraboth, the young Captain of the Guard whose adoration of Salome is sanctified by his suicide.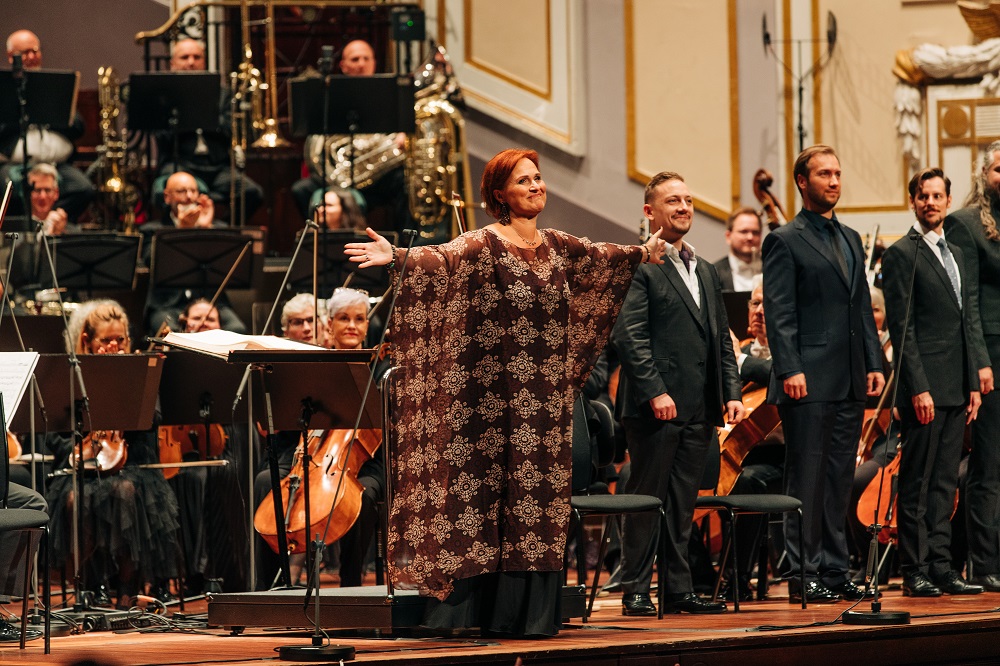 Whether a concert performance helps or hinders the drama is a more complex question than it seems. On the face of it the opera loses its dramatic nodes if there is no Dance of the Seven Veils (Byström left the stage) and no bloodied head on a platter to bring gut-churning reality to the ghastly final scene. In last night's staging there were few concessions to the absence of set or costume – most of the cast were dressed in drab grey concert dress, Herod looking for all the world like a harassed businessman anxiously waiting for a late order of widgets. Only Salome was allowed any sort of flamboyant display, starting out in a pure white frock, changing to blood-red after the Dance.
But if this means this concert performance is missing something, the compensatory benefits are considerable. I don't think I have ever been able to pay so much attention to the words, particularly the insidious, contradictory, petulant, and sheer bloody mindedness of Salome's lethal power game with both Jochanaan and Herod. I found myself transfixed by the horror so effortlessly conveyed by words and music, freed from the distractions of a staging that can never be perfect.
With an orchestra of over 100 giving it laldy, as we say in Scotland, you need a stellar cast if the singers are not to be overwhelmed
rating
Explore topics
Share this article