La rondine, If Opera review - a bold opening gambit from a company changing the business of opera |

reviews, news & interviews
La rondine, If Opera review - a bold opening gambit from a company changing the business of opera
La rondine, If Opera review - a bold opening gambit from a company changing the business of opera
Puccini's tearjerker is served up fresh by a young cast
Magda (Meinir Wyn Roberts) must make an impossible choice: love or truth
Covid has been devastating for all the arts, but especially opera – the riskiest and most expensive gamble of the lot. And it doesn't seem to be anywhere near done yet. On one memorable night this summer the number of covers stepping into principal roles across the various country-house opera companies hit double figures. And not small ones. So what do we do? Crash on as before and hope for the best? Scale back and build in safeguards, both human and financial?
Or throw out the whole setup and start afresh?
It's the latter that we're currently seeing in action at If Opera, whose first real season (there was a taster last year with a scaled-back Cav/Pag) opened this week at Wiltshire's lovely Belcombe Court with Puccini's La rondine.
Before you get the opera however, you get the mission statement – significant enough to be reprinted on every ticket. The revolution here is twofold: first a reframing of opera itself, taking it from something 'rare and impenetrable' to something more normal, everyday, and second a major overhaul of the business of opera-making itself.
Broadly, the shift is towards a rep-company setup – a staple of continental opera, but not in the UK, where singers live more precariously from contract to contract, perpetual freelancers and suppliants. The aim is to empower artists in the most practical ways – through pay, status, logistics and job-security – as well as reaping the artistic benefits of a company of performers working together across multiple shows and roles.
It's a bold experiment, and one that's only just beginning. In some ways the music's a similar story. There's a sense of something still under-construction in this ambitious opening show – a company and a space finding its voice.
The packed-to-bursting tent-auditorium gives some sense of the goodwill surrounding the project. Would they have come whatever the repertoire? Probably. But the choice of Puccini's ravishing but comparatively little-known Viennese operetta with an Italian accent (and follow-ups including Donizetti's Rita and Wolf-Ferrari's Il segreto di Susanna) shows an ambition beyond Bohemes and Traviatas. It's a great leveller: if no-one knows the score then, right off the bat, you've already done away with some hierarchies and preconceptions.
The peculiar alchemy of La rondine lies in the contrast between the slightness of the plot (girl with chequered past meets good boy; boy proposes; girl refuses to spare his reputation) which has a short story's swift-sketched concision as well as its strategic voids and silences, and the richness of the score itself. This is less a love story than an idea-of-love story, and atmosphere is everything.
With so little horizontal ground to cover, the vertical depth of texture and tone becomes the focus, and what luxury here to squeeze an orchestra – the local Bristol Ensemble – into the tent. Acoustically it's a challenge, and under conductor Oliver Gooch things get very loud indeed. The long thin pit doesn't help the balance, but it's nothing that won't resolve in the course of the run.
The young cast (many of whom will return in other roles and productions through the season) bring a freshness that suits the first two acts of this fragile drama of love almost found: the awkward meet-cute; the giddy, giggling trio of girls. Youth takes the edge off the poet Prunier's ghastly pretensions (thin-voiced but full of character in Ryan Vaughan Davies' Paris-by-way-of-Dalston hipster account, pictured top), while the fact that Magda's confidence and poise are clearly feigned rather than felt makes sense of her patron Rambaldo's unexpected gentleness. Nightclub Bullier's bursts with good-natured exuberance in Act II, with just enough tongue-in-cheek Parisian kitsch in Flavio Graff's designs to remind us that this isn't Manon but a commedia lirica.
But the trade-off is an Act III that lacks the mature charge of regret and roads-not-taken. The absence of chemistry between Meinir Wyn Roberts' Magda and Joseph Buckmaster's feckless mamma's boy of a Ruggero (both pictured above) denies us the emotion needed to fill the gap where a tragic death might usually be. Intermittently catching fire, Wyn Roberts' heroine comes in and out of focus, achieving glorious intensity in the climaxes but losing us in the conversational back-and-forth. The latter is prime territory for Lorena Paz Nieto's Lisette (pictured below with Vaughan Davies), however, whose voluble Despina-ish ladies maid is all backbiting charm and quicksilver energy. Buckmaster warms up through the evening, opening out from a tight start into a lovely Italianate sob in the final duet.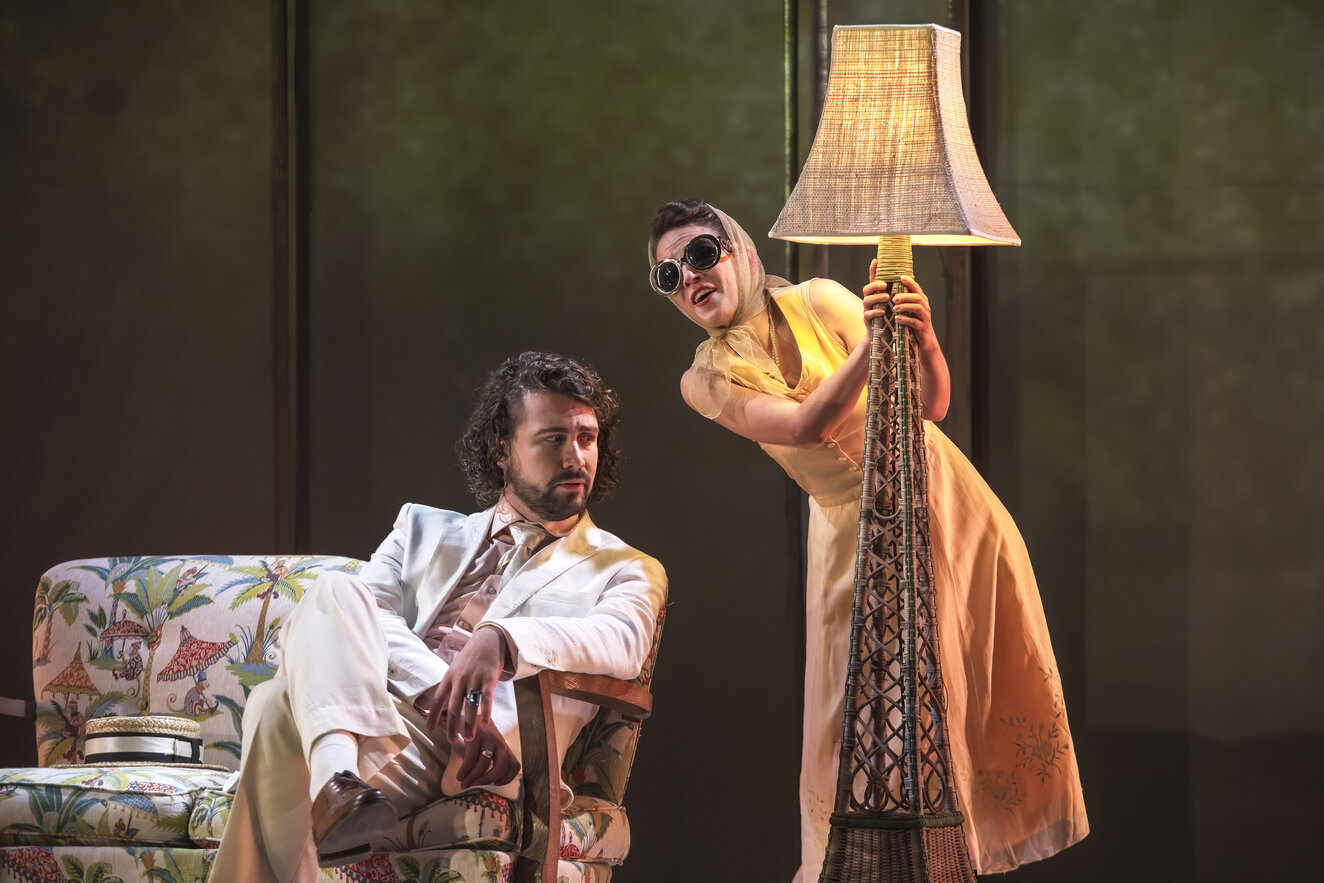 Bruno Ravella's staging keeps things simple. Moving the action forward to the 1950s turns the screw on a drama that pivots on the important of sexual virtue and reputation. To see Magda and Ruggero part here is the romantic equivalent of those soldiers killed in the last days of a war. Plenty of chrome accessories and geometric prints give a keen sense of context, while Luca Panetta's video projections underline the gap between fantasy and reality in which this piece lives so effectively.
As opening gambits go it's an interesting one. Better watch this space; If Opera are just getting warmed up.