Hansel and Gretel, British Youth Opera review - chaotic rewrite of a classic opera misses the mark |

reviews, news & interviews
Hansel and Gretel, British Youth Opera review - chaotic rewrite of a classic opera misses the mark
Hansel and Gretel, British Youth Opera review - chaotic rewrite of a classic opera misses the mark
Trading fantasy for banal reality, this fairytale forgets to bring the emotion
Wednesday, 11 August 2021
The Witch (Fiona Finsbury) and her theatrical troupe
It's hard to know where to start with this chaotic Hansel and Gretel, and not just because Humperdinck's opera has been cut, spliced and re-stitched with a brand-new libretto, new characters and multi-track, multi-option audio. The restless, competing ideas, the gaudy design, the ill-judged tone, the fussy technology all conspire against the performers, who produce some fine singing despite everything.
What makes it all the more enraging is the fact that, as British Youth Opera's CEO Nicola Candlish reminded us before the performance, these near-professionals have, in many cases, lost months of in-person training and shows to Covid. They deserved a better showcase than this confused theatrical experiment, which feels a world away from BYO's usual tight production values and quality.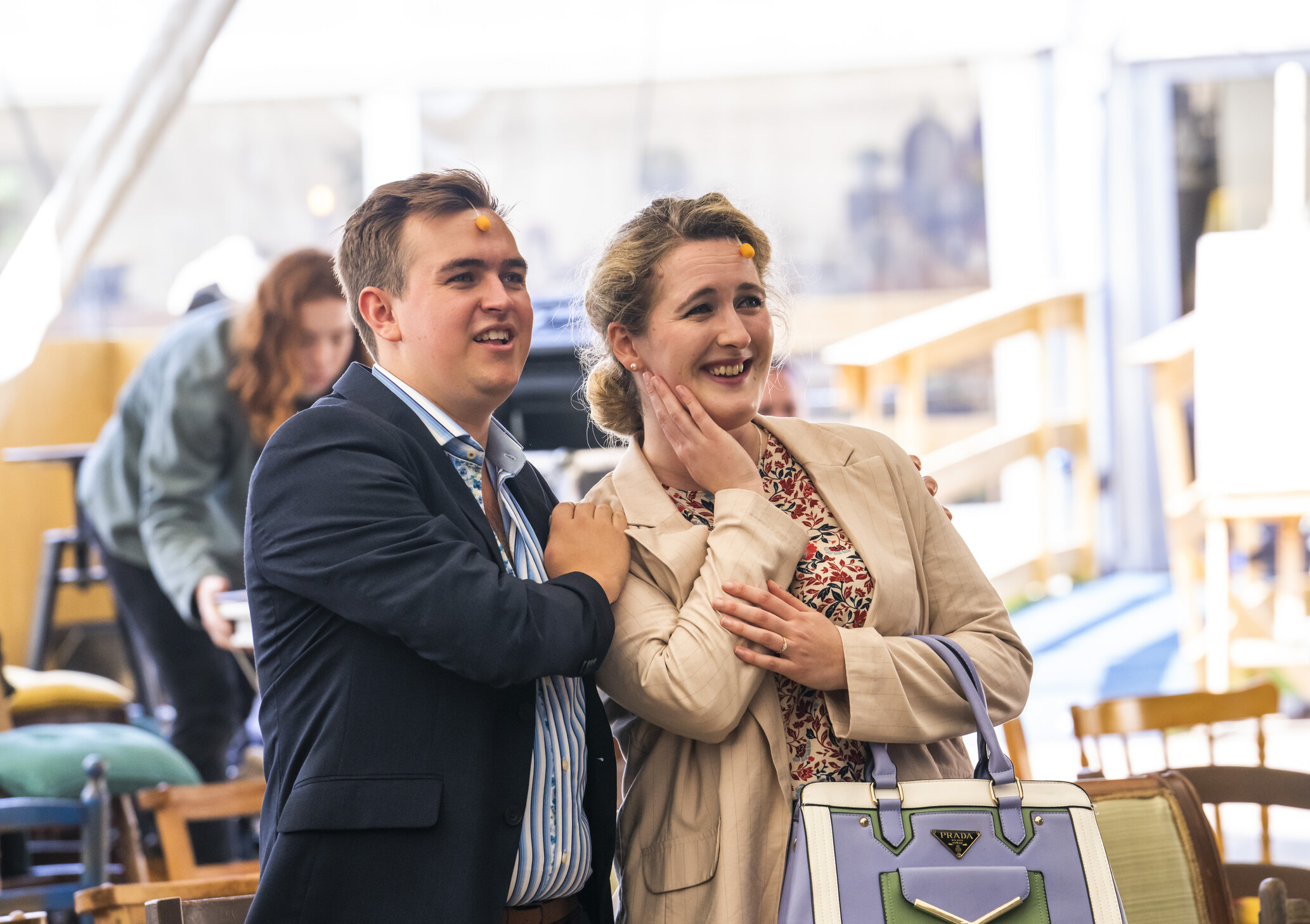 Of course this year's season has faced a legion of challenges: new restrictions and guidelines for both performers and audience have taken the usual orchestra off the table, and the company swap an indoor venue for Opera Holland Park's breezy tent with its challenging acoustic and sprawling stage.The company's stats are dazzling: some 50% of the singers performing this summer at both Garsington and Opera Holland Park are BYO alumni. It's the finishing school of the British opera scene, a chance for the next generation of talent to be seen and heard at their best as they start out in the profession.
You can see why it was tempting to let technology fill in the gaps – both financially and practically. But where previous projects for director Daisy Evans' own Silent Opera have made a real virtue of individual headphones and sonic play, here they don't quite make their case. After a year of digital distance, recorded sounds instead of live ones, mediated performances, it seems wilful to sit and listen to a live cast and quintet of musicians through headphones, even if technology can supplement their missing colleagues (as well as a battery of electronic effects).
The USP here is the choice the headphones offer: two settings mean you can either follow the adventures of Hannah and Gemma (our present-day Hansel and Gretel) or, at the touch of a button, switch over to their parents. The music is overlayed (in clever arrangements by Max Pappenheim, who also sound designs, giving us everything from swathes of Hollywood strings and Nineties-electro-glitz to piquant Janacek-like miniatures for trumpet, flute and strings) allowing different strands of narrative to happen simultaneously.
The text is an ungainly mixture of banality and contemporary cliché, replacing the very real jeopardy, tenderness, violence and hope of the original with a smug tale about the power of theatre – the Witch transformed into a rather-too-method leader of a youth drama troupe. If any fairytale could be trusted to have resonance after the year we've all just had you'd think it would be a story about deprivation, desperation, fantasy and wish-fulfilment. Unfortunately neither story has much to recommend it. In place of Humperdinck's precarious family, where starvation is an all-too-possible reality, Evans' own libretto gives us squabbling middle-class brats and their Wholefoods-shopping, Pinot-quaffing parents (Hilary Cronin and Jack Lee, pictured above right).
Still, the cast give their all. Hilary Cronin (Mother) and Jack Lee (Father) are the pick of the voices, and you wish they had rather more to get their teeth into than the musical bickering that survives the cuts, though it's a bonus to have Lee adding warmth and weight to the Evening Prayer. Soprano Rosalind Dobson (pictured above with Eva Gheorghiu as Hansel) is a gleaming Dew Fairy and her brief turn as Gretel makes you long to hear the rest of the role. Fiona Finsbury's Witch is pleasantly unhinged, a foil to the wholesome, youthful singing of Ellie Neate and Amy Holyland and Gemma and Hannah (pictured right), which goes from strength to strength as the evening goes on.
Billed and timed (with early performances) as a family-friendly show, this Hansel and Gretel misses the mark for both adults and children: too trivial for the former, too confusing for the latter. A wasted opportunity and a squandering of young talent.
Evans' libretto gives us squabbling middle-class brats and their Wholefoods-shopping, Pinot-quaffing parents
rating
Explore topics
Share this article