The Barber of Seville, Welsh National Opera review - back to work in an old banger |

reviews, news & interviews
The Barber of Seville, Welsh National Opera review - back to work in an old banger
The Barber of Seville, Welsh National Opera review - back to work in an old banger
Some excellent singing struggling with a weary production and an unhelpful translation
Friday, 10 September 2021
Figaro and his clients, battling with the doll's house
Welcome back, WNO! Yes, emphatically, and with a loud hurrah, which is precisely what the company received, and rightly received, from the somewhat arbitrarily scattered first night Millennium Centre audience for their opening revival of The Barber of Seville.
But what possessed their new(ish) General Director,
Aidan Lang
, to celebrate the return, with all its lively hopes for the future, by digging up Giles Havergal's 35-year-old production of Rossini's masterpiece, is a mystery I am unable to unravel.
Havergal's stage-within-a-stage concept perhaps seemed chic and suitably postmodern in 1986, but today it reeks of the old days, the dear old New Theatre, not quite up to the mark opera-in-English, struggling with the sheer speed and athleticism of Rossini's Italian, and littered with weary clichés, Fiorello the hired music director (Howard Kirk) interminably waving his arms "conducting" the chorus, assorted passers-by clapping the arias: a sort of professionalised amateur opera, soliciting the audience - in Martin Cooper's neat phrase - and naturally, in the circumstances, getting the reward it so brazenly craved.
In this spirit, Russell Craig's designs, with their multiple levels, higgledy-piggledy staircases, and general cut-away doll's-house look, seem clever and effective until the musical choreography reveals them to be cramping and needlessly fussy. Rosina is imprisoned in a sense, it's true, but her character, as displayed by her music, calls for movement and space. Entrances need to command the room: Don Basilio, grand and mock diabolical in his "calumnia" aria, the police at the end of Act !, even the fake Don Alonso in Act 2. They shouldn't be picking their way between furniture or up and down steps or sidling on unnoticed; they need, so to speak, to present arms and stride across the stage.
An idea worth trying once upon a time no doubt; but let it rest now.
Rossini's Barber is of course unsinkable, and it doesn't entirely sink here. It has, especially, an adorable Rosina in Heather Lowe (pictured above with dolls), a true mezzo soprano with beautifully focused chest-tones and a big range, a bright top and real bravura to go with a vivacious presence and good, detailed observation of character. The Almaviva, Nico Darmanin, is vocally a match for her, perhaps a touch short on warmth and tending to underplay the drunken officer (though not the pious Alonso), but musically alert, brilliantly virtuosic, and skilful at making Robert David Macdonald's free and easy English sound Italian.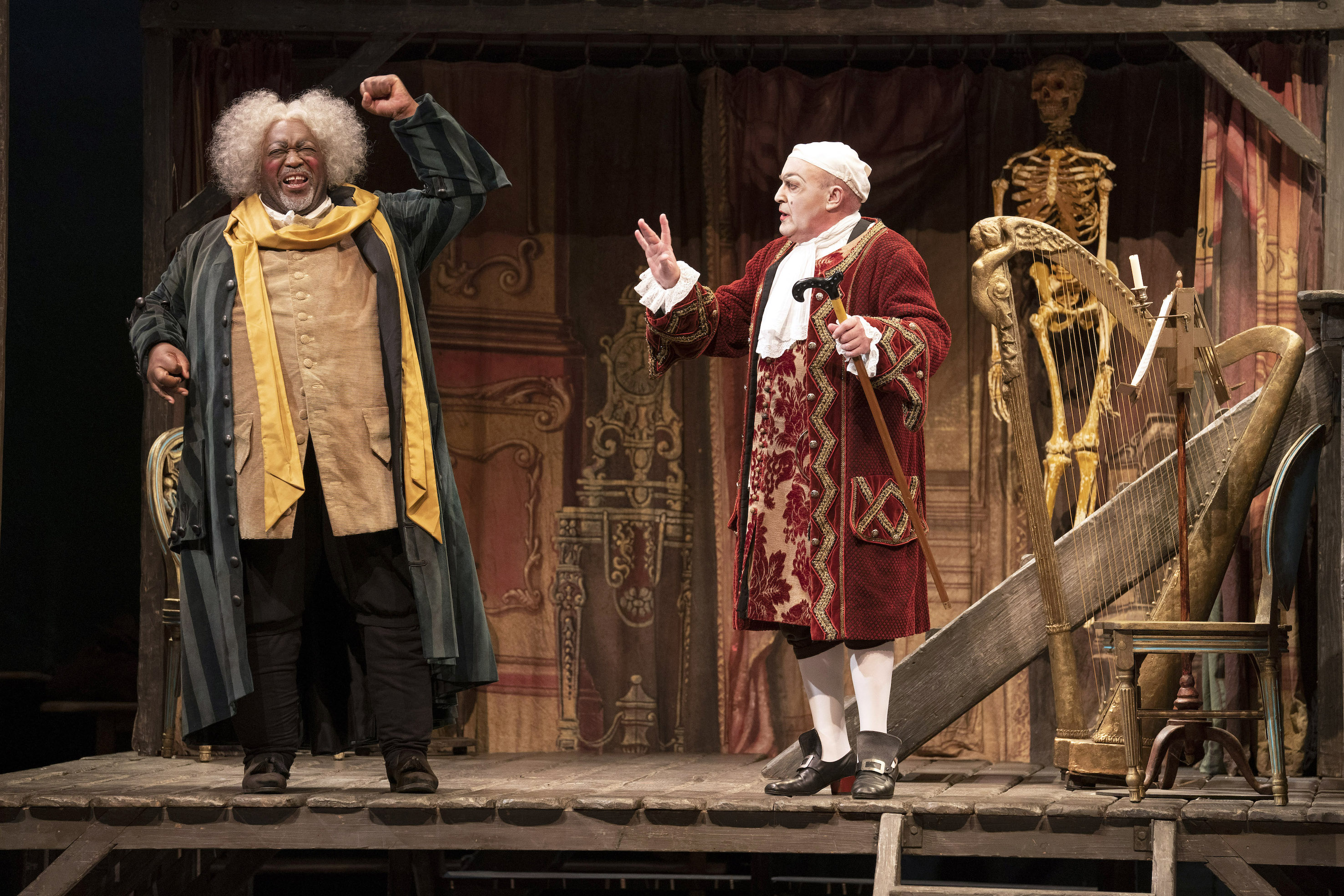 Nicholas Lester is a highly watchable Figaro, always the performer, the fixer par excellence, and he starts strongly in the "Largo al factotum" but fades vocally a bit thereafter, a victim, to some extent perhaps, of the language. Andrew Shore is a dependable, if conventional Bartolo. But Keel Watson's Basilio (pictured above with Andrew Shore) is a big disappointment, and I mean big: his first entrance is the production's one potentially spectacular moment, this wonderful, ponderous silk-clad figure, black face framed in a shock of silver hair. But the "Calumnia" seemed uncertain on this first night, almost too intimate, not thrown out with the ferocity the composer surely intended; and he is certainly inhibited by the doll's house. This is a personage that needs a grand arena.
These things will improve. Tomáš Hanus conducted a shade cautiously, nursing the Rossini patter, so hard to get round in English, sometimes having to urge the singers on, while at the same time doing battle with an orchestral balance distorted by a reduced string section - or so I deduce from the sound: the programme gives no information on the subject. Still, the best things musically more than justified the trip, valait le voyage, as they say in Michelin. No rosettes as yet, but they will come.