Air review - great fun but no slam dunk |

reviews, news & interviews
Air review - great fun but no slam dunk
Air review - great fun but no slam dunk
Ben Affleck and Matt Damon in real-life tale of a legendary shoe and quite a bit of dosh
'There is no self. Just the non-self.' Director and actor Ben Affleck in 'Air'
All the best sports movies are about more than just sport: the core might be friendship, romance, the battle against discrimination, the importance of following your dreams, of self-realisation and fulfilment, of fighting the corporate machine, of David v Goliath. Admirable themes, all.
So, Air is a little different. While it may be mistaken for a sports movie – after all, it touches on the early years of legendary basketball player Michael Jordan ­– it actually isn't. At the heart of Air, is money. Money is even more important in Air than it is in Moneyball, which is centred on constructing a baseball team on a budget, but is a brilliant sports movie, capturing people's passion for its game, and the highs and lows of the attempt to excel in it.
Air has its dreamers, for sure, and they are endearing. But what they're working towards is a commercial deal; to be precise the handshake on an endorsement – for what would become the mythical Air Jordan shoe – that would and still does earn Nike billions of dollars. And that makes Ben Affleck's highly enjoyable film also something of a conflicted experience. We're expected to be willing on real-life characters towards a fortune. For much of the movie, I couldn't help feeling, who cares?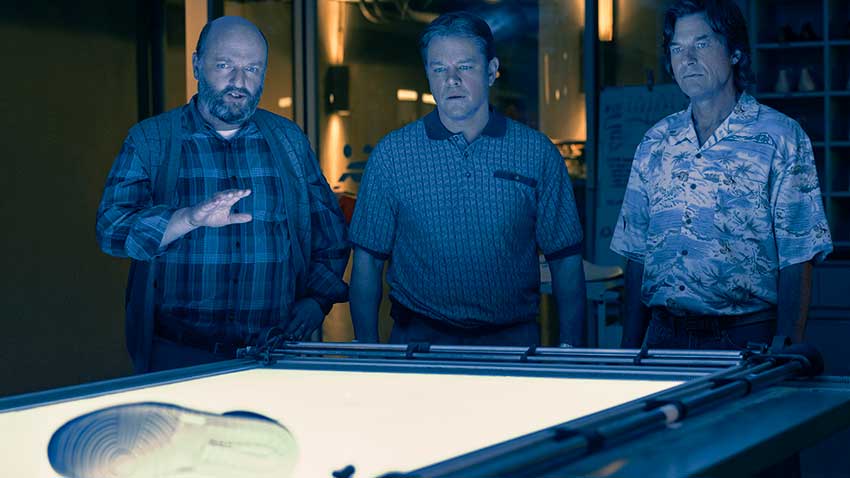 It's 1984. Nike is at this time the unfashionable poor relation to Adidas and Converse in the sports shoe business, seen as the provider of running shoes for the elderly. Sonny Vaccaro (Matt Damon, pictured above centre, with Matthew Maher and Jason Bateman) is the talent scout for the company's faltering basketball division, charged with finding players to endorse their shoes, but always losing the best ones to their rivals, and with scant budget with which to entice their signatures.
When Sonny spies the rookie Jordan, and grasps the young man's immense potential, he sees the answer to Nike's prayers. Sonny, a rather sad and demoralised fellow (to Damon's credit, it's hard to believe this pot-bellied, messy haired, downbeat man was once Jason Bourne), whose Nike 'office' is the tape archive and is constantly fearful for his job, really believes in Jordan. And he has a plan: to spend his entire budget on luring this single player and, more than that, to build an original shoe line around him. "He doesn't wear the shoe. He is the shoe."
Stirring stuff. But neither Sonny's immediate boss Rob Strasser (Jason Bateman) nor Nike chairman Phil Knight (Affleck) are supportive, preferring instead to spread their bets across a handful of players. Moreover, Jordan's ferocious agent David Falk (Chris Messina) revels in putting Sonny in his place and sees no financial reason to counter his client's preference for Adidas.
This is where scriptwriter Alex Convery does hit some sports movie marks: he's got his loser/dreamer in Sonny, his talented player in Jordan, and a David v Goliath set up between Nike, led by the barefooted faux Buddhist Knight, and the corporate suits of their competitors.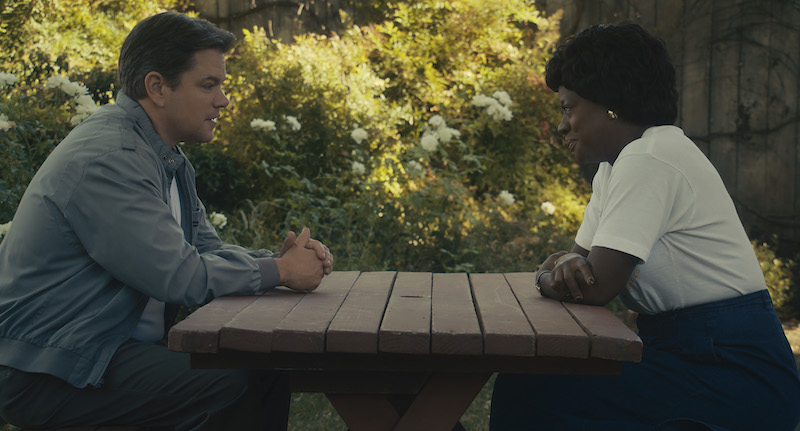 This isn't as muscular as Affleck's previous efforts as director (The Town, Argo) but it's polished and assured, with a solid attention to period detail (from the TV clips of Reagan, Charles and Di, MTV, to the wonderfully clunky computers and cell phones and the ever-present Eighties soundtrack) and a light, humorous feel for actor dynamics. His own, with Damon, is already cemented, and some of the film's best moments involve the two riffing beautifully off each other, as Knight takes his time to realise that he and Sonny are really fighting the same corner.
That said, the film's most uproariously entertaining scene involves Sonny and the slick, smooth shark of a sports agent, Falk, a phone conversation in which Messina's foul-mouthed invective bursts out of the screen, as Damon cutely eggs him on. The other scene stealer is the little-known Matthew Maher as shoe designer Peter Moore, the man who came up with the Air, and whose geeky ambitions are finally being let out of the (shoe) box.
Other than the shoe company machinations, the chief motor of the film is the relationship between Sonny and Jordan's mother Deloris (Viola Davis, pictured above with Damon), who is the strongest influence on her son's decisions and does have a perception of the deal that goes beyond money – namely, worth. Bucking the trend at the time for athletes being exploited in such deals, she wants her son to have a fair share of the pie. And it's hard to argue with that.
Davis lends the film her usual gravitas, and almost makes up for the strange absence of someone playing Michael Jordan himself – who is only glimpsed, occasionally and briefly, from the back, as the figure in the boardroom discussions who least wants to be there. Other than an oft-repeated television clip, there's no sense of the extraordinary sportsman, the myth in the making that everyone is fighting over.