Hex, National Theatre review - 12 months after being sent to sleep by Covid, Rufus Norris's show is back |

reviews, news & interviews
Hex, National Theatre review - 12 months after being sent to sleep by Covid, Rufus Norris's show is back
Hex, National Theatre review - 12 months after being sent to sleep by Covid, Rufus Norris's show is back
Victoria Hamilton-Barritt brings superstar quality and emotional depth to villainous ogre
Wednesday, 07 December 2022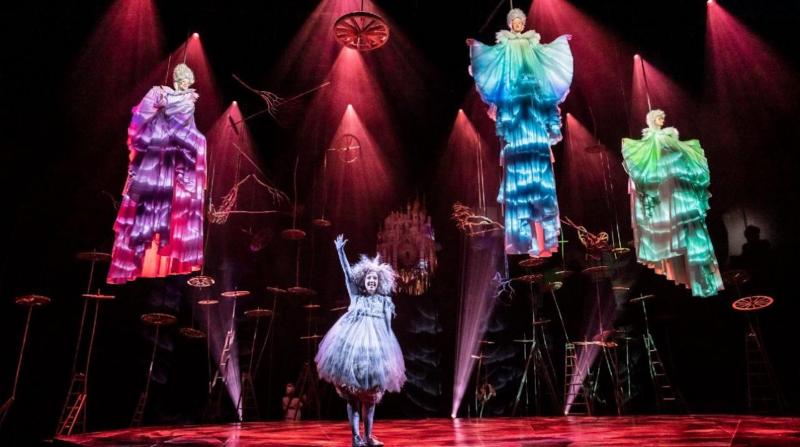 Defying gravity - Lisa Lambe, Kate Parr, Olivia Saunders and Rumi Sutton in 'Hex'
Hovering way, way above us, three aptly named high fairies, in voluminous chiffon, open a show that may not be airy in the metaphorical sense, but invites us to cast our eyes upwards continually – no bad thing to do in the bleak midwinter of 2022. But does the show, delayed after one Covid cancellation after another on its spluttering debut 12 months ago, soar as a new show should? Give or take the odd clunky landing, it does.
A fourth fairy, more Cindi Lauper on Top of the Pops back in the day than Diana at Westminster Abbey, is, like Clarence in It's a Wonderful Life, hampered by an absence of wings but can still squeeze a bless or two out if required. Sent to the palace to placate the baby who won't sleep and is sending her mother to a nervous breakdown (we've all been there), she is treated so badly that she is provoked into casting a hex, cursing the now teenage princess into a prolonged slumber that only a prince can revoke with a kiss. But the malevolent thorns that activated the hex line up to thwart any such suitor from getting near the, er… sleeping beauty.
Meanwhile, an ogress queen is about to give birth to a half-human, half-ogre boy who, by dint of that hybrid DNA, is immune to the thorns and proves to be the fairy's passport to undoing the curse. The ogress likes eating humans, an instinct that can be suppressed for only so long, and that tendency casts a whole new meaning on the phrase "having the family round for lunch".
Tanya Ronder's book feels a little convoluted and occasionally creaks at the edges, but there's a floating Disneyish castle usually within our eyeline to remind us that we're pretty much born knowing these characters and their motivations. If Rufus Norris's lyrics can grate a little too, well "Although she's dressed up to the nines / At sixes and sevens with you" found its way into perhaps the most celebrated song in the last 50 years of musical theatre and there's nothing quite as awkward as that!
Enough of the carping – musicals, especially new ones, are always full of flaws and the knockers who will gobble up goblins and elves and CGI-ed armies but can't suspend disbelief sufficiently for a little song and dance routine will have their say, and they're welcome to it. The rest of us can sit back and revel in Jim Fortune's eclectic mix of melodies from a Madness-inspired "Nature of the Thorns" to the "I Want" number "The One", and the plaintive/defiant "I Know What I Am". There's a little samba, a little Sondheim and a little Gilbert and Sullivan along the way, without ever toppling into pastiche, something always to be avoided if the darkness that underpins this (and all good fairytales) is to come through with sufficient force.
And it does get very dark indeed at times. My son tells me that any show of this kind is only as good as its villain, and Victoria Hamilton-Barritt (pictured above with Lisa Lambe), whom I last saw carrying Andrew Lloyd-Webber's misconceived Cinderella, is splendid as Queenie the ogress. In medieval millinery (Katrina Lindsay's extravagant costumes and austere set design complement each other beautifully), Hamilton-Barritt is scary and vulnerable by turns, with much added to both qualities by her superb singing. Even I could forgive her very 21st century redemption – the Brothers Grimm would not have been so kind and one feels Gretel would have had no hesitation in bundling her into the oven.
Queenie is so compelling that she could dominate the stage even more than a villain should, but Lisa Lambe scurries and skivvies as the almost child-like Fairy (an easy and probably necessary character for the kids in the audience to cling on to when the ogress is going full Hannibal Lector) and can belt to the very back of the National's largest house. She also provides the useful (and dangerous) moral that you can make people believe you have mystical powers if they really want to.
Michael Elcock and Rosie Graham look splendid and have some fun with the handsome prince and his winsome princess, but there's only so much you can do with such roles and we're all rather pleased when they clear off and we can get back to the goodies and baddies.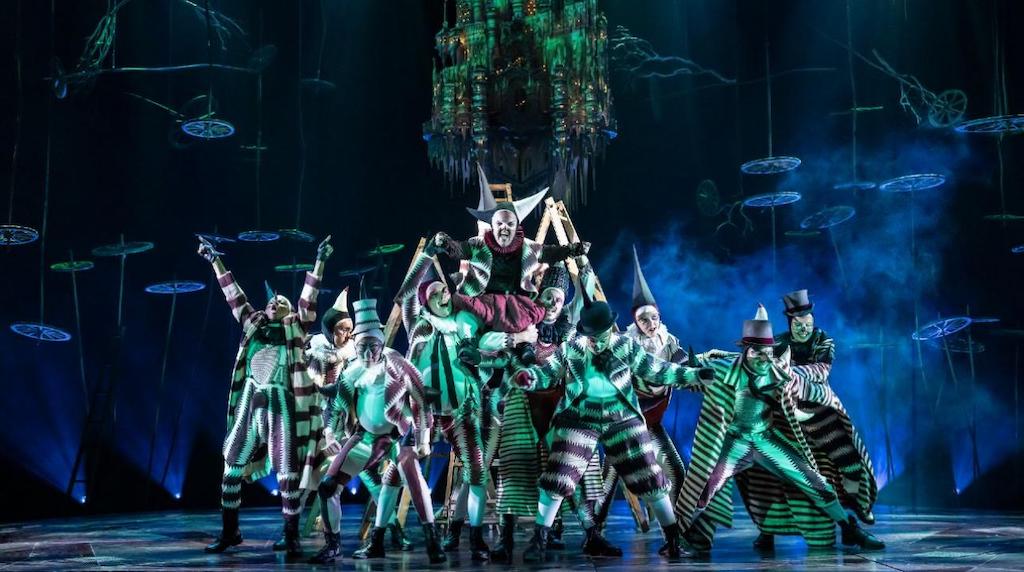 Plenty of the humour and some of the best songs are given to the ensemble (pictured above) who play the spiky thorns, the lovelorn princes destined not to waken the princess and the castle's servants. Jade Hackett's choreography gives them a lot of work and they deliver well, using the revolve frequently (but never distractingly, as can be the case with so seductive a toy) and shrinking the vast Olivier stage to a more manageable scale. Marc Trischler's orchestra are miles away, tucked high up at the back of the stage, but that allows the voices to come through perfectly balanced against the music, a basic piece of stagecraft that even the most expensively mounted shows can fail to get right.
If Rufus Norris took a chance combining the jobs of director and lyricist and, as Director of the National Theatre, commissioning his wife to write the book in the minefield that is a new musical production, he largely succeeds. There might not be a showstopping song but there's no duds either, there might not be full comeuppance for villainy but there's real jeopardy too, and there might not flying cars above our heads, but there's plenty enough spectacle for kids complacent after growing up on video games and Marvel movies. In the final reckoning, Hex delivers on musical theatre's central proposition – it entertains.
There's a little samba, a little Sondheim and a little Gilbert and Sullivan along the way
rating
Explore topics
Share this article