Album: Taylor Swift - Midnights |

reviews, news & interviews
Album: Taylor Swift - Midnights
Album: Taylor Swift - Midnights
Synthpop noir and superlative phrasing from an imperious pop star
Wednesday, 26 October 2022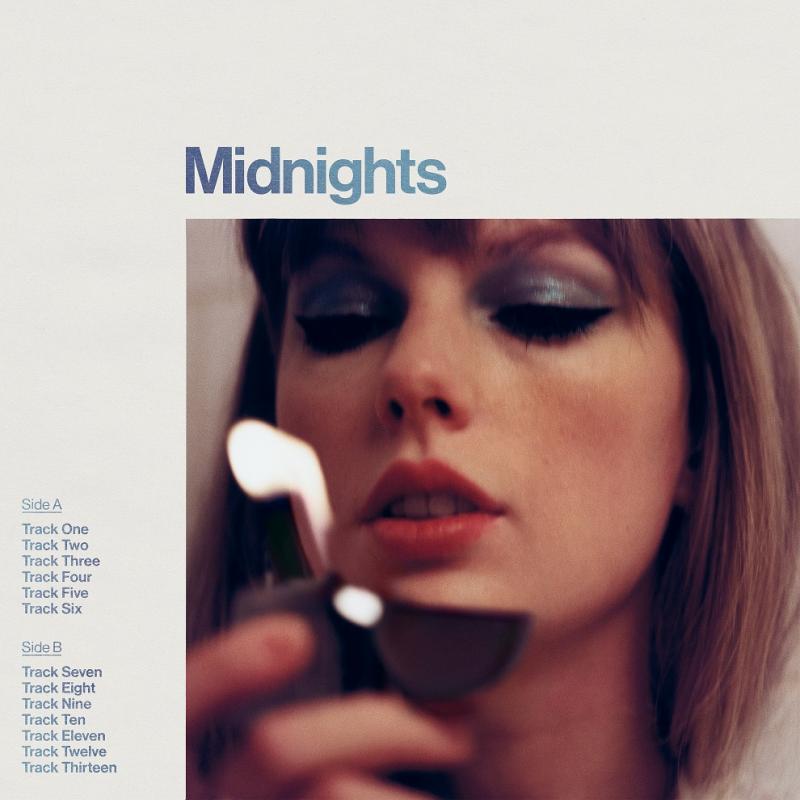 'Swift's singing effortlessly carries it all'
Taylor Swift's transitions have become imperious, from the woody hush of her collaborations with The National's Aaron Dessner, Folklore and Evermore, to the remade reclamations of her early work. Working at pace, she has assembled an impregnable coalition of critical acceptance and creative range.
Her contemporary country roots remain in her focus on relatable personal stories, pushed now into a hyper-realm of total fame and universally pored-over relationships, dropped like paper trails in her lyrics. She confesses with wry assertion, a female star taking everything in her messy stride. Like Jennifer Lawrence, she's ascended into the celebrity stratosphere with minimal apparent psychic damage, retaining regular attitudes while making driven art.
Swift announced Midnights as "a collection of music written in the middle of the night, a journey through terrors and sweet dreams". It's synthpop noir, integrating her Americana phase's intimate nuance into more mainstream pop modes, the tone set by its opening brace. "Lavender Haze" dismisses sexist critics and lovers over squelching club beats, its quotable lyrics elastically phrased: "No deal, the 1950s shit they want from me"; "I'm damned if I do give a damn what people say". Rap's radical realignment of singer-songwriting is fully apparent. "Maroon" heads deeper into the shadows, the synths brooding and swooning, Swift speeding down long, romantic lyrical lines, arriving at the colour of female disgrace: "How the colour rushed into my cheeks, so scarlet… the lips I used to call home, so scarlet." Switching into the titular, velvet shade, she leaves the scarlet letters crumpled.
"Antihero" dips into the fictional modes explored on Folklore, conjuring murder plots. A collaboration with Lana Del Ray, "Snow on the Beach", adopts some of her tranquilised 20th century Americana and glassy romanticism (both collaborate with co-producer Jack Antonoff, Swift's sounding board again on Midnights). Plucked strings add an Eastern edge, bells conjure an unseasonal Christmas, and these two self-conscious stars finesse the stages of fame and attraction: "My smile is like I won a contest, and to hide that would be dishonest/And it's fine to fake it till you make it, till you do/Till it's true…"
"You're On Your Own, Kid" is a yearning anthem over a guitar pulse, Swift's sugared voice showing grainy cracks and breaths as the track speeds into an urban glide. "Midnight Rain" could be a country song, remembering a relationship abandoned back in West Reading, Pennsylvania, the small town she quit for Nashville stardom.
Possible personas are flitted through. "Vigilante Shit" switches between a first- and second-person vengeance narrative which, added to Swift's verbal and rhythmic felicity, recalls her sometime critic Eminem. That track's icy cool switches into the crystalline synths and ballsy hilarity of "Bejewelled". "Labyrinth" sees her voice aerated and abstract over psychedelic warps, murmuring in a dream. On "Karma" she's bohemian and dry over harp-like keyboards, kidding confessions: "To you I can admit/I'm just too soft for all of this." Swift's singing effortlessly carries it all, smoothly packing words into long lines then creamily staccato, scattering phase-shifted harmonies or whispering sweet somethings, confiding and in control.