Age of Rage, Internationaal Theater Amsterdam, Barbican review - shattering assault on all the senses |

reviews, news & interviews
Age of Rage, Internationaal Theater Amsterdam, Barbican review - shattering assault on all the senses
Age of Rage, Internationaal Theater Amsterdam, Barbican review - shattering assault on all the senses
Happiest in home-territory epics, Ivo van Hove pulls off a Greek-tragedy stunner
Hecuba (xx) lamens another sacrificial victim in the chain of retribution
Hunger for the gruesome horrors and euphoric highs of Greek tragedy seems to be stronger than ever. Yet when it comes to epic sequences, nothing in recent decades has quite had the impact of Peter Hall's Aeschylus Oresteia at the National Theatre or John Barton's three-night RSC journey from Aulis to Tauris The Greeks. Now Age of Rage from Ivo van Hove and his Internationaal Theater/Toneelgroep Amsterdam joins them in the pantheon of great theatre.
There's a radical reaction here against everything that seems to me to have gone wrong with often admirable UK attempts to reimagine that ancient tragic world, so close to us in so many of its emotions and eternal verities but also so far from today in many of its actions. You can't expect a mostly realistic update to render plausible the idea of filial sacrifice (a suspension of disbelief too far at the start of Robert Icke's Almeida Oresteia); and why get someone to write a "new version" when the essential poetry of the tragic masterpieces remains so compelling (Rachel Cusk's retelling of the Medea myth, another part of the Almeida Greek season)?
Though he's no purist, van Hove has focused on the essence of oddball Euripides and ritualistic Aeschylus – the English supertitles to the Dutch translation read so eloquently that I'd like a copy of the text. Designer Jan Versweyveld's typical visual brilliance gives us immediate context - family trees, dates, places in Greece and Asia Minor – and ear-splitting Gothic heavy metal parallels the ludicrousness of the human-flesh-banquet which kicked off the cycle of retribution in the House of Atreus (beyond acceptable decibel levels; ear plugs should have been offered on entrance. Funny, last time I endured an aural hammering this loud was at an Amsterdam rock concert on a 1983 road trip to Greece funded by a university classics department grant).
Then you can remove fingers from ears as still waters and eerie soundscapes lap the awful dilemma of Agamemnon at Aulis: should he follow the divine command to sacrifice his beloved daughter Iphigenia so that a wind will spring up to guide the Greek fleet to Troy? A deceptive family naturalness is established between Agamemnon and Clytemnestra (Hans Kesting and Chris Nietvelt, superlative in van Hove's Shakespeare epics Kings of War and Roman Tragedies, above all as the best Antony and Cleopatra I've seen on stage) and their daughter. But the awful truth seems just as natural/unnatural as it did not in Icke's tacking-on of the Iphigenia story to his Oresteia. Physical gestures are already halfway to dance, especially from the brilliant Ilke Paddenburg to convey Iphigenia's girlish raptures before all goes awry (Paddenburg pictured above with Kesting, Nietvelt and Aus Greidanus Jr. as Talthybius). The three percussionists of BLINDMAN on either side of the stage add the crucial element of rhythm which would have been so prevalent at the Greek dramatic festivals; there are riveting and original dance sequences choreographed by Wim Vandekeybus, culminating much later in Electra's joy shared with her women at the murder of her fatuous and brutal stepfather Aegisthus.
Above all, van Hove gets the modulations between calm and wild right, even if some of the shouting has taken its toll on the vocal chords (I was worried for Achraf Koutet's Achilles). They're embodied first in the quick-change delivery of Nietvelt and Paddenburg; then all hell bursts forth as Clytemnestra tells us of the Trojan horrors, all too potent right now: children burying their parents, civilians transported to the enemy country as slaves, total annihilation of a city. Kudos to van Hove for adapting Euripides' Hecuba, with slices of The Trojan Women (especially necessary for re-introducing Menelaus and showing us the cause of it all, Helen, who as Clytemnestra's sister is also played by Nietvelt). Janni Goslinga's fallen Queen Hecuba provides one of the evening's relatively few causes for tears rather than visceral shock; Paddenburg represents the next sacrificial victims, including grandson Astyanax, hurled from the walls of Troy (no Andromache to grieve here, but Goslinga reacts compellingly).
Imperial purple and a chandelier do the work for the palace of Mycenae years later on Agamemnon's return. The focus here comes from another fine young actor, Maria Kraakman, as the doomed Cassandra. Do we need an interval before the king's children take their revenge? I didn't – I could have sat immersed in the shock and awe for another one and a half hours. But in any case the mood is different as we discover Electra (Euripides', not Sophocles') married off to a peasant and brooding on revenge. The drummers will play their part in the mounting tension of more pre-murder ritual.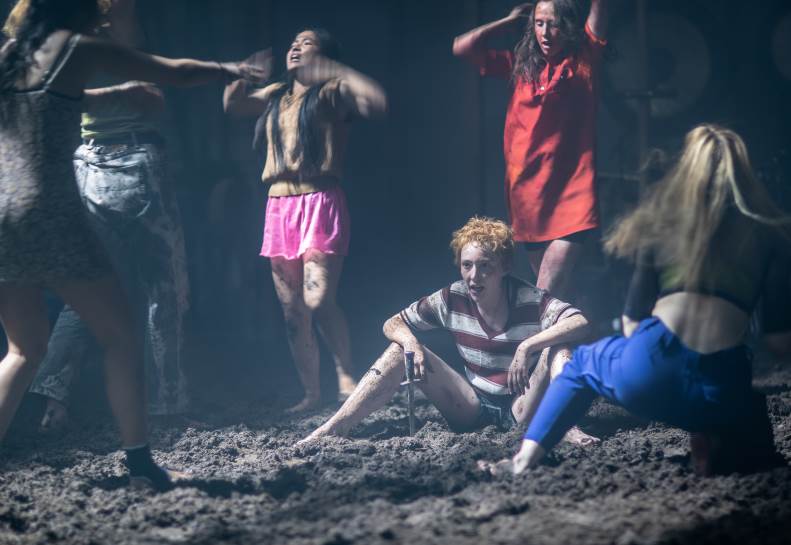 Van Hove has been here before, in Paris, presumably with the Belgian actor Hélène Devos, a perfect image of degradation, hopefulness and malice (pictured above seated). The physical representation of her crucial encounter with the mother she's not seen for so long is superbly handled: maternal tenderness cut short by the question of long-absent Orestes' return (the brother eloquently played by Minne Koole).
I'd forgotten what a crazy riff on mythic themes is Euripides' Orestes. Not having looked in advance at what sequence of plays we were getting, I imagined we might end up, as we did in Barton's cycle, with the redemption of pre-Shakespearean romance that is Iphigenia in Tauris. But no, we're stuck in Myceane, Electra is still around and the hitherto silent friend of Orestes Pylades (Maarten Heijmans) joins them in a terrorist spree. It also came as a shock, memory having played false, that Helen is the victim here – and another sacrificial daughter, Hermione, is about to get her throat cut, when Apollo intervenes. Remember that Wilfred Owen riff on Abraham and Isaac, how God intervenes to ask the father to place a ram in his son's place, "but the old man would not so, but slew his son/And half the seed of Europe, one by one"? Both endings are entirely appropriate for 2022, and the return of apocalyptic rock makes the final shocking point of endless retribution, endless violence. You emerge with legs unsteady beneath you: essential, literally stunning theatre.