Marys Seacole, Donmar Warehouse review - frustrating yet unflinching |

reviews, news & interviews
Marys Seacole, Donmar Warehouse review - frustrating yet unflinching
Marys Seacole, Donmar Warehouse review - frustrating yet unflinching
Off Broadway hit builds to a furious climax in London bow
Care in the community: the cast of 'Marys Seacole'
Inspiration jostles irritation in Marys Seacole, Jackie Sibblies Drury's Off Broadway hit from 2019 that has arrived at the Donmar as part of a banner season of late for Black American writing in the capital (cf. "Daddy": A Melodrama at the Almeida and Is God Is last year at the Royal Court).
Riffing on the life and legacy of the Anglo-Jamaican nurse of the title who knew Florence Nightingale and lent invaluable assistance during the Crimean War, Drury's one-act play asks probing questions about the very workings of biography and the nature of bequest. And Nadia Latif's deeply felt production builds to a last half-hour that is as vital, and moving, as anything on the London stage just now. If up until then, you're tossed this way and that by the shifting moods of a purposefully challenging piece, the ending delivers the affective blow it must in a tableau of carers and the cared that may haunt you all the way home.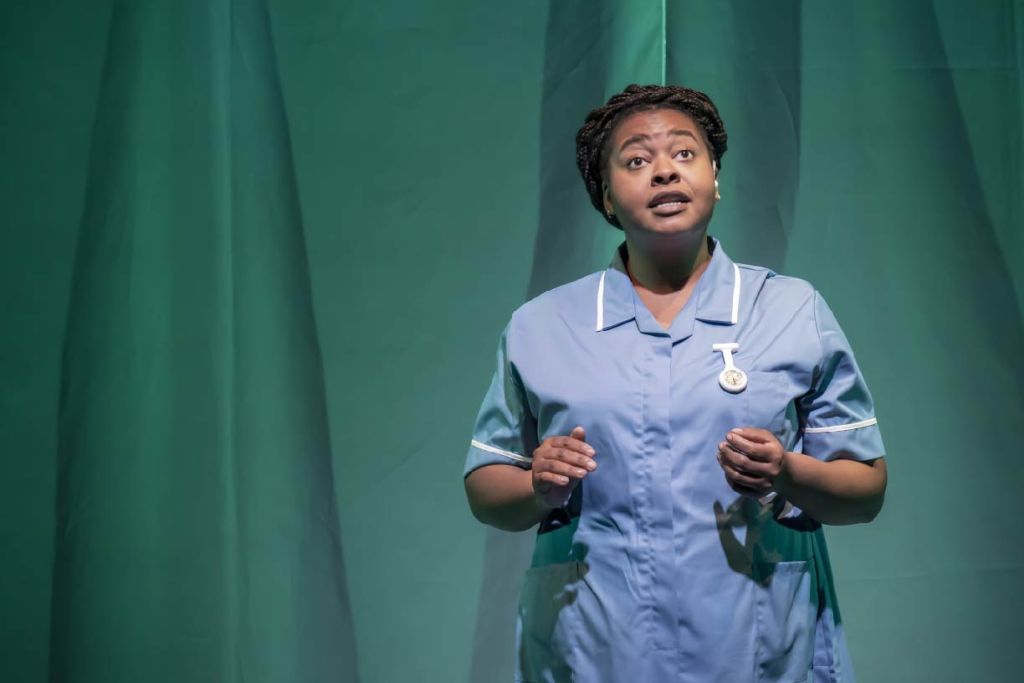 And Kayla Meikle (pictured above), herself a Royal Court semi-regular, is a knockout throughout, riveting the attention as Mary even when Drury's play is ricocheting in all directions. The play begins with a potted biography, though you have to glance at the script to find the droll authorial admonition, "If you don't know who [Mary Seacole] is. well, look her the fuck up". In fact, Drury does at least some of the homework for us, Mary announcing herself as a Creole possessed of Scotch blood who was born in Kingston, Jamaica, "sometime in the 19th century". (Be careful, though, since it soon becomes clear that Mary isn't always telling the truth.)
What ensues is a study in self-empowerment, alongside narrative construction, that tells us of Mary's presence in wartorn Crimea in the 1850s, only then for the scene to shift to the present and to a fractious white mother and teenage daughter, May (Olivia Williams, infinitely flexible) and Miriam (Esther Smith), who are at a care home looking in on Miriam's semi-inert grandmother, Merry (the redoubtable Susan Wooldridge, pictured below). Mary reappears in contemporary NHS scrubs only to be lectured to about "basic human compassion" by May, who no sooner has left her ailing mother's bedside before Merry soils herself rather badly. Mary is on hand to clean her up.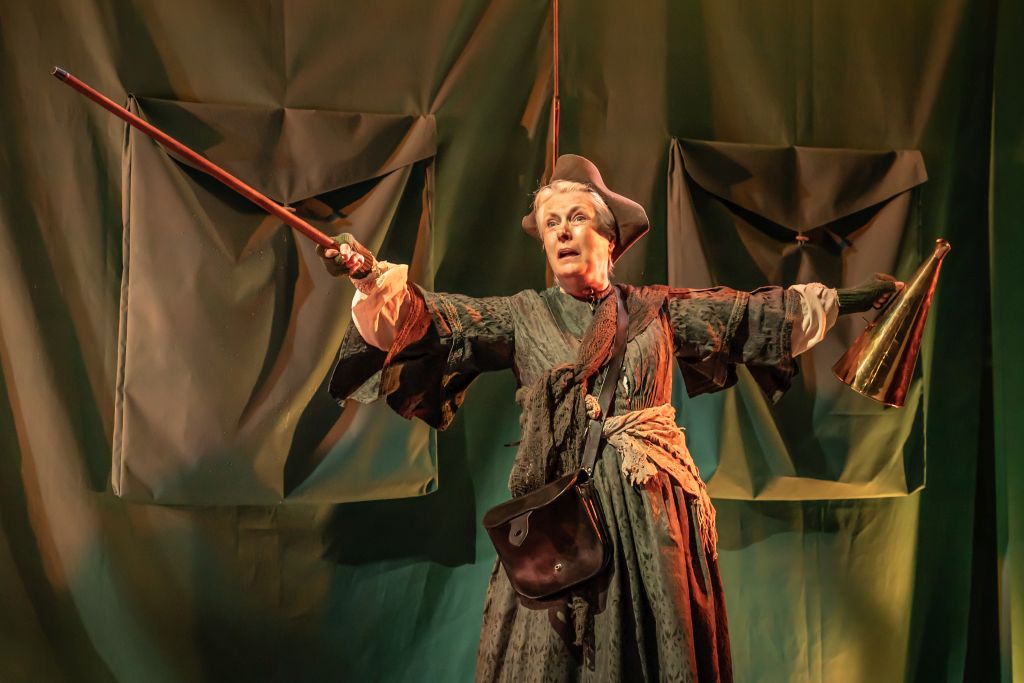 From there, we're back to Mary Seacole and reports of hotels for the infirm that she established in Kingston and then Crimea as periods elide, moods blur, and we're whooshed through a patchwork quilt of history that mixes the fantastical with the facetious, a study in the "healing art" to remind us that racism knows no temporal or national boundaries. That verity informs an extraordinary final speech from the play's senior Black presence, Duppy Mary (Llewella Gideon) - an extended monologue rife with the language of "reckoning" and "terror" that gives way to an apocalypse envisaged in Tom Scutt's set. (This inestimably accomplished designer is busy with end-of-the-world imagery, following his lauded work on the concurrent Cabaret.)
Suddenly, the pristine, canvas environs of the set are littered with the debris and detritus of mortality, and we're informed, rendingly, of a landscape whereby, says Duppy Mary, "them need us but them nah want us" - and if you require proof of that assertion, a conversation or two with those giving their lives to the caring profession just now should affirm it all too fast. From that point on, Drury's play gathers near-overwhelming force to make one forget the occasional bittiness that has come before and a (purposefully) wayward tone that won't surprise those who saw the same writer's Pulitzer-winning Fairview: seen pre-pandemic under the scrupulous eye of this same director at the Young Vic.
I'll admit to frustration near the halfway point where the vignettes weren't gathering shape, at least for me, and jokes about vegan ackee pull one up short as the polemic sharpens and we can't help but see the play's landscape of cholera as the covid of its day. I wonder whether the play could push its phantasmagoria yet further, as Fairview does, and abandon any pretence at realism altogether. But there's no denying that Latif, Meikle and their colleagues do a challenging play proud, and that the plural of the title will surely encourage renewed attention, and compassion, towards the Marys Seacole around us in our world right now.
Suddenly, the pristine, canvas environs of the set are littered with the debris and detritus of mortality
rating
Share this article