Small Island, National Theatre review - visually ravishing tale with an epic sweep |

reviews, news & interviews
Small Island, National Theatre review - visually ravishing tale with an epic sweep
Small Island, National Theatre review - visually ravishing tale with an epic sweep
Director Rufus Norris uses the Olivier's revolving stage like a virtuoso
Leonie Elliott as Hortense
With its violent storms, bombed out cities and stories of families ripped apart by war, Small Island feels very much like a play for our times. From its stunning opening, in which the frantic silhouettes of humans are interwoven with black-and-white footage of hurricane-swept palm trees, it whirls us into an epic tale of fractured dreams, fraught beginnings and a constant search for humanity amid hatred.
Timely though it seems, this is of course the return of Rufus Norris's 2019 production of Andrea Levy's Orange-Prize-winning Windrush novel that traces the stories of two women – one born in Jamaica, one on an English farm. Helen Edmundson's adaptation deftly traces the stories of Hortense, a black teacher who leaves Jamaica and Queenie, who escapes the meat pies and pig entrails of her parents' butcher business. In 1948 they both find themselves living in the same clapped-out house in an Earl's Court blighted by poverty and bomb sites.
Director Norris deploys the facets of the Olivier's revolving stage like a virtuoso, conveying the passing years and journeys between continents with as much humour as pathos. Queenie's pig-butchering parents rise up on a trapdoor looking like a particularly bloody still of American Gothic. Later, her sweet-shop owning aunt chokes to death on a gobstopper and slickly descends into the grave through a trapdoor on the opposite side of the stage. The impact of hurricanes and air raids is conveyed by human figures scudding in slow motion as they are whirled both literally and metaphorically by forces beyond their control.
The visual ingenuity is underpinned by storytelling as deft as it is emotionally powerful, scored through with wit and poignancy. The play opens with Leonie Elliott's snobbish youthful Hortense exclaiming at the stupidity of the white female teacher who – like her – is staying at their small school as a hurricane batters Jamaica. In fact, we realise, the borderline between who is being is sensible and who is not is very slim. While Hortense's colleague wants to dance in the hurricane, Hortense herself knows that the school is an inadequate shelter, but she is staying there deliberately in the hope that the love of her life will rescue her.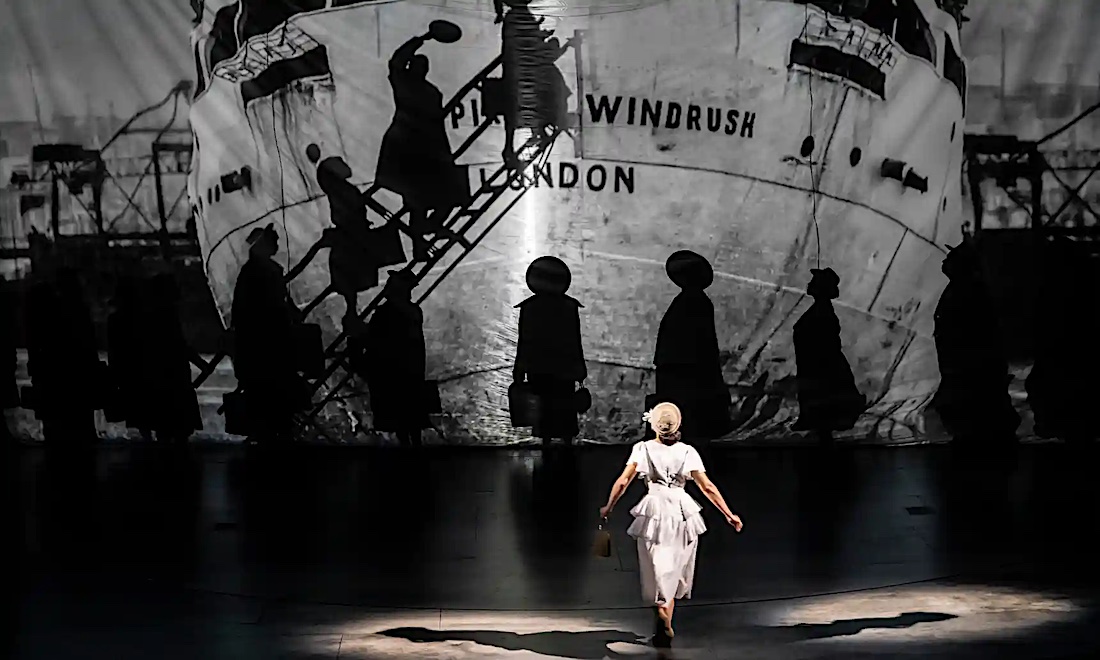 It's a tiny vignette of vanity and romantic delusion that will have powerful reverberations in a world rewritten by war. As throughout, Norris uses all the tools of theatrical storytelling to bring it vividly alive. Through both flashback and freezing of the action – so Hortense can add her sardonic comments – we watch the story of her growing up in her strictly religious uncle's house and happily led astray by her elder cousin Michael. When Michael finally returns from boarding school as a man, she realises that she wants him to be much more than a partner in crime. Standing there, waiting for him to arrive through the hurricane, she is sure the feeling is mutual, but when he does come running, her illusions are quickly punctured.
Elliot Barnes-Worrell's charismatic Michael strongly conveys the impatience of a young man who feels that his world is too small for him. His journey to England to join the RAF is the moment that Hortense's life will become interlinked with Queenie's to an extent that neither of them will ever understand. Yet one of the most powerful aspects of this play is the fact that it chooses to downplay some of the extraordinary coincidences set up by the plot to make it primarily a drama driven by character and humanity. When Mirren Mack's empathetic, emotionally open Queenie falls for Michael, it's intrinsic to what happens that she defies prejudice to have a relationship with him. But we're equally transfixed that it represents an escape from her marriage with Martin Hutson's sentimentally straitjacketed Bernard.
The play's running time is three hours and five minutes, but it is a testament to the acting, staging, and indeed the script that not one of those minutes hangs heavily. Through Leemore Marrett Jr's ebullient Gilbert, especially, who becomes the third central character, we witness the prejudice faced by black people in London in the post-war years. When Hortense comes to join him in London as his wife, both will be changed in ways they could not have imagined. This will be not least due to the return of Bernard – a difficult man wonderfully played by Hutson – whose inability to process what he has witnessed in Burma is in part an indictment of the emotionally warped mindset that characterised too many of his generation.
The phrase "tear-jerking" is used far too often in criticism, yet I defy anyone not to feel emotional at the extraordinary conclusion. As a society we have thankfully evolved from the kind of mindset that leads Queenie to her decision, yet there are far too many veins of hatred running through Europe and beyond for us to feel reassured that such a situation might never happen again.