A Very British Scandal, BBC One review - the wild life and times of the Duchess of Argyll |

reviews, news & interviews
A Very British Scandal, BBC One review - the wild life and times of the Duchess of Argyll
A Very British Scandal, BBC One review - the wild life and times of the Duchess of Argyll
Claire Foy stars in notorious tale of aristocratic sleaze
Paul Bettany as the Duke of Argyll, with Claire Foy as his wife Margaret
The title might provoke a quick double-take. Wasn't A Very British Scandal that series about Jeremy Thorpe and Norman Scott, starring Hugh Grant and Ben Whishaw?
Duh, of course not! That was A Very English Scandal (though both of them are produced by Blueprint Pictures). But was it really a great idea to tag this plushly-produced, starrily-cast, historically-based three-parter as though it's just the latest product to trundle off a televisual production line? We look forward to the box set where it's bundled in with A Very English Education, A Very British Brothel, A Very British Hotel Chain and A Very British Coup, plus special bonus feature A Very English Renaissance.
Its brilliantly innovative titling aside, AVBS is distinguished by its Very British casting, especially Claire Foy as Margaret, Duchess of Argyll and Paul Bettany as her husband Ian Campbell, the 11th Duke of Argyll. The series dissects the story of the couple's fractious relationship and their sensational and scandalous 1963 divorce, in which Margaret's numerous infidelities were aired in court and rabidly seized upon by salivating tabloid newspapers, while her husband's were not. The most notorious aspect of the case was the Polaroid photograph of the duchess performing oral sex on an unidentified man whose face was tantalisingly not shown. This prompted the presiding judge, Lord Wheatley, to observe that Margaret was "a highly sexed woman who… had started to indulge in disgusting sexual activities to gratify a basic sexual appetite". Slut-shaming is so unbecoming, Your Honour.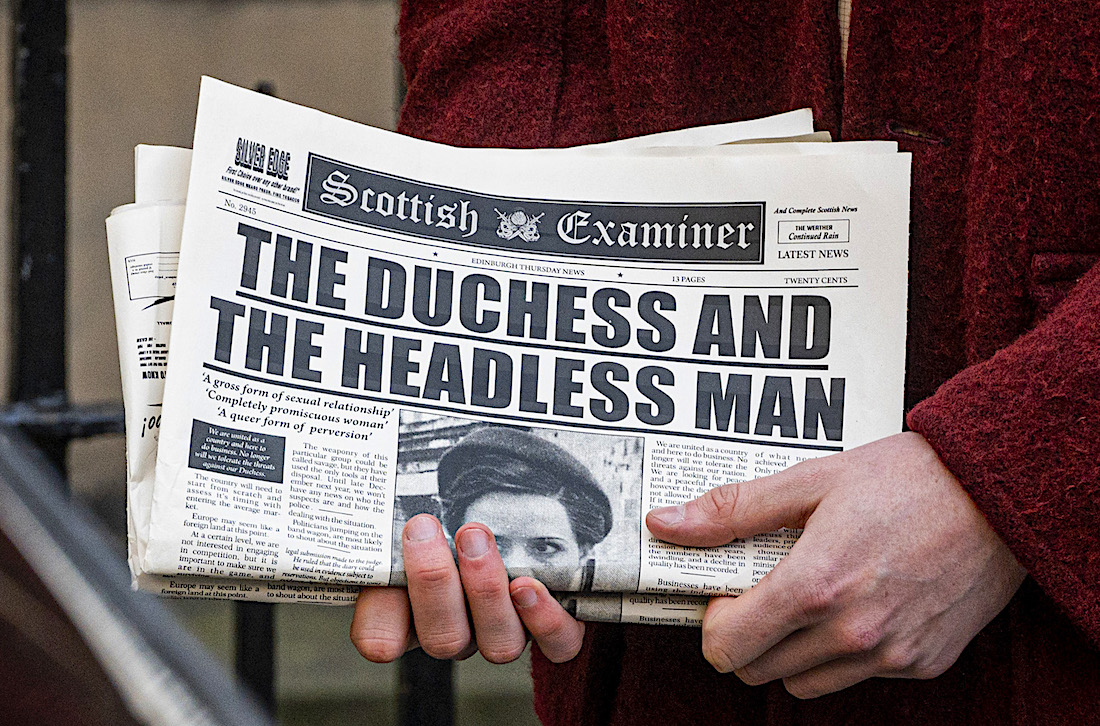 Notoriety aside, the erstwhile Margaret Whigham was a renowned society beauty whose lovers included a teenage David Niven, aviator and racing driver Glen Kidston and the future Lord Beaverbrook. In this first episode, we see her first encounter with Ian Campbell on a train in 1947, in which he brazenly invites her to become his lover while making no secret of his marriage to Louise (aka "Oui-Oui"). Before you know it, he's squiring her around his wild and windswept Scottish estate at Inverary Castle, to whose title he will ascend in due course, and they become a very public couple despite his existing marriage.
Sarah Phelps's screenplay depicts Margaret as a bold, rule-breaking woman who enjoys having sex with multiple partners (when her friend Maureen compares her behaviour to that of the promiscuous bonobo ape, Margaret retorts that "it's not my fault that you're no good at it"), and frames her as a victim of the misogynistic mores of the era. Maybe so, though it's interesting that Lady Colin Campbell, the duchess's stepdaughter-in-law, considers her "a victim of snobbery rather than misogyny", not least because she was brought up in America until she was 14.
Foy's performance in some ways recalls her rather fine portrayal of Queen Elizabeth II in The Crown, projecting a sense of an intense emotional inner life behind a demure but subtly playful exterior. She may harbour promiscuous proclivities left unexplored in her depiction of the monarch, but they don't seem particularly out of place amid her social circle of shallow, selfish aristocrats, who treat relationships like a kind of roulette wheel and like to race tiny clockwork penises across the dinner table.
Whether you'll feel much sympathy for her is a moot point. Bettany's Duke of Argyll is cold and ruthlessly self-centred, happy to parade Margaret as a glamorous trophy but equally content to cut her out of her inheritance if he feels like it. She, meanwhile, is alert to the dynastic imperatives of ancient aristocratic families, and willing to fight fire with fire when necessary. The series is meticulously shot, designed, lit and cast, though it's a toss-up whether whether Phelps's script is a generalised whinge about the ghastliness of the toffocracy or a genuine effort to probe the psychology of her characters. Two more Very British episodes to go.