Gangs of London, Sky Atlantic review - bloody terrifying |

reviews, news & interviews
Gangs of London, Sky Atlantic review - bloody terrifying
Gangs of London, Sky Atlantic review - bloody terrifying
Gripping and brutal crime epic gets off to an explosive start
Tooled up: Sope Dirisu and Joe Cole get ready for the mean streets
You might consider equipping yourself with a shotgun and kevlar body armour before you start watching Gangs of London (Sky Atlantic), because this is a bruising, hair-raising ride.
Created
by Gareth Evans and Matt Flannery, it began with the televisual equivalent of being thrown from a fast-moving vehicle, as we saw a terrified man dangling on a rope over the edge of a high-rise building. His captor then doused him in petrol and set fire to him, his blazing body eventually plummeting to the pavement far below.
Deliberately or not, the effect of this double-length opener was like being engulfed in a tidal surge of violence, suspicion and threat, the sense of mounting anarchy amplified by the way that it was impossible to find anything solid to cling on to. Still, the title sums it up with impressive brevity. We flashed back to a week earlier, and saw how the blue touch paper was lit when two lads from a clan of Welsh travellers – "a couple of pikey kids," as somebody put it – headed to a London council estate to (ostensibly) bump off a paedophile. For reasons which remained unclear, they shot gang patriarch Finn Wallace through the head instead.
This was a strategic blunder of catastrophic proportions, since it set off a chain reaction among the crime families of the metropolis. Finn's son Sean (Joe Cole, who plays John Shelby in Peaky Blinders), furiously rejected the urgings for calm of older, and doubtless wiser, Edward (Lucian Msamati), chief of an Afro-Caribbean crew who are close allies with the Wallaces. Sean is howling for instant, magnum-force vengeance, and it was he, it transpired, who perpetrated the blazing-man horror at the beginning, though he'd evidently incinerated the wrong culprit. His sanctimonious oration at his father's funeral made Finn Wallace sound like a saintly union of Franklin D Roosevelt and Nelson Mandela, rather than the probably more appropriate Ronnie Kray and Charlie Richardson.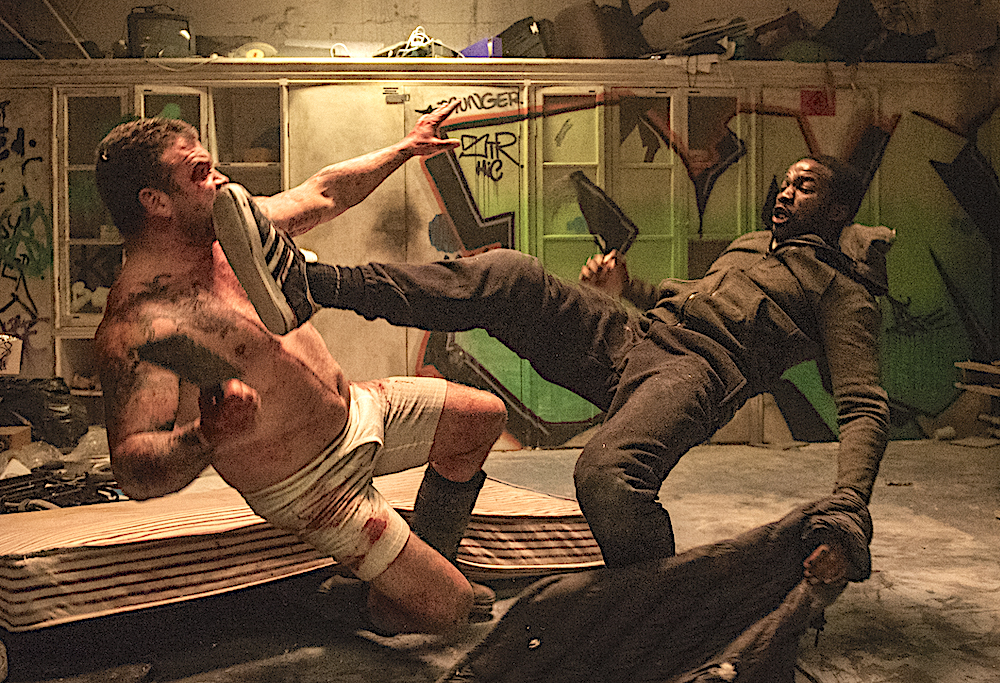 Also in the mix are an Asian gang and a cadre of Albanians, on whose turf Finn was murdered. However, it seems there may be help at hand from a man named Elliot (Sope Dirisu), an intrepid lone wolf who ventured deep into Albanian bandit country to rescue Finn's badly injured driver Jack, who's in possession of critical information about his boss's killers.
It was Elliot who was the star of two of the show's most eye-popping set-pieces. One of them was a bar brawl in which, as well as comprehensively demolishing the premises, he managed to neutralize eight Albanians using only a pub dart for a weapon. More aghast-making yet was his horrific encounter with a hatchet-wielding psychopath (pictured above), whom he interrupted while in the process of dismembering a corpse. Their ferocious, no-holds-barred encounter was like a scene from Saw IX which had been rejected for being too terrifying.
Much more to come from Elliot, anyway, especially since we learned that he has a hidden agenda. Oh yes. The Welsh travellers, too, look set to rampage across centre stage, led by an irascible Mark Lewis Jones and his sidekick Richard Hinterland Harrington. It's worth watching this for the cast alone. Let's hope the plot can keep up.