Midnight Family review - a thrilling documentary set in Mexico City |

reviews, news & interviews
Midnight Family review - a thrilling documentary set in Mexico City
Midnight Family review - a thrilling documentary set in Mexico City
Luke Lorentzen's intimate film tells the inside story of a family and their private ambulance service
Saturday, 22 February 2020
There will be blood: the Ochoa family in their ambulance
"It's cool to see a car crash or a gunshot wound, it's exciting." Emergency medical technician Juan Ochoa, 17, loves his work, which is just as well because he doesn't always get paid.
Luke Lorentzen's award-winning documentary (he directed, produced, shot and edited it) about the Ochoa family's private ambulance in Mexico City is an extraordinary rollercoaster ride into the chaos of a metropolis where there are only 45 emergency ambulances for a population of 9 million. Private ambulances like the Ochoas' take up the slack, and it's a cutthroat business, with vehicles racing to be first at the scene of an accident. Police provide tip-offs and then have to be paid 300 pesos ($17) bribe-money per accident.
Lorentzen plunges us into the blood and guts of the city as we careen along inside the ambulance, with well groomed, energetic Juan driving like a maniac – a very skilled one – and Fer, the dad, beside him, barking instructions through a loud-speaker at anyone who gets in the way. "Move out of the way, bus, we have a critical patient. Get off the sidewalk, you idiot." Fer, who looks exhausted and as if he could do with some medical attention himself, takes pills at regular intervals.
Also in the van is Juan's little brother Josué, aged 10, whose sweatshirt proclaims, "It isn't easy being cool but I manage". It's only at the end of the film that you see that he does, in fact, go to school. Mainly he seems to prefer ambulance life, eating makeshift meals of tuna, corn and mayo on crackers in gas stations. He sleeps in a cubby at the back, which looks about as peaceful as the Ochoas' home, where they all sleep on the floor, religious statues take pride of place and neighbours yell into the small hours.
But it's the roaring cacophony of the chase, as well as the sad state of the accident victims they pick up, that form the backbone of the film. A girl's been headbutted by her boyfriend and wants a hug to calm her down before they take her to hospital – her nose may be broken. Her mother is contacted and, says Fer, she sounds fancy, which may mean she'll pay up.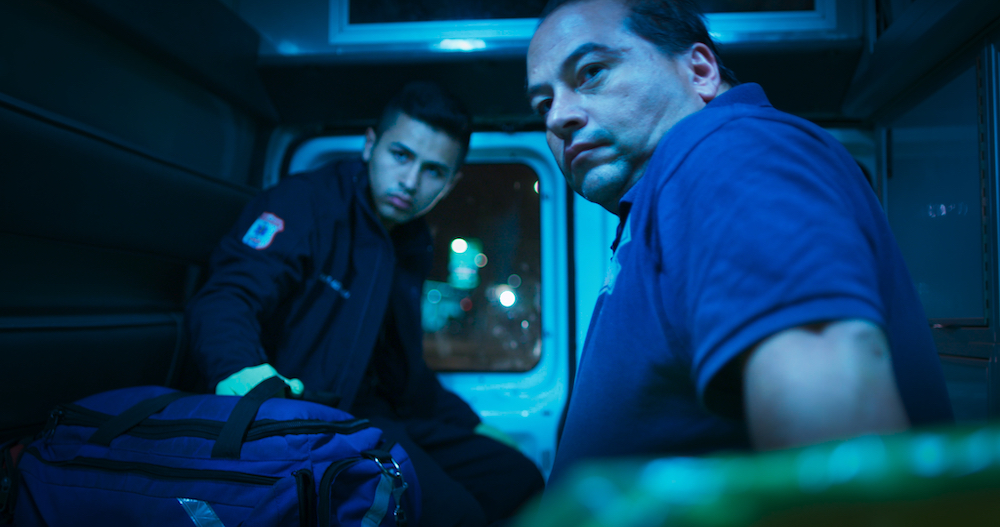 But she doesn't, and the Ochuas have to accept, yet again, that they've made nothing that night, though in theory they can charge 3800 pesos ($185) for transport to hospital. Another non-paying customer is a wretched man whose baby isn't breathing (we don't see the child, who survives). "You reek of glue," says Juan, who's mature beyond his years in some ways. "Your baby is not a toy. This is child abuse."
It's not always clear how the payment system functions. After one accident, we see a hospital receptionist paying out cash to the Ochoas, but Lorentzen never intervenes to make things clearer. We know that the new government administration has brought more corruption, with the cops expecting even more bribe money, and that ambulances are supposed to be no older than 2008, though hardly any are, according to Juan. He is suddenly arrested, though he's back on the job soon with a list of items the ambulance should have on board. But can they afford to buy them? Probably not. We don't even know if the Ochoas are medically qualified.
One of the most harrowing scenes – "We need something good tonight," says Juan - involves picking up a woman whose daughter has a traumatic brain injury after falling four floors. She dies on the way to hospital. Her distraught mother gets in the front beside the driver and you wonder if she realises the camera is rolling. Later she, too, refuses to pay, telling the Ochoas they brought her daughter to a private hospital that was too far away from her house. We don't know if this is true, but as the whole system is corrupt, it seems likely. And as no public ambulances are on hand, Lorentzen's exhilarating, intimate film makes it impossible to blame the Ochoas for surviving as best they can.