Appropriate, Donmar Warehouse review - fraught family reunion blisteringly told |

reviews, news & interviews
Appropriate, Donmar Warehouse review - fraught family reunion blisteringly told
Appropriate, Donmar Warehouse review - fraught family reunion blisteringly told
Branden Jacobs-Jenkins's 2013 play is tensely dark, as well as very funny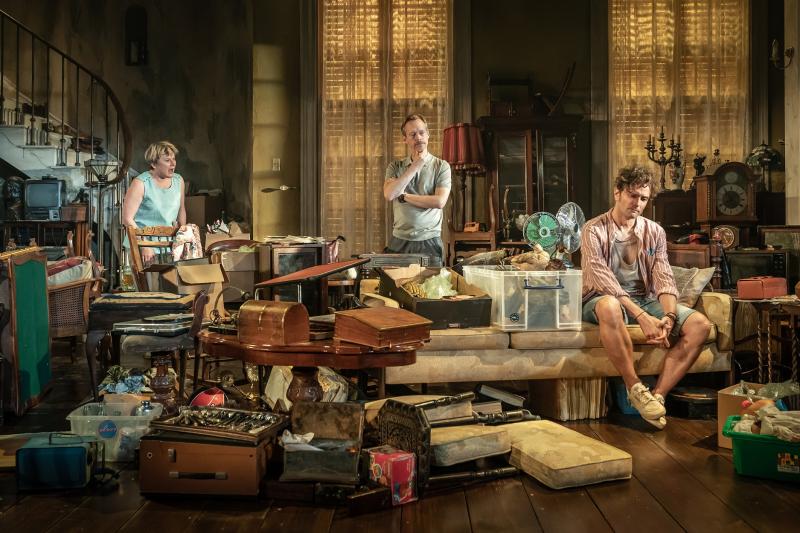 Sibling tension: Monica Dolan (Toni), Steven Mackintosh (Bo), Edward Hogg (Franz)
sp;– and often very funny – family drama. In the best traditions of that genre, when the three children of the Lafayette clan come together following their father's death for the auction of their old Arkansas home, the experience proves difficult on all fronts – before it's catapulted to new extremes when they discover an album of old photographs that depict horrifyingly graphic scenes of lynching. As it forces them to confront the inheritance of that dark family past, one that grew rich on slavery, we appreciate how that legacy has festered in the toxic relational dynamics that is their present.
But Jacobs-Jenkins is surely engaging with another set of ghosts too, those of American drama itself, with the likes of O'Neill, Miller and many more – Tracy Letts and August: Osage County comes particularly to mind – in the way that he subjects this family unit to unforgiving scrutiny. It's a lineage into which Jacobs-Jenkins fits very well, not least for his sheer command of theatrical form: closely adhering to the dramatic unities, Appropriate concentrates its blistering energy into a cauldron of dysfunctional action that is consistently tight in dramatic structure.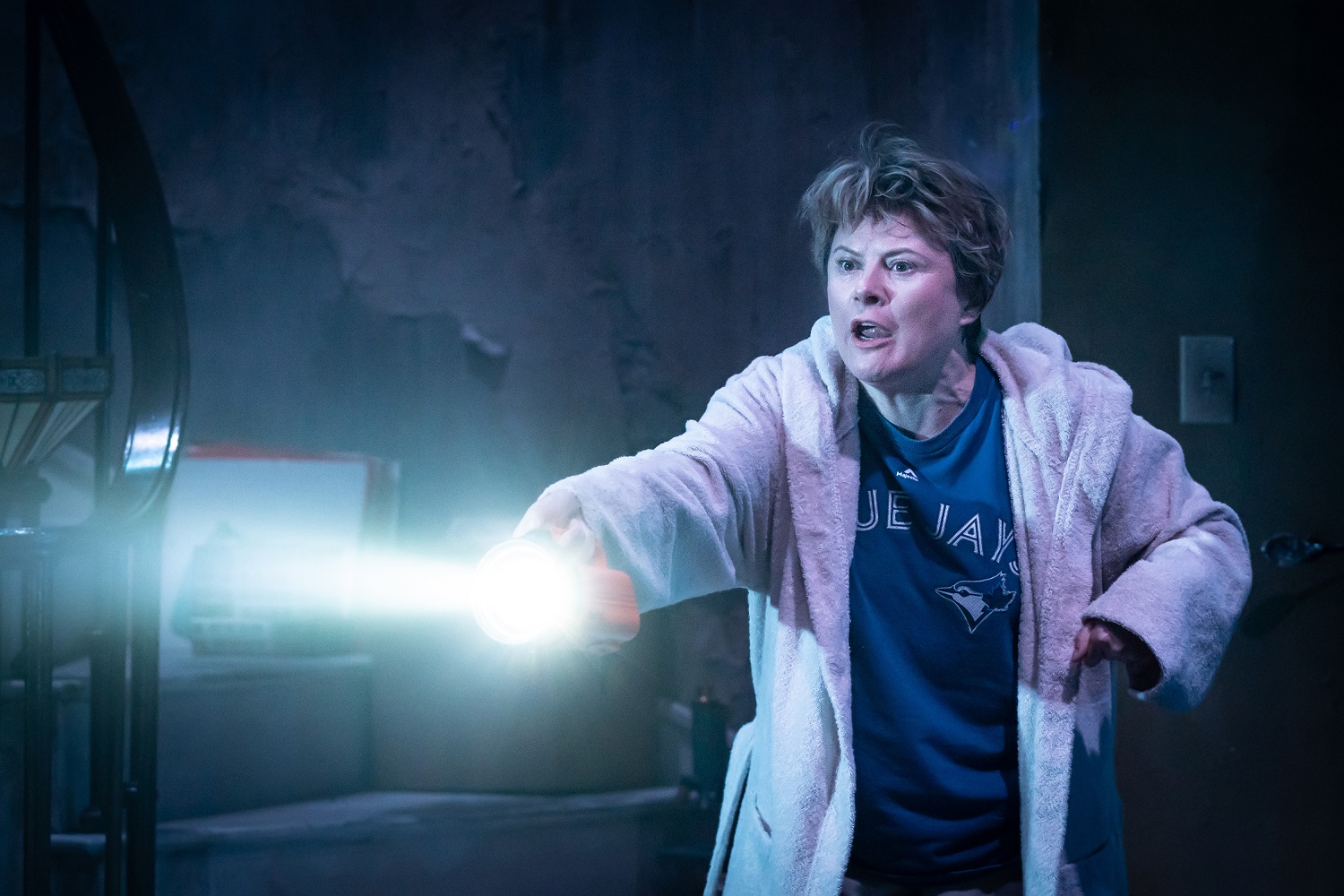 Now 34, Jacobs-Jenkins has a handful of plays behind him – The Octoroon reached the National last year in a transfer from Richmond's Orange Tree; Gloria was staged at the Hampstead Theatre in 2017 – and he again shows himself here to be a slyly referential writer, who slots a deconstructive postmodern slant into his stories. The Octoroon particularly revealed such a tendency in the way that its treatment of slavery was leavened by subversive engagement with melodrama. Appropriate is similarly self-conscious, exact in its exploitations of timed entrances, concealments and revelations, and incorporating knowingly long speeches that evince an explicit artifice of structure, one that plays perhaps even on farce.
But if the form is hardly naturalistic, the protagonists of Appropriate are painfully raw in their emotional confrontations. For much of the time Monica Dolan (pictured above) moves between angry and positively furious as eldest child Toni, the daughter who paid most attention to her father after her siblings scattered, and still defends his memory; recently divorced, her relationship with her teen son Rhys (Charles Furness) is showing the strain. One brother, Bo (Steven Mackintosh), has long ago become a New Yorker, absorbing there a materialistic concern that makes him indecently eager to monetise family secrets; the other, Franz (Edward Hogg), has returned unexpectedly from a long absence during which he seems to have tamed past demons.
He has the recovering addict's determination to apologise – it proves a rare moment of calm sincertty in an otherwise frenetic action – and he's helped along by his much younger fiancée River (Tafline Steen), who has a refreshing poise related to her being outside this toxic triad. Which is not something you can say of Bo's wife, the brittle Rachel (Jaimi Barbakoff), who has absorbed all the family strife and added her own, her certainty about past anti-Semitic slights matched by her sarcasm. (Pictured below, from left: Edward Hogg, Steven Mackintosh, Jaimi Barbakoff)
The deceased patriarch must have been a complicated figure, his character split between the liberal Washington where he nearly became a Supreme Court judge, and the more ancient prejudices of the region to which he retreated (as well as the photographs, a startling final-scene reveal includes other familiar elements of that racist past). It certainly gives the three siblings enough to flay one another with, the slight consolation being that the generation of their children – Rhys is close to his younger cousin Cassidy (Isabella Pappas) – seems more emotionally mature. There's a nice irony in Cassidy's repeated assertion to her parents, as they try to keep things hidden from her, that she's "almost an adult" – in many ways, she's already more of one than any of them.
The febrile brilliance of the writing is well served by Ola Ince's tautly controlled direction, which modulates the stress flows of the piece, a balance that's there in a set by Fly Davis that combines remnants of faded grandeur with the hoarder chaos that provides a memorable opening stage picture. Anna Watson's lighting catches restrained interior hues, with a sense of outside brightness and heat slatted through closed shutters, while the sound design of Donato Wharton is almost a presence in itself, its insistent cicada humming nervously counterpointing the human action. Dip into Jacob-Jenkins's elaborately poetic closing stage direction, in which he writes of the cicadas' "long, enormously complicated, deeply layered, entirely improvised, ancient song", and you may wonder whether his insects are wiser than his people. Superbly inventive theatre.
'Appropriate' concentrates its blistering energy into a cauldron of dysfunctional action that is consistently tight in dramatic structure
rating
Share this article