theartsdesk at Red Rooster Festival 2019 - bustling Suffolk stately home hoedown |

reviews, news & interviews
theartsdesk at Red Rooster Festival 2019 - bustling Suffolk stately home hoedown
theartsdesk at Red Rooster Festival 2019 - bustling Suffolk stately home hoedown
Three sunny days of well-curated Americana and boozy relaxation
Texan country troubadour Dale Watson advising festival-goers to drink more Lone Star beer
Only those who've just popped in from an early 20th century Tennessee cotton field will have recently observed more pairs of dungarees in one place than at Red Rooster. It's a festival that prides itself on a rich diet of Americana alongside a defiantly retro aesthetic.
Red Rooster offers up expertly curated, off-the-beaten-track sounds, but there's a strong sense that it's as much about hanging out, about having all day/all evening picnics soaked in bourbon cocktails while somewhere not too far away a banjo is twanged by a stetson-wearing someone you've never heard of.
The festival runs from Thursday to Saturday, with the Friday and Saturday offering a fully functioning site. Coming into being in 2014, it's the vision of Henry FitzRoy, the Duke of Grafton, who owns the Euston Hall Estate where it takes place. He lived in Nashville for years before inheriting and one of the unique aspects of the festival is the way the line-up is put together. To discover many of the bands, FitzRoy trawls the southern US gig circuit with his pal, the Norfolk promoter Rupert Orton (brother of singer Beth and once guitarist with the Jim Jones Revue). This means plenty of unfamiliar names who well know how to rock rowdy barroom crowds, an exciting change from many festival's buy-on bills.
So Red Rooster is a labour of love and feels that way, now attended by 4,000. It's a family festival, although there's a distinct preponderance of over-40s in attendance, as many grandparents as parents. The site is fabulous, grounds originally sculpted centuries ago by the two most famous landscape architects of the eighteenth century, Capability Brown and William Kent. The second acoustic Little Red Rooster Stage is by a small lake around which younglings are taken for rides in swan pedalos. A weir runs into the River Blackbourne. Here festival-goers swim. It's a lesson in manners, queuing up to get out after a swim, staring up at the rear of a sixty-something year-old man in an ill-fitting lime green mankini as he clambers up the laddered steps.
The main stage is a covered marquee in a wooded grove. 12" vinyl records are nailed to the stage-back while around are ornamented guitars, paganist model stags' heads and voodoo paraphernalia. Most bands I catch properly are in here, although I confess the mood of the place carries me away and I spend as much time a-jawin' and a-drinkin'. Red Rooster is musically rigorous, with almost everything somewhere between Willie Nelson, Lynyrd Skynyrd, Sixties US garage and Stax Records. The odd thing is that for many it's as much a camping holiday that happens to have a righteous background soundtrack. They only dip in further on rare occasions when they leave their day-long garden chair corrals. There's not even a paper programme, just one chalk board per venue, updated daily.
The above is not a criticism. With the weather as it is, warm and cloudy, sun bursting through from time to time, Red Rooster succeeds in recreating its own version of the American Deep South's lazy charm. On Thursday, I arrive mid-evening but, by the time the tent is up and food eaten, the only act that whips me from my Old Fashioned to my feet for a proper dance are Low Cut Connie, a Philadelphia band who exude rampaging energy.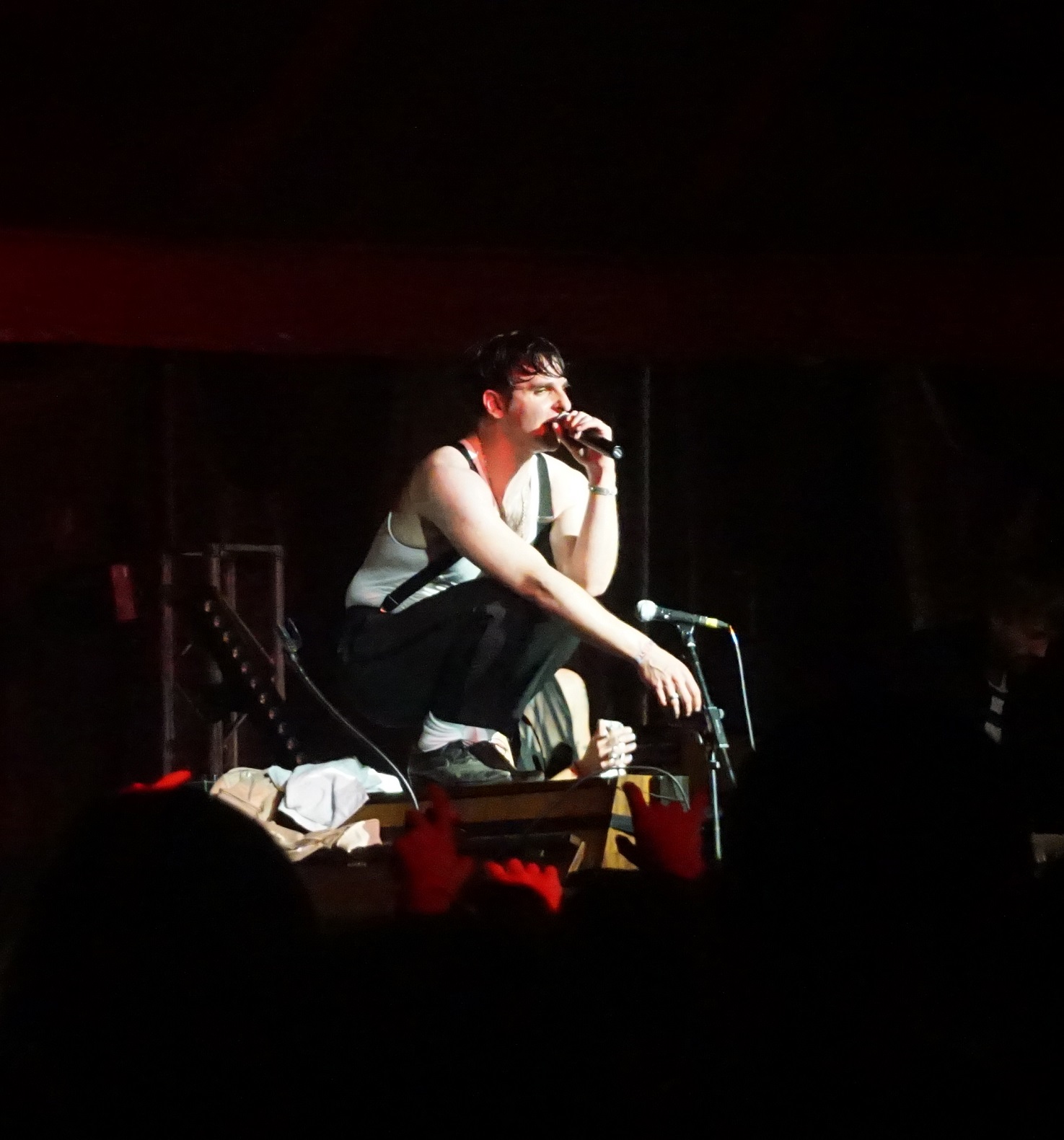 They are fronted by Adam Weiner (pictured left), a consummate showman who plays piano and wears a white vest, black braces and black parade trousers with military stripes. He comes on like a camp, rock'n'roll version of a young Andy Garcia. Their sound is midway between Seventies Stones and Jerry Lee Lewis, with a smidgeon of high trash thrown in for good measure, the latter amplified by a feisty Suicide Girl-style backing singer with a pink bob.
They hammer through tunes with names like "Shake It Little Tina" and "Oh Suzanne" and lyrics such as "I'm still a loser and I'm still a boozer/Chasin' down the dragon, fallin' off the wagon" (from "Revolution Rock'n'Roll"). They are Primal Scream's "Country Girl" up'n'off to Las Vegas with a leather-jacketed bad boy and they end their set with the guitarist standing aloft the piano while Weiner, who's been hamming like a mime artist, tears his vest off to reveal a gym bod beneath. Low Cut Connie deliver by the barrowful and might well be the most entertaining band I see all weekend.
Many of my gang members have to go to bed because kids get up so bloody early, the little nightmares, so only three adult humans are left alive to head for the night regions, The Howlin' Woods, which stay open until 3.00 AM. It's a place where the aesthetic crossover between alt-country and gay "bear" culture comes into focus. There's even a guy in a cage jigging (pictured right), his dungarees flapping down revealing a strapless bra on his chest. He has a debauched look about him. I look into a poker room, with tables and three wasted-looking chaps giving their cards the sodden eye. The Howlin' Woods dancefloor is full, polka dot burlesque vibes and studly bearded dudes in denim jigging to hoppin' grungey country sounds.
Friday, most of the day is spent by the lake as names such as The Southern Fold, Misty River and the Jambalaya Band do their thing on the Little Stage. The sound system is not loud and, unless you're up close, the bleed-through from the Main Stage is noticeable. However, that's not too much of a problem as you sit chatting with a 70 year old who's puffing a very specialist vape/pipe thingy, working your way through a crate of chilled Moretti. A band called Wookalily (pictured below left) make an impression – and not just because of their name; all female and from Belfast, they play a kind of spooked prog-folk, a notable song being "The Devil is a Woman". There is something of The Wicker Man about them. Indeed, there is something of The Wicker Man about this whole place.
In the evening the highlight on the main stage is Dale Watson, a Texan singer who has spent decades championing raw country (as opposed to US FM radio schmaltz country). With his impressive silver quiff and sideburns, clad in a black drape coat and leather jerkin waistcoat, he cuts quite the dash and kicks off with the bluesy "I Can't Be Satisfied", accompanied by an amazing double bassist and a flat steel guitar. The vocals are a bit low in the mix but it doesn't matter. We strain to hear his drawl as he sings lines like "There ain't nothin' like a woman dancing in cowboy boots" and whips out a Lone Star beer and performs what I presume is a TV jingle aired down Texas way.
Moments such as these bring home the brilliance of Red Rooster as a concept. Dale Watson has not been chosen to perform because a fiscal mind has calculated to the nearest 10 how many potential ticket-buyers he might draw; he's there because he's the real deal, straight from the South, his Tennessee Three-style sound exemplified when he plays Johnny Cash's "Ring of Fire", then has everyone singing along with his own country anthem "I Lie When I Drink": "Oh, I lie when I drink, and I drink a lot/Don't believe me when I've had a few/Oh, I lie when I drink, and I drink a lot/I only drink when I'm missing you." Now that's a chorus to take to the bank!
After that Nick Lowe just seems alright – sort of – at first – then loses me. He headlined here only two years ago and is clearly well-liked by the crowd, but I don't get it. He looks sharp, in his white shirt, white hair and glasses, like a photographic negative of his old chum Elvis Costello, and his band Los Straitjackets, in Mexican wrestler masks, add colour. He opens with his and Stiff Records' debut single "So It Goes" from 1976 and it sounds inviting, reminding of his connections deep into the heart of good music (Google him if you're unfamiliar – quite a story), but as the set goes on it's… well… nice enough, but lacks fire in the belly. After that I succumbed to fuelled fireside blathering until 3.00 AM.
Saturday, after a swim and a trip to Thetford to restock, it's down to business at the Main Stage. Powersolo are superb. Fronted by a skinny, pencil-moustachioed Danish dude called Kim Kix (pictured below left), who wears a brown cowboy shirt and grey slacks. Their style is a genre unto itself – progabilly. They're a three-piece with a notably manic drummer in a blue singlet and Italian flag headband. He wears a wild grin almost the whole time. They are stunningly tight, suddenly halting and veering off, changing time signatures, reinventing primitive rock'n'roll as something awkward and curiously complex.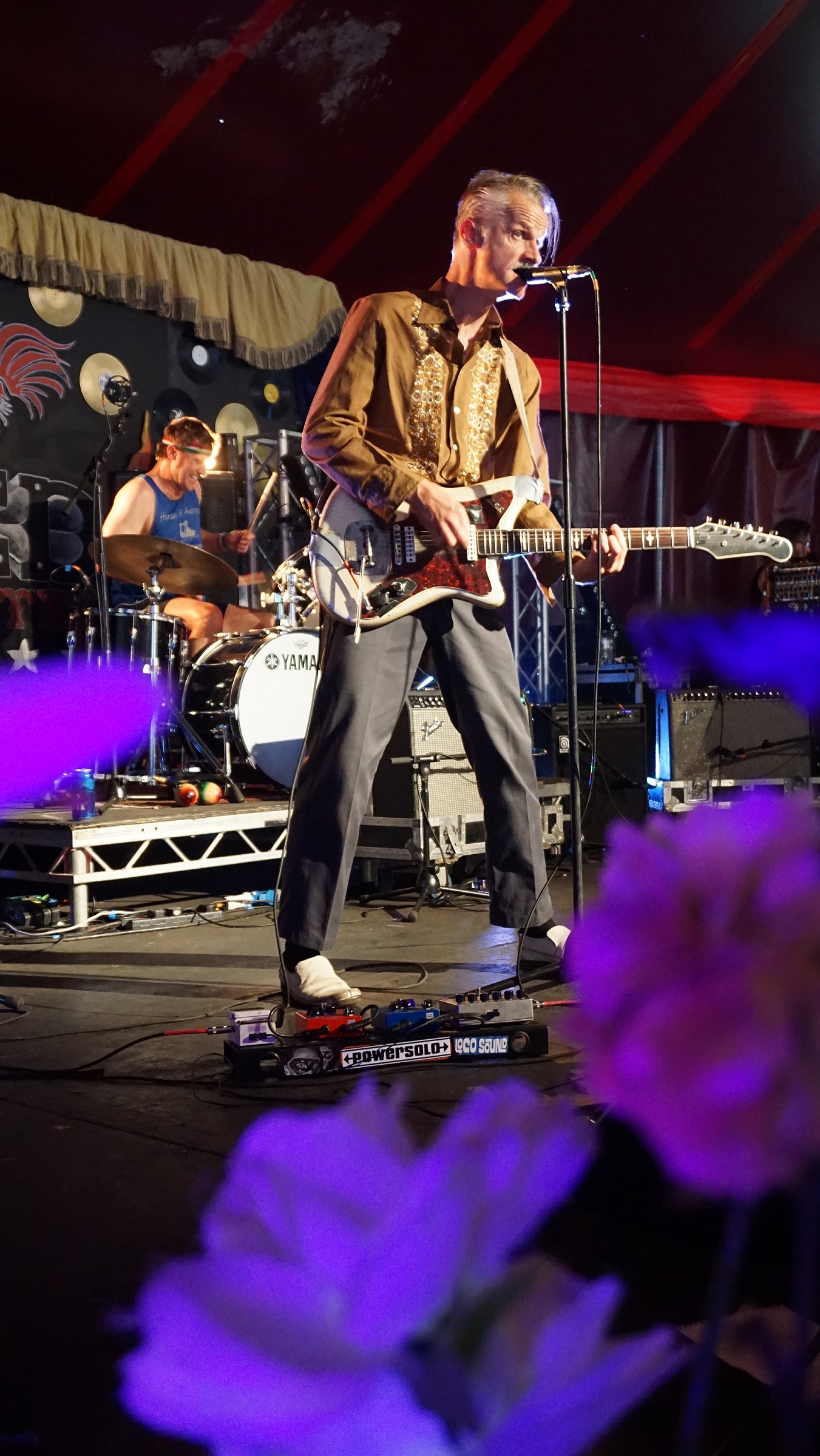 The songs run the gamut from grinding garage banger "Sasquatch" to the Peter Gunn mania of "Boom Babba Do Ba Dabba" to a song that may be called "Dance Card" and has The B52s in its DNA. Kix is mesmeric, gurning, duck-walking, peeling off his shirt to reveal arms of tats, and at one point crumbling à la James Brown circa 1964, flailing off-stage weeping melodramatically at the death of rock'n'roll, before arriving back to kick up yet more racket. Powersolo are my other contender for the most entertaining band of the weekend.
Next up is the weirdly-named Oh! Gunquit, a female-fronted London five-piece who look great, like a trash burlesque fan fantasy, with singer Tina Swasey wearing a blue sequined bra top, blue hot pants and leather chaps. Songs such as "Lights Out" and "Head Bites Tail" have punch. Swasey has a shouty punk voice and they sound somewhat like The Rezillos, boosted by a sax, but in the end, despite their game-for-it ebullience, their music becomes a tad one-note. Never mind, they throw themselves at it with aplomb, using every trick in the book to hold the attention. At one point Swasey crawls through the legs of her band, then crawls through the audience's legs before inviting them to crawl through hers (they do). She ends the set playing the trumpet (well!) while hula-hooping.
Brixton bluesman Errol Linton begins his set with classic rhythm'n'blues, leading with his virtuoso harmonica then slowly drawing in the story of his family's move from Jamaica to England, moving his set in and out of ska and dub, while always keeping the blues central. For some of my party, it was the highlight of the festival; for me, enjoyable, but it's time to fire up the barbecue.
Two hours later: Cedric Burnside is grandson of late-blooming southern blues don RL Burnside but is very much his own man. He comes on stage wearing a white tee-shirt advertising himself and plays a stark, plucked blues guitar number before being joined by his accomplice Brian Jay on drums. Burnside's guitar playing is pared back and precise, the very opposite of rock'n'roll's chord thrashing, but it has grit and hauls the ear in. And he tells a great joke. It's engaging stuff and becomes the more so when he takes the drum stool, still on the mic, while Jay comes up front on guitar. The latter, in a military-style jacket Lemmy might have worn, wears aviators and has dark stubble. He has a little of the young Lou Reed about his appearance but his ferocious guitar playing is more akin to the original Allman Brothers at full pelt, especially when they attack Junior Kimbrough's "All Night Long" and really take the lid off.
After that it's down to New York's Budos Band to close the festival Main Stage. They remind me of Barry Adamson; brassy, threatening instrumentals. There are loads of them backlit in the darkness, rendering opiated, dark and streetwise John Barry-esque themes. They do this with style but, by the same token, are somewhat sluggish in rhythm compared to what's gone before. They have power but it's not a power that makes you want to dance, even on a Saturday night.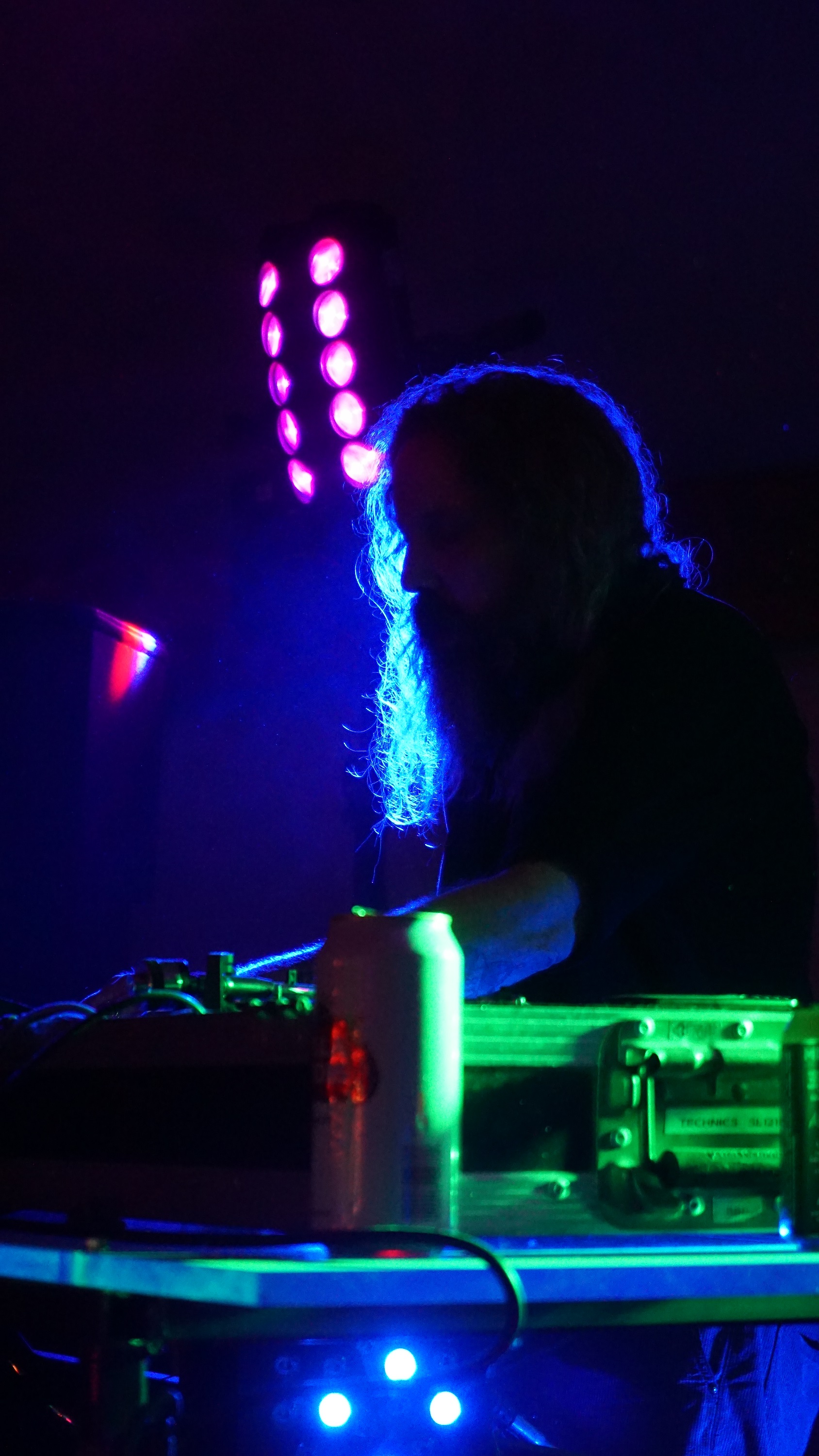 It's time to drink cider and whisky until Andrew Weatherall (pictured left) comes on in the Howlin' Woods at 1.00 AM. When he does we're ready. The old wizard is in top form with a set focused on ancient rock'n'roll, pre-rock'n'roll and obscure Sixties garage. He starts with the original version of Cramps classic "Goo Goo Muck" by Ronnie Cook and the Gaylads and soon plays an appropriately named song called "Devil Dance" by I-don't-know-who. While the dancefloor is not packed, it's jiggling with the righteous, for two hours. At the end he salutes us like an army officer and is gone. Then again, at this point, so are we.
Red Rooster says it's "A whisky sippin', guitar strummin', banjo pickin', rib suckin', weekend of Southern blues and country in the heart of Suffolk County." It is most of those things, with its axe-thowing stall, it's denim bunting, and it's daily classic car display, but there could certainly be more bourbon and more barbecue. I was expecting barbecue heaven, which it is not. I have seen a feistier and better range at festivals that are much less Americana-centric. And it would be great if there was more "whisky sippin'" too. There's plenty of Old Forester around – which is thoroughly palatable – but a bar bringing together all sorts from the States to try and buy would be very welcome.
Nonetheless, Red Rooster receives a well-deserved four stars out of five here. I am 51 and went with people of a similar age and their families. If I was in my twenties or thirties I might have found it less congenial. By ratio, I didn't see too many of that age group and the one 30 year old I talked to extensively, late at night in the Howlin' Woods, told me he'd come with his family, found everything impeccably friendly, but was at a loss for "things to do". I could see his point and yet that's the very joy of this deliciously individual event; its unforced pace, its complete lack of obvious or cynical concern for commerce, its hardly visible and hugely helpful security, and, most of all, its easy glow of rambling afternoons followed by alcohol-doused hoedown nights.
Below: Watch half an hour of Low Cut Connie live at SXSW a couple of months ago