The Starry Messenger, Wyndham's Theatre review - Matthew Broderick gets all cosmic |

reviews, news & interviews
The Starry Messenger, Wyndham's Theatre review - Matthew Broderick gets all cosmic
The Starry Messenger, Wyndham's Theatre review - Matthew Broderick gets all cosmic
Kenneth Lonergan's Off Broadway play trades heavily on deadpan as it crosses the pond
Lost in the stars: Matthew Broderick and Elizabeth McGovern in 'The Starry Messenger'
A small-scale Off Broadway venture late in 2009, The Starry Messenger has arrived in London to mark the belated British stage debut of Matthew Broderick, the movie name much-loved on the New York stage.
Reuniting the two-time Tony-winner with his lifelong chum Kenneth Lonergan, who since this play's premiere has become an A-list Oscar-winner, Sam Yates's production is equal parts intriguing and irritating, and Broderick's singular theatrical deadpan may alienate as many people as it attracts.
It may not help this play's cause that Lonergan has been represented in successive Broadway seasons with revivals of three earlier works of his, all of them superior to this and each one served up in deeply empathic productions that ensured the plays' longevity. (The now-closed revival of his Waverly Gallery, starring the astonishing Elaine May, was one of the glories of this past Broadway season.) The Starry Messenger, to be sure, has its moments, and you certainly clock the Chekhovian pulse beating beneath a play that contains specific echoes of both Uncle Vanya and Three Sisters. But too much of it simply isn't credible on a plot level alone, and Broderick and a highly variable company (Elizabeth McGovern included) don't entirely skate over the fissures in the writing, charming though the players at times are.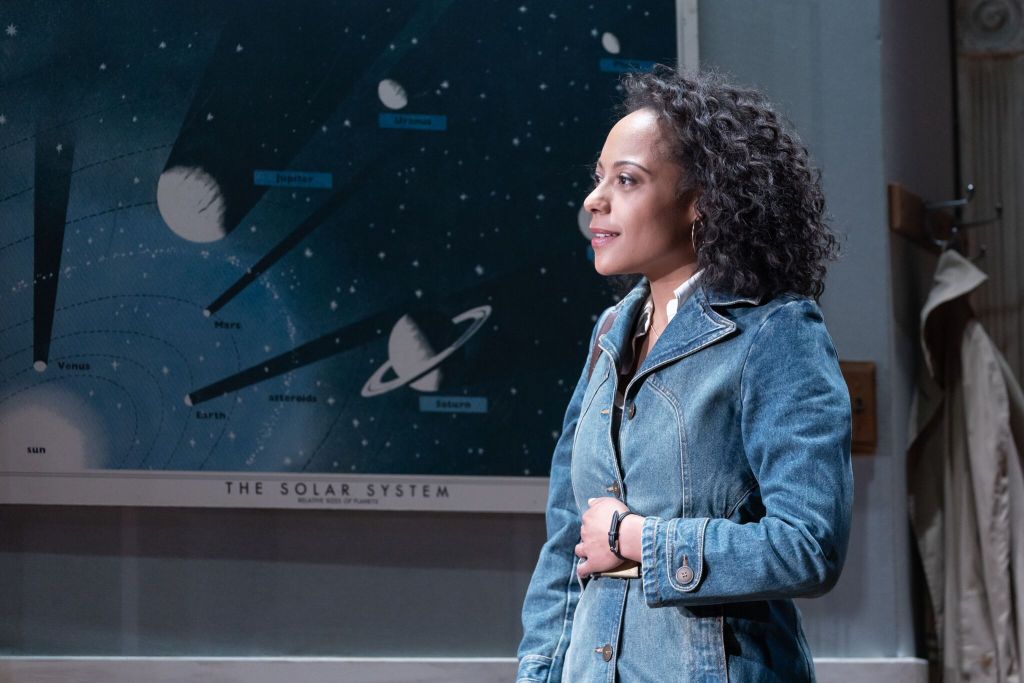 The actor's signature delivery (vaguely affectless yet landing the laughs) is evident from his opening syllables: Broderick here plays Mark Williams, an indrawn 52-year-old astronomy teacher bothered in the classroom by pesky students who are inclined to give their teacher grades and at home by an (unseen) son with whom he argues down the stairwell. So it's perhaps not too surprising when the very-married Mark drifts into an affair with a younger Latina woman, Angela (the winning Rosalind Eleazar, pictured above), who has a son of her own and whose nursing duties find her tending to an ailing cancer patient (Jim Norton, below) whose daughter (Sinead Matthews) is very much an emotional loose cannon.
You clock at once the multiple narratives that Lonergan, Chekhov-style, lays before us and the way in which they weave around issues of domestic happiness, or not; the bond between parents and children (Matthews's character seems most at ease with her father when he is ill, less so when he gets better); and matters of mortality that lead Mark towards ruminations on the galaxies the way the Prozorov sisters might dream of a brighter world to come. ("It won't always be like this," Mark remarks to Angela in a line worthy of Three Sisters.)
But if the ruminative contours of the play are immensely affecting, the specifics give pause for thought. It's difficult to tell just what in the emotionally cramped, clotted Mark makes Angela want to embark upon an affair that comes with more than a whiff of authorial wish-fulfilment: yet another older man/younger woman scenario that takes place because, well, it can. On the academic front, it's more than a little puzzling that these adult students enrolled upon a course in which they are not in any way graded or assessed wouldn't just leave if they found the instruction wanting. Relying upon two of the students for running gags seems a cheap ploy, however welcome it is to see Jenny Galloway and Sid Sagar – two terrific performers -– among the ensemble.
McGovern gets co-starring billing in a supporting role as Mark's (underwritten) wife, Anne, who exists mostly to argue with her husband about sleeping arrangements for various guests and seemingly to accept a philandering husband who comments in triumph at the end that he has "everything" – an assessment you assume on some level to be ironic but doesn't appear to be here. Silver-haired but possessed of an eternal boyishness that abets this portrait of a man adrift in a world larger than he is, Broderick has a unique gift for giving the impression that he stands outside the very role he is inhabiting until such moments as he connects with genuine force. The Starry Messenger may be a bit of a curate's egg, but when it comes to leading men there really isn't anyone quite like this one.