Home, I'm Darling, Duke of York's Theatre review - Katherine Parkinson rules the roost |

reviews, news & interviews
Home, I'm Darling, Duke of York's Theatre review - Katherine Parkinson rules the roost
Home, I'm Darling, Duke of York's Theatre review - Katherine Parkinson rules the roost
National Theatre transfer hits the West End sweet spot
Thursday, 07 February 2019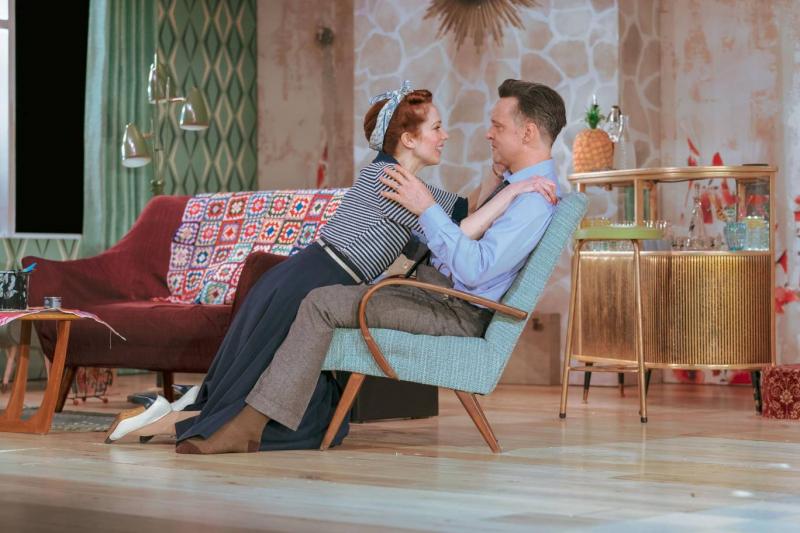 Happy talk: Katherine Parkinson and Richard Harrington in 'Home, I'm Darling'
The Fifties? They were terrible: bone-cold houses where people huddled round the fireplace for heat, empty Sundays that lasted a month, drawn-out rationing, bread you could build houses with.
It was all making do and mending and "grey meat, grey people, everything grey," or so declares Susan Brown's Sylvia in a mother's get-real rant in
Home, I'm Darling,
the Laura Wade play
now on the West End after a sellout run at the
National Theatre
/Dorfman last year and Theatre Clwyd before that. Women were frightened of a new invention called yoghurt, not to mention of husbands, who had all the rights.
But it's not the British '50s where Judy (Katherine Parkinson, pictured below) is so determined to bury her ostrich's head in this glistening play from the author of Posh. It's the American '50s, surely: all bobby sox and polka dots and spick and span and jive. You feel by the end of Home, I'm Darling that Parkinson, in her candy-caned dress, has set upon you with her feather-duster – poked you, tickled you, flicked out the fluff and made you think.
What does it mean to aspire to be a 1950s housewife? Why is the play's title so grammatically challenged? Retro-chic is revealed to be the order of the day upon curtain up at the Duke of York's. No home from the actual '50s has ever looked quite so perfectly period as Judy and her husband Johnny's two-up two-down: green sitting room, yellow kitchen, muted turquoise bedroom, every fabric and furnishing a tiny testament to modern living. Spindly-legged sofas sit alongside tubular light stands of the kind my antique dealer friends now sell for vastly more than Georgian side tables.
When Parkinson sashays in, with "Mr Sandman" on the radio, we wait for American accents. In fact, this is Welwyn Garden City in the heart of the British 'burbs, and Parkinson from the off is utterly bewitching. Her chuckle as throaty as lemon curd, she conjures flickers of Esther Rantzen, Grayson Perry and the Good Witch of the North. She parades like a swaying hen ready to peck, that feather duster poised to strike at any moment.
Home, I'm Darling proposes the '50s as a lifestyle choice, at least for a couple who view themselves as "appallingly happy": Judy specifically exults in "not remotely going crackers". Johnny (Richard Harrington) is in real estate hoping for that midlife, middle-management promotion, whereas Judy has left her better-paying job to be the perfect little woman who can say a morning goodbye to Johnny with breakfast eggs and an evening hello with slippers, sundowners, and sex. No housework exists for him; that's been banished under the sink, along with bad language and bad news.
Wade's script boasts more sparkles than a box of Daz and keeps the sly, playful, sharp one-liners coming. Under Tamara Harvey's direction, it is matched by Anna Fleischle's set design: a living doll's house which at one point cleans itself up in the most miraculous way. The production has a soundtrack to match, deliciously creaky in places and packed with your favourite nostalgia-inducing hits.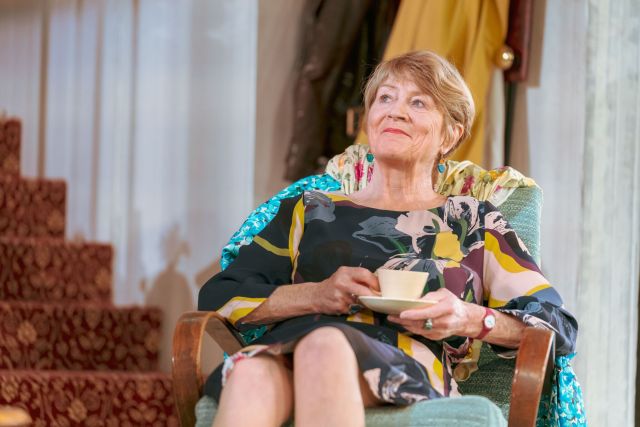 And yet, why has Judy locked herself into a mid-century Woman's Hour and turned her back on women's rights? She almost wills her increasingly uneasy partner into an affair and herself into domestic emptiness. Perhaps Home, I'm Darling is about a woman searching for her societal role or about the loss of communication or, indeed, fixing the holes where the dust gets in. On the one hand, Judy's gingham paradise represents a forcible reaction to a "filty childhood" on a feminist commune. Is she hiding, one inevitably wonders, from abuse, fashioning a safe, rigidly perfect fantasy world that's tinged with trauma and OCD? Or maybe the issue is simply the real threat of middle-class downsizing.
Others get their own look-in, too. Siubhan Harrison, as faithful friend Fran, joins Hywel Morgan's Marcus in waltzing and jiving through the scene changes while a bit of #MeToo creeps into the plot. Susan Brown (late of Angels in America at the National and on Broadway and pictured above) and Sara Gregory are spot-on as Judy's irksomely modern mother and Johnny's eminently 21st-century boss. The first half stands as a neatly-finished one-act only to find by the end of the second (and after many diversions) that more questions have been posed than answered along the way. Still the journey throughout is altogether delightful – more so, even, than angel cake.
Laura Wade's script boasts more sparkles than a box of Daz and keeps the sly, playful, sharp one-liners coming
rating
Share this article