Matthew Bourne's Swan Lake, Sadler's Wells - vivid, enchanting |

reviews, news & interviews
Matthew Bourne's Swan Lake, Sadler's Wells - vivid, enchanting
Matthew Bourne's Swan Lake, Sadler's Wells - vivid, enchanting
Refreshed classic production delights with energy, storytelling and live Tchaikovsky
Saturday, 15 December 2018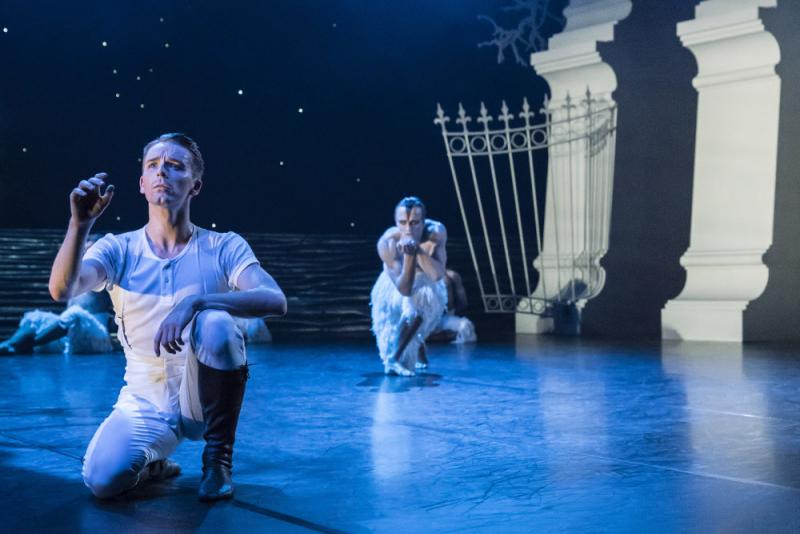 Finding joy in strangeness: Matthew Ball as the Swan and Liam Mower as the Prince in Matthew Bourne's 'Swan Lake'
The Matthew Bourne Swan Lake has become a classic. And – lest that word conjure up dusty tomes and a niggling sense of obligation – this is definitively not the old-but-worthy, improving-but-dull kind of classic.
This is the "where has this been all my life" kind, the "I've got to tell all my friends and relations" kind, the "blimey, I'd forgotten
dance
could be so good" kind.
Twenty-three years – and many revivals – have come and gone since the male swans first went a-swimming in 1995, and Bourne and designer Lez Brotherston have given the show a face-lift for this run, updating some costumes and designs, re-lighting it, and refreshing some of the choreography. But the core of Bourne's original vision is unchanged and it's still the beating heart of this production: a story that rings true, that unfolds with perfect pacing and panache, and that lives and breathes Tchaikovsky's music.
Be you ever so committed a balletomane, you have probably been bored at some point during Act I of traditional Swan Lakes, with their formal set-piece dances performed by improbably cheerful (and clean) peasants. Marvel then at the narrative ground Bourne covers in the same time, sketching in vivid detail a stifling royal existence, a troubled mother-son relationship, and a particularly dispiriting day in the life of the prince (a fresh-faced Liam Mower). Scenes whizz by and new locations are conjured with wonderful, old-fashioned theatrical ingenuity (witness the parade of ribbon-cutting engagements, pictured above right, realised with only a handful of props and some clever choreography) while the humour and incident Bourne unpacks from the music are seemingly endless: there's a bijou, Trocks-worthy pastiche of a Romantic ballet that makes you wonder at other choreographers' lack of imagination in filling the same music with only one, storyless waltz.
The reason this Swan Lake stands the test of time – and is a great Swan Lake, not just great theatre – is to be found not in the capers of the first act but the deepening seriousness of its sequels. The moonlit riverbank of Act II walks the line between nature and fantasy, a magical place where an unhappy man confronts strangeness and finds in it a prospect of joy. The Act III party is a tour-de-force of seediness, suspicion and sex. And Act IV shows the inrushing cruelty of a world out of step with the prince's dreams (or perhaps those destructive dreams themselves) in the form of hissing, murderous swans.
You can quibble over details of this plot and I don't pretend it made entire sense to me (no more does the original) but it is delivered with more than enough energy to sweep you along on a splendid wave of theatrical joy. This feels like a production where everyone, from choreographer to design team to dancers, is bending over backwards to show the audience a good time.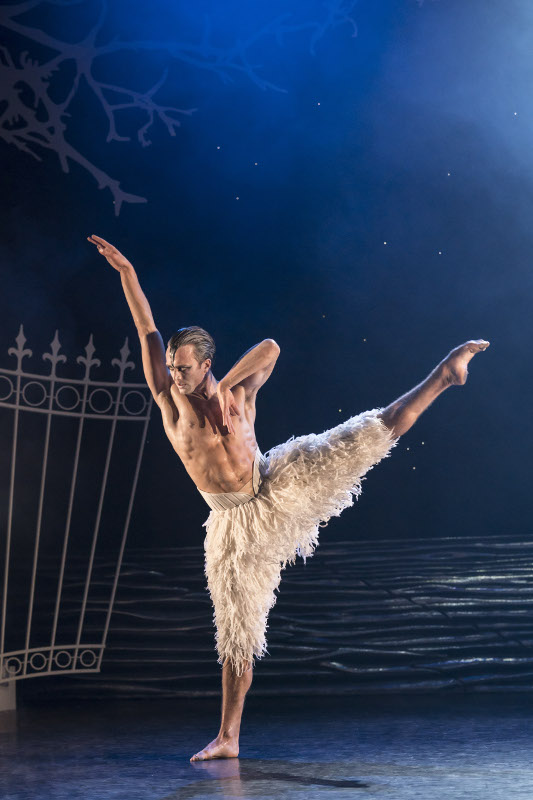 Special mention goes to Matthew Ball (pictured right), a Royal Ballet principal making his debut as the Swan/Stranger, who is lithe, sexy, tender and dangerous, particularly as Act III's Stranger (the Odile role) sowing discord among the party-goers with his simmering bad-boy sex appeal and leather trousers. Liam Mower's Prince (pictured above left) is a heart-rending lost boy, making the situation of this privileged prince a much more universal story of growing up and desperately wanting to stretch your wings beyond the iron confines of Mother and the nest.
One of this production's shining ornaments is its live orchestra and, praise heaven, Sadlers Wells had gone easy on its ubiquitous miking, so the woodwinds in particular, as well as leader Gina McCormack's fine White Swan and Black Swan solos, so crucial to the story, rang out with only their own analogue tones. It's a huge delight to hear the Tchaikovsky not only live but played briskly, much closer to concert speed than the langurous pace necessary to accommodate current ballet performance mores.
The original production, when transferred to Broadway, caused Mikhail Baryshnikov to say he had fallen in love with Swan Lake again. After 23 years and plenty of sold-out runs in London, this production has been many people's first introduction to the magic of Tchaikovsky's swans. But whether it's your first or your fiftieth Swan Lake, this one's a good 'un: unmissable.
A story that rings true, that unfolds with perfect pacing and panache, and that lives and breathes Tchaikovsky's music
rating
Share this article