Reissue CDs Weekly: Be-Bop Deluxe |

reviews, news & interviews
Reissue CDs Weekly: Be-Bop Deluxe
Reissue CDs Weekly: Be-Bop Deluxe
Box-set edition of 1976's 'Sunburst Finish' reveals Bill Nelson's art-rockers as unexpectedly match-fit for punk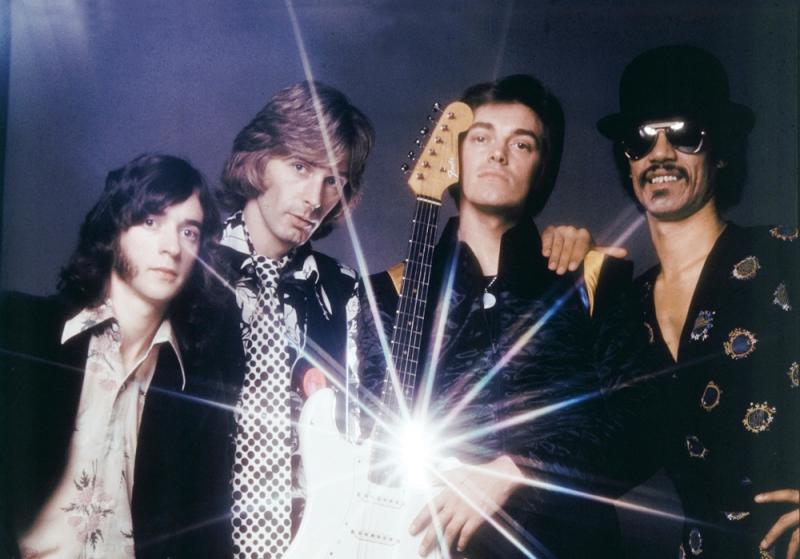 The 'Sunburst Finish'-era Be-Bop Deluxe: an album band, according to leader Bill Nelson (seen holding the guitar)
After Be-Bop Deluxe finished recording their third album at Abbey Road, their label said they needed something to promote as a single. EMI told band-leader Bill Nelson they wanted a song with commercial appeal. The result was the single "Ships in the Night", which duly charted during the last week of February 1976.
On the back of the hit single, the art-rock outfit's third album
Sunburst Finish
became their first to go Top 20. EMI got what it wanted.
In the book accompanying the new Deluxe Box Set Sunburst Finish, Nelson candidly says "I never really considered the band to be anything but an album band. I considered hit singles as belonging to the domain of ephemeral pop acts, rather than the currency of a serious rock band. I was, I guess, a bit dismissive of such things at the time. Nevertheless, I half-heartedly made an attempt to come up with something that might satisfy EMI's request." He admits to being unconvinced by "Ships in the Night" and being surprised by the hit. It's, he says, "perhaps [his] least favourite Be-Bop Deluxe song." Nonetheless, as Nelson recognises, it became his band's calling card with a wider audience.
EMI's concerns about Be-Bop Deluxe's commercial prospects course through the press release accompanying the album. Reproduced for the new reissue, it opens with the statement "If any one artist deserves to crash his way into the ranks of British rock heroes this year, then it is undeniably Bill Nelson." Over five pages, it tells Nelson's and the band's story, declaring they are "preparing for the final onslaught which will undoubtedly see them out on top at last." Implicitly, they been underachievers and if they did not end up "on top", the word "final" suggests EMI would have reconsidered their relationship with Be-Bop Deluxe.
Such toughness is endemic to paymasters wanting a return and neither EMI or Nelson knew that a band the label signed later in the year would change how "rock heroes" were defined. Doctors of Madness, the band supporting Be-Bop Deluxe on the Sunburst Finish tour, got a foretaste of this in May 1976 when the prime parameter shifters were billed with them in Middlesbrough. But when Sunburst Finish was issued in February, barely anyone realised that the Sex Pistols and punk rock would go on to define 1976.
Curiously, listening to Sunburst Finish now suggests that Be-Bop Deluxe were ready for the concise reconfiguration of rock that was to come. Nelson, as history shows, pushed through punk to split Be-Bop Deluxe in 1978, form the new wavey Red Noise, produce John Cooper Clarke and The Skids, and establish himself as a no-compromise solo artist along the Eno lines.
Though his former band's third album was a poppy take on prog-rock, the attack, energy and focus are compatible with some of the non-punk but marketed as almost-such bands which emerged during 1977: Advertising, say, and especially XTC – whose debut album White Music shares much of Be-Bop Deluxe's nerviness and twitchiness. Sunburst Finish was co-produced by Nelson with, in his first credit as such, John Leckie. The latter went on to work with XTC on, indeed, White Music and its follow-up.
Irrespective of the bolted-on "Ships in the Night", Sunburst Finish is a model of precision. Its opening cut "Fair Exchange" features some brief Queen-ish piano flourishes, fiddly guitar and time signature shifts, but is taken at such a clip it could easily have been reconfigured as a single by new wavers The Invaders or America's The Cars. Of course, much of the album is of its period. "Heavenly Homes", which follows "Fair Exchange", has a John Lennon-esque melody and could have been recorded at any point during the Seventies. The same applies to the dreamy "Crying to the Sky", with its Hendrix-nodding guitar flurries and solo. Overall, the album is surprisingly fresh and melodic.
Fans will know this already and the new slipcase-housed, four-disc box edition is firmly aimed at the converted. As well as the book, the case contains the four discs in a fold-out wallet and reproductions of period memorabilia: the illuminating EMI press release, the programme from the tour with Doctors of Madness (who would also work with Leckie), four band portrait photos and a poster. Disc One collects the album and the single version of "Ships in the Night". Disc Two is a new remix of Sunburst Finish, which sounds more spacious than the 1976 original. Some buyers might find such messing with the past unnecessary. Supplementary tracks on the disc are alternate and early versions of album cuts, and an untitled demo. Disc Three collects a cracking, crackling January 1976 BBC live concert and a February 1976 Peel session, while the final disc is a DVD with a new surround-sound mix of the album, the new remix, the promo video for "Ships in the Night" and an lively January 1976 Old Grey Whistle Test appearance.
A couple of hiccups niggle. The recording details for the six previously unreleased tracks on Disc Two are not given so it is not known how they relate to the album, and the essay following Nelson's needlessly repeats information which he has already recounted. And, depending on personal sensibilities, the gratuitous naked-woman album sleeve is as naff now as it was then. Manifestly though this is ne plus ultra take on Sunburst Finish, an album which has worn unexpectedly well.
Next Week: Unusual Sounds, a compilation purportedly telling "The Hidden History of Library Music"
'Sunburst Finish' was poppy take on prog-rock
Explore topics
Share this article