Emilia, Shakespeare's Globe review - polemic disguised as a play |

reviews, news & interviews
Emilia, Shakespeare's Globe review - polemic disguised as a play
Emilia, Shakespeare's Globe review - polemic disguised as a play
Great performances save this uneven tribute to a forgotten Elizabethan poet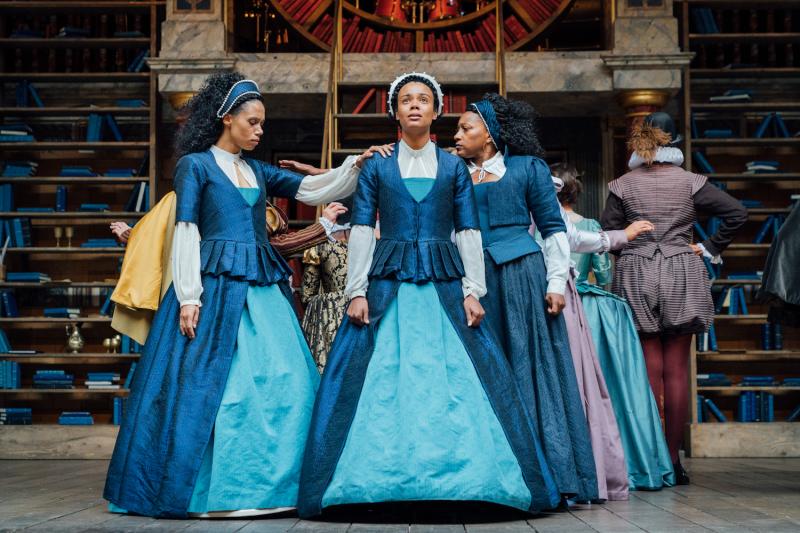 Fiery and sympathetic by turns: Vinette Robinson, Leah Harvey and Clare Perkins as Emilia Bassano
It feels like Michelle Terry's first summer season at the Globe has been building up to Emilia for a while now. The theme is Shakespeare and race, so Othello was something of a given. It's joined by The Winter's Tale, as if the Emilias of these two plays have been waiting for their chance to step into the spotlight.
This
new work
, written by Morgan Lloyd Malcolm and directed by Nicole Charles, has a lot of potential that it never quite realises.
Eponymous heroine Emilia Bassano, who appears at three stages in her long life (Leah Harvey, Vinette Robinson and Clare Perkins), was the first woman to publish a collection of poetry in English, in 1611. She's regarded as one of the first feminist writers in England, and was also possibly the "dark lady" of half of Shakespeare's sonnets and the inspiration for his characters who share her name. But as Deborah Frances-White asks in her programme piece, "Why do women always have to be defined by the most famous man they've slept with?" Emilia is an uneven attempt to restore agency to its heroine, and, by extension, to all the women that have been left out of history over the centuries.
"We are only as powerful as the stories we tell," proclaims the third iteration of Emilia in her opening monologue. This story is told beautifully, but it's simply not written well enough. The dialogue is clunky, clanking, the pacing all off, particularly in the first half. You can see a lot of the jokes coming a mile off, and the script's sorely in need of an edit, clocking in at a baggy two hours and 50 minutes. Lloyd Malcolm has written a polemic disguised as a play. The message - about the need to hear women's voices, and how racism and sexism combine to devastating effect - is a good one, and sorely needed. But it should be one of the elements of a good play, not the sole focus.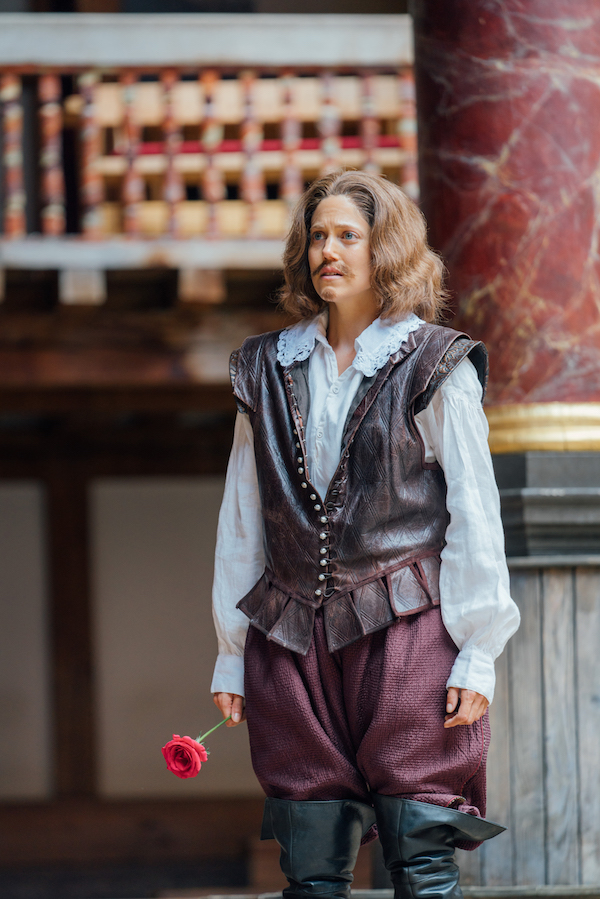 That said, the all-female cast do a fine job of making the words sing. Perkins is all fire and fury one minute and playful banter with the audience the next. Harvey has a lovely singing voice, put to good use by Bill Barclay's score, and she makes Emilia's bone-deep grief after a tragedy early in her marriage a palpable thing. Robinson's version of Emilia gets the most time with her better-known lover, William Shakespeare (making a rare personal appearance at the Globe). The play sparks into life in their scenes together: Charity Wakefield (pictured right) is excellent as Shakespeare, admirably treading the fine line between believable ignorance of Elizabethan sexism and caricature. Robinson, the most sympathetic of the Emilias, comes into her own as she matches the Bard sonnet for sonnet. Or not quite. Whereas he has a shelf from which to draw, she is left with only one, which she repeats to him as he flits effortlessly from well-known line to well-known line. This may be from a lack of extant material by the real Emilia, but it's still jarring in a play that's meant to be about women finding their voices. We're reminded that the "wooden O of words" which crowns the stage is Shakespeare's, ultimately.
The supporting cast are sharp, funny, doing a lot with the clunky dialogue and having fun with it. Shiloh Coke stands out as Emilia's tutee Lady Anne: bold, brash, and brimming with teenage irreverence, she grabs our attention with both hands and hangs onto it all the time she's onstage. Amanda Wilkin manages to bring a real poignancy to Emilia's foppish, foolish husband Alphonso, who serves as light relief for most of his stage time. Exactly how much evidence there is for his alleged homosexuality remains to be seen, and Lloyd Malcolm rather bashes us over the head with the similarities between Alphonso's position and his wife's ("We were born in the wrong time you know?"). Nevertheless, there's a charming kind of mutual respect and friendship between Alphonso and Emilia.
The performances can't wholly distract from the turgidity of the script, especially in the second half. But they do make Emilia what its author doesn't seem to have considered a priority: entertaining.
Emilia at Shakespeare's Globe until 1 September
The all-female cast do a fine job of making the clunky script sing
rating
Share this article