The Importance of Being Earnest, Vaudeville Theatre review - Sophie Thompson triumphantly tackles the handbag challenge |

reviews, news & interviews
The Importance of Being Earnest, Vaudeville Theatre review - Sophie Thompson triumphantly tackles the handbag challenge
The Importance of Being Earnest, Vaudeville Theatre review - Sophie Thompson triumphantly tackles the handbag challenge
Oscar Wilde's best-loved comedy with extra homo-erotic innuendo
Pippa Nixon as Gwendolen, silenced for the moment by Sophie Thompson's Lady Bracknell
Any actor playing Lady Bracknell must dread the moment when she (or, indeed, he) has to deliver that unforgettable line about a significant piece of hand luggage. Since Edith Evans's wavering, vibrato, multi-syllable version of "a handbag?", audiences have waited to see how it will be dealt with this time.
Sophie Thompson's solution is to pause knowingly then say the word quickly, almost dismissively, and regard her own modestly-sized reticule. It works a treat as part of a beautifully modulated exchange with Jacob Fortune-Lloyd's Jack about his suitability – or lack of it, in view of his mysterious parentage – as a suitor for her daughter Gwendolen.
One might be forgiven for wondering, nevertheless, if yet another production of this prodigiously clever comedy, so full of familiar aphorisms, were necessary. This is the third, in little over a decade, in this West End theatre alone. Any director tackling it would need to be sure that those familiar witticisms crackle as if new and perhaps even discover something that had previously been overlooked.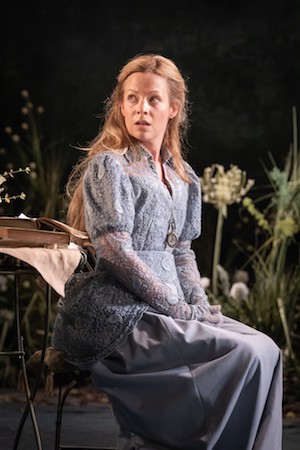 Michael Fentiman's sprightly, no-holds-barred direction relishes the topsy-turvyness of Wilde's satirical world, in which lack of moral purpose is desirable, in which smoking is declared to be a worthwhile occupation, and ignorance a delicate exotic fruit. To this he has added a further dimension, an explicit acknowledgement of Oscar Wilde's own turbulent dual identity. Algernon's fictitious elderly friend, Bunbury, forever needing attention in the country, and Jack's imaginary badly behaved younger brother Ernest both allow the young men a means of absenting themselves from tedious social obligations. Wilde too lived a double life, married but indulging his young lover, Lord Alfred Douglas, "Bosie". Algy's drawing-room is decorated with a homoerotic painting and his manservant Lane clearly fulfils a more than fatherly role. Algy's line, "In married life, three is company and two is none", suddenly takes on more than throwaway resonance. In the final scene, when the assembled company looks through the army lists to discover Jack's father's Christian name, Lady Bracknell is handed, by mistake, a copy of The Green Carnation, a scurrilous novel which featured male lovers known to be based on Wilde and Bosie.
But no new twists would matter much if the cast did not deliver the comedy. Here they certainly do, swirling around the stage, matching verbal dexterity with physical energy, albeit with an archness which sometimes borders on cartoonishness. Pippa Nixon's intense Gwendolen slides suggestively down the piano for Jack's benefit. Jacob Fortune-Lloyd and Algy (Fehinti Balogun, making an impressive West End debut: pictured below, left, with Jacob Fortune-Lloyd) make the most of their playful banter and Fiona Button's Cecily (pictured above right) is not so much innocent as untamed. She doesn't merely rip up Gwendolen's diary, she eats some of it. In fact, eating is a theme: there are times when food being stuffed into people's mouths threatens to upstage the wit that comes out of them. But in the middle of it all, Sophie Thompson's delicious Lady Bracknell, booming and swooping, manages to maintain a smidgin of delicacy while being sufficiently formidable to cause panic among the young couples and yet unconventional enough to help herself casually to the sherry at teatime. Madeleine Girling's sets provide a spacious environment for the goings-on, rather than an overdecorated Victorian backdrop.
Wilde's feverish brilliance in this play – there is scarcely an unquotable line – makes wicked fun of society's assumptions at just the moment when he was falling foul of them. Within weeks of the triumphant opening in 1895 he had sued Bosie's father, Lord Queensberry, for libel and begun the final, downward trajectory of his life, dying in Paris a few years later, ironically in the very city where the invented Ernest was intended to be "killed off".
This is the last play in Dominic Dromgoole's year-long Classic Spring season of Wilde. There have been other highlights – Eve Best in A Woman of No Importance, for instance, and the Foxes, Edward and Freddie, hilarious in An Ideal Husband – but there could be no other culmination than this, Oscar's last, glittering, febrile comedy.