Pity, Royal Court review - whacked-out and wearing |

reviews, news & interviews
Pity, Royal Court review - whacked-out and wearing
Pity, Royal Court review - whacked-out and wearing
Collegiate-style Armageddon takes over the Court mainstage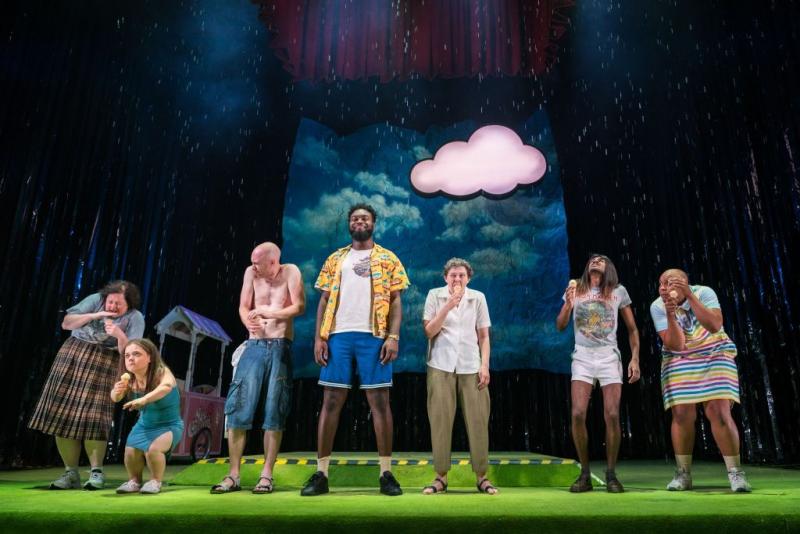 Apocalypse now: the cast of 'Pity' at the Royal Court
The apocalypse arrives as a series of collegiate sketches in the aptly-named Pity, the Rory Mullarkey play that may well prompt sympathy for audiences who unwittingly find themselves in attendance.
Less provocative by far than this
same writer's
comparably-themed 2014
Royal Court
debut,
Wolf from the Door
, this latest play hits some kind of stride in its final stretch. But the "anything goes" scattershot approach on view proves less illuminating than wearing, and much of what's on view plays like the sort of thing you'd concoct over one late-night drink too many only to reconsider your options by the sobering light of day.
Society, and the individuals unlucky enough to be ensnared within it, flame out in more or less every way imaginable throughout the 110 interrupted minutes of Pity, which sets a quick-aborning romance against a world that invites comparison with such unlikely equivalents as Titus Andronicus: bodily evisceration gets quite the look-in here, as well. Amidst the physical and psychic carnage, words nonetheless prevail. Mullarkey knows how to write compelling set pieces, and gives a Postwoman (Siobhán McSweeney) a Joycean narrative late-on that one can imagine becoming audition material catnip with time.
But the prevailingly whimsical, larky tone proves less a running ironic commentary on events than a dramatic strategy pushed to breaking point and beyond. Thank heavens, in context, for the shape-shifting caprice of Chloe Lamford's ever-inventive designs, and a busy sound design from Tony-winner Pete Malkin that does rather more than the writing to land the play somewhere in between the landscape of a comic book on the one hand and Armageddon on the other. (That said, this play is a model of cohesion compared, say, to the Hampstead's recent Genesis Inc.)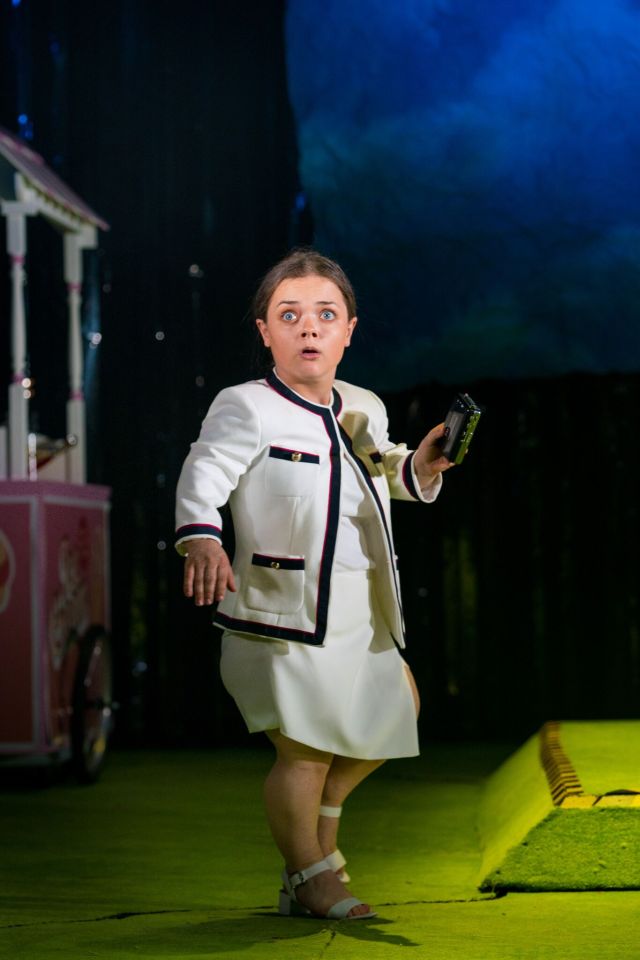 The setting is an ordinary English market town where the local brass band plays, of all musical theatre selections, "Hello, Dolly!", even as the town will itself soon be saying hello to snipers, toy tanks, a war between differently-coloured adversaries and a female Prime Minister who can't quite remember where exactly she is and then has a meltdown into her mic. (Helena Lymbery, pictured above, nails that role, alongside several others.) You enter the theatre from the rear to find a jolly display of drinks and ice cream, the (often-antic) good cheer a distraction from the disembowelment that lies in wait. (The ever-buoyant Francesca Mills, pictured above, looks primed to party the night away.)
If we're clearly going to hell in a mock-deadpan handbasket, Mullarkey does at least insist upon the power of words to erect some sort of defence. While romance blossoms between the doomed Daughter (Sophia Di Martino) and a person known simply as, well, Person (Abraham Popoola), the two are soon conjoined with Postwoman in a gathering cascade of language in which words pour forth with abandon ("balustrade" and "incipient" to name but two), until such time as the irreversible decimation lands Person on a tropical island, sipping cocktails and reading novels. Quite who is still left to mix those cocktails is a narrative nicety with which Pity isn't overly concerned. What price life, the play finally asks, if there is no one left with whom to live it, but one can at least assume that Broadway composer Jerry Herman makes his way onto Person's Desert Island Discs.
There's a Joycean narrative late-on that one can imagine becoming audition material catnip with time
rating
Share this article