Joan Baez, Royal Albert Hall review - diamonds, but no rust |

reviews, news & interviews
Joan Baez, Royal Albert Hall review - diamonds, but no rust
Joan Baez, Royal Albert Hall review - diamonds, but no rust
With grace and dignity, American folk legend heads into retirement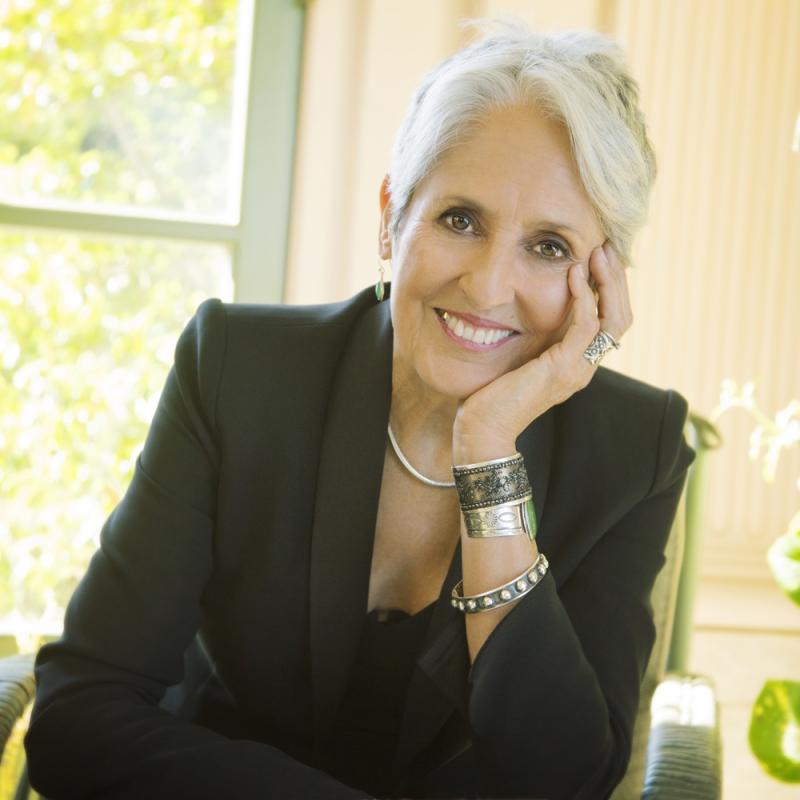 Legendary singer bows after 60 years
2018 has become a year of farewells as a mighty handful of musicians who have, in their different ways, defined popular music bow out. Among them is Joan Baez, a star on the Harvard Square coffeehouse scene when she made her unannounced debut at the 1959 Newport Folk Festival. She was 18 and, it's safe to say, never dreamed she'd be filling concert halls around the world 60 years later.
Her latest album, Whistle Down the Wind, which brings her extraordinary career full circle, has enjoyed glowing reviews and demand has outstripped supply. So too has the clamour for tickets for her Fare Thee Well tour, which closed its British leg this week with two sold-out concerts at the Royal Albert Hall. At the outset, Baez had explained that she did not rule out the possibility of occasional concerts in the years ahead but there would be no more extended tours. Since many venues sold out within hours, she already has UK dates in her diary for 2019.
This will delight the thousands of fans who packed the Albert Hall on Monday and Tuesday, and every other venue. I've seen Baez live scores of times and was thrilled to report on the Ring Them Bells sessions at New York's Bottom Line in 1995. I was just 11 when I got hooked by an album I found in my sister's LP collection and insisted my parents take me to see her at the wonderful old Rainbow Theatre a couple of years later. I've never stopped loving the voice, an instrument of rare beauty whose range and grain and colour are extraordinary, even now. The famous "achingly pure soprano" is gone, though it lasted well, and, after a tricky few years a decade or so ago when she had yet to come to terms with its loss, she is singing beautifully once again. The contralto is rich, the vibrato well controlled, and the huskiness adds depth and emotion. The phrasing and breath control – always Baez hallmarks – remain perfect.
Hearing her this week you feel she could sing on but at 77 she's earned her retirement and, as she says, the maintenance is now hard work. Better to go out on a high – which is not to say she won't be missed. And the closing of her two-stage UK tour (she was in Scotland and Ireland in March) was certainly a high, the second Albert Hall better than the first (when all the broadsheet critics were in).
The programmes were essentially the same, spanning the 60 years of her career – from "Silver Dagger", which appeared on her debut album, to "Silver Blade", which Josh Ritter wrote specially for her last. She was backed, as she has been for several tours now, by Dirk Powell, who plays guitar, banjo, mandolin, fiddle, piano and acoustic bass guitar, and Gabriel Harris, her son (pictured right), on a wide variety of percussion, including the cajon or box drum, and ankle bells. It's as unplugged as it's possible to be and the playing is subtle, never overwhelming the singing. Baez of course plays guitar, swapping between two custom-model Martins on which she finger picks nimbly, even adding a touch of lead on several numbers, including Zoe Mulford's exquisite "The President Sang Amazing Grace".
Playing for 100 minutes without an interval, Baez began solo, with two classics, "There But for Fortune" by the late Phil Ochs, "Farewell Angelina" by Bob Dylan, and (from her 2008 studio album) "God Is God", written for her by Steve Earle. The well-paced set included further solos at mid-point, including Dylan's "The Times They Are a-Changin'" (a relative rarity for Baez), dedicated to the Florida students leading the fight against the NRA. Grace Stumberg, a young singer-songwriter whom Baez has been mentoring for some years now, added subtle harmonies on a number of songs, including "Diamonds and Rust" (about her affair with Dylan – it's now "50 years ago I bought you some cufflinks") and traded verses on the Kris Kristofferson classic "Me and Bobby McGhee" plus The Band's "The Night They Drove Old Dixie Down". Stumberg's voice has an appealing bluesy quality and it will be fascinating to see how her solo career develops.
With so many songs to choose from, it's impossible for Baez to please everyone, though judging by the audience reaction she did a pretty good job. Old ("Darlin' Corey", learned from Pete Seeger, and "Seven Curses") and new were well-represented (Mary Chapin Carpenter's "The Things That We Are Made Of", Antony and the Johnson's "Another World" and the Tom Waits/Kathleen Brennan title track featured from her recent album). I'd have welcomed some of the excellent songs from albums she made in the late 1990s and early 2000s. (In Bristol she sang "No More Auction Block" and "Oh Freedom" in acknowledgment of the city's slave trade – a wonderful interlude.)
The concert ended as it had begun, Baez alone on the stage with her guitar for a final encore of "Swing Low, Sweet Chariot". When she stepped away from the microphone briefly, the power of her voice was evident still.
Throughout it all, the audience was as attentive as it's possible to be: concentrating fiercely, savouring the moment. There were people of all ages but a large percentage had grown up with her, Baez a constant presence in their lives. They remembered the raven-haired 19-year-old while cheering the silver-haired grandmother whose legacy of music and social justice will be remembered long after we've all boarded that sweet chariot.
The huskiness adds depth and emotion and the phrasing and breath control – always Baez hallmarks – remain perfect
rating
Explore topics
Share this article