Strictly Ballroom: The Musical, Piccadilly Theatre review - largely naff |

reviews, news & interviews
Strictly Ballroom: The Musical, Piccadilly Theatre review - largely naff
Strictly Ballroom: The Musical, Piccadilly Theatre review - largely naff
Stage version of the Baz Luhrmann film is a bloated cartoon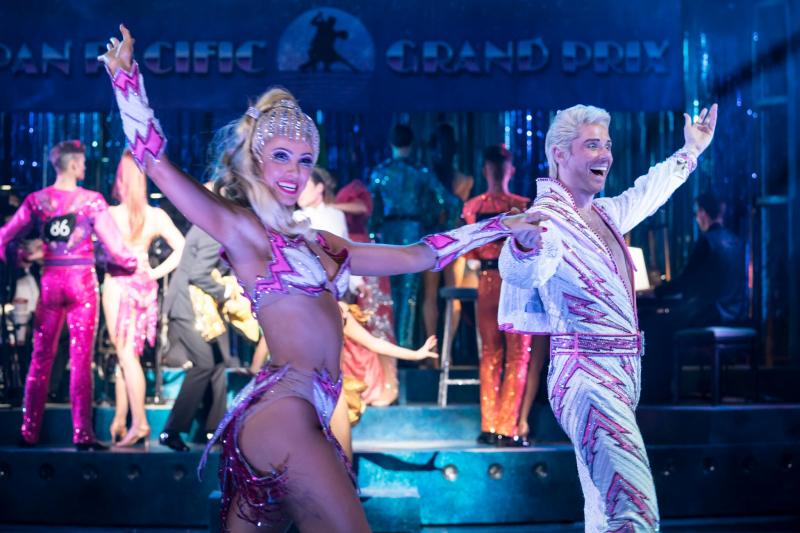 Perma-grins: 'Strictly Ballroom' takes to the stage
A much tinkered-with show needs to go back to the drawing board, if this latest iteration of Strictly Ballroom: The Musical is any gauge.
Having travelled across Sydney, Leeds, and Toronto on its extensively revised way to the
West End
, director-choreographer Drew McOnie's
musical
adaptation
of Baz Luhrmann's enjoyably whacked-out film emerges as an overextended and bloated cartoon.
Sure, the dancing grabs the attention now and again, as one might expect, and Zizi Strallen steps up to the plate as a genuinely charming female lead. But the forced grins on the cast's faces are likely to be met by a bemused audience wondering, and quite rightly, how so much talent resulted in such dross.
The issue, as is often the case with period pastiche, is one of tone. Are McOnie and book writers Luhrmann and Craig Pearc, attempting to expand upon their 1992 celluloid source (which itself began in fact as a play), or send it up, or merely perpetuate a brand? And what for heaven's sake are we to make of the omnipresent Will Young (pictured below), who hovers in and around proceedings like some sort of diluted version of the Emcee he has played several times over in Cabaret? (His character has been added to the show since its West Yorkshire tryout several Christmases ago.)
Dressed in body-hugging black and sporting a vaguely sinister tache, Young's Wally Stroud croons any number of songs to surprisingly little effect, as if even he weren't sure how much to interpolate himself into proceedings that could easily do without him. (His must be the most becalmed version ever of the thunderous Aretha Franklin standard, "Think"). To add to the bewilderment, McOnie for much of the evening perches several of his female dancers high atop Soutra Gilmour's industrial gantry of a set; barely visible to the audience, these ensemble members look down upon the action as if on loan from a production of Follies – which, in context, may not be a useful connection for this show to make.
The story itself is presented in sufficiently crude, caricatured fashion to make the comparably satiric Little Britain, say, look like Chekhov. In essence, Strictly Ballroom is Little Australia, but with heels and sequins. The maverick mover Scott Hastings (played by the elfin Jonny Labey) finds himself heading toward the Pan-Pacific championships in the club-footed company of the smitten Fran (Strallen, in her first starring role). Well, blow me down if the shy geek doesn't shed her spectacles and emerge a star, but not before conquering interference from several generations of family who are as overbearing as they are overacted: at least Fernando Mira, as Fran's explosive father, gets to execute a whiplash "Paso Doble" that, following soon after an ingeniously fluid and pleasing dance sequence to the song "Time After Time", lifts the latter half of the first act. (Labey and Strallen pictured below)
Elsewhere, there's a lot of strutting and squawking, much of it from seasoned performers who are capable of much better - Anna Francolini as Scott's fast-talking termagant of a mum, for one. She, it seems, has a spousal reckoning of her own to make with husband-nerd, Doug (Stephen Matthews), and the two are handed a flashback sequence that merely pads an already overlong evening. The villain of the piece is Australian Federation head Barry Fife (Gerard Horan), who no sooner is referenced as "presidential" before a joke is made of his Trump-style coiffeur. Am I alone, by the way, in thinking that many of the female chorus exude the leggy if opaque allure of the current First Lady? Strallen in context shines all the more brightly, even if her character makeover in narrative terms is strictly by-the-book.
Intriguingly, the two begetters of this show both have other ventures circling Broadway. McOnie has been given the many-handled keys to the similarly vexed stage version of King Kong, while Luhrmann's 2001 fiilm Moulin Rouge launches an out-of-town tryout in Boston in June. Meanwhile, I wouldn't hold out undue hope for the prospects of Strictly Ballroom, at least as it looks now. Fran isn't alone in patiently awaiting a transformation.
Strictly Ballroom: The Musical at the Piccadilly Theatre until 20 October