Trust Me, BBC One review - Jodie Whittaker's tense medical check-up |

reviews, news & interviews
Trust Me, BBC One review - Jodie Whittaker's tense medical check-up
Trust Me, BBC One review - Jodie Whittaker's tense medical check-up
Dan Sefton's hospital drama imagines a nurse pretending to be a doctor
Wednesday, 09 August 2017
Doctor who? Jodie Whittaker plays a medic with something to hide in 'Trust Me', with Emun Elliot as the real thing
Even the canniest scheduler at BBC One couldn't have arranged things so propitiously. Jodie Whittaker was already filming the medical drama Trust Me when she was cast as you know Who.
Trolls unhappy at a female i/c the Tardis will have their quips ready: spot the difference between a woman who passes herself as a doctor and a woman who passes herself off as a Doctor.
Trust Me, among other things, is a timely shop window for Whittaker's abilities. The plot requires her to play her own private game of doctors and nurses. At the start she's Cath Hardacre, a ballsy ward sister who makes the schoolgirl error of taking her concerns about the way the hospital is run to her bosses. Does the Sheffield hospital trust not like that. An all-female committee of two humourless pen-pushers promptly suspends her as a troublemaker. "Fuck the NHS," says her chum, an A&E doctor raising a valedictory glass before disappearing to a new life Down Under. Cath, a single mother who gives hand-outs to her daughter's father, deftly decides to fish her friend's discarded ID out of the bin and pass herself off as Dr Ally Sutton. The hospital in Edinburgh she applies to can't believe their luck to get someone so overqualified.
Could they but spot it, "Dr Sutton" is soon supplying them with plenty of evidence that she's not who she claims to be. She rectifies a dislocated ankle without first using a local anaesthetic. A child dies on her watch. She accidentally uses her real signature. This was only the first episode but already the palpable fear of discovery grips like a vice. How long till she's rumbled by her colleague (and new boyfriend) and shopped to her boss (pictured below, Emun Elliott and Sharon Small)? And just how badly will her last-minute decision not to blow the whistle in Sheffield be come back to haunt her? Playing a woman who's making it up as she goes along, Whittaker veers between scared, tough, tender, audacious, and in every guise you can't take your eyes off her.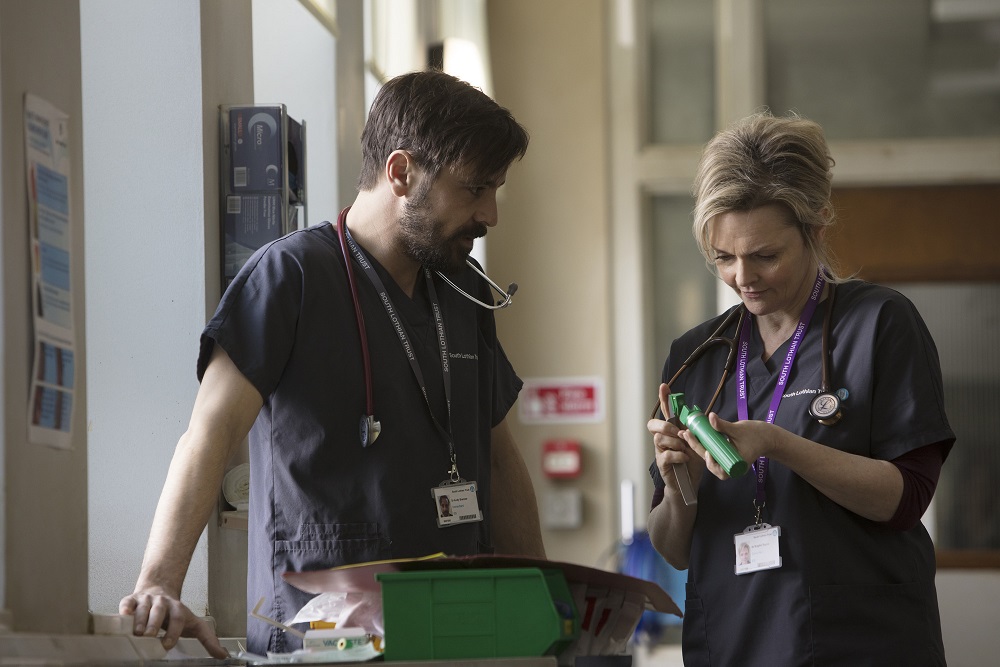 Trust Me is basically Faking It does ER. It is written by Dan Sefton, who has a taste for testing women in novelty scenarios. Last year's Cornish confection Delicious on Sky One starred Dawn French and Emilia Fox as rivals forced into an odd alliance when the restaurateur they were both married to dropped dead. Sefton sent a young British Indian doctor back to the old country in The Good Karma Hospital on ITV. A bit like Jed Mercurio, who has created no fewer than three medical dramas, Sefton is a qualified doctor. So he knows his way around the wards (and has several scripts of Holby City on his CV to prove it).
How much of Trust Me must we take on trust? The script argues that actual medics who've just qualified are barely plausible themselves. "What do you want me to do?" asks one panicking newbie wielding a syringe cackhandedly. "Go call a doctor," says Sister Hardacre. That happens every day. Although not covered in the BBC's factual series Hospital, impostors pass themselves off as the real thing all too often in the NHS and elsewhere. At a guess most culprits are fantasists with delusions of capability. A real Nurse Hardacre would surely be far too grounded to risk prison. It's the strength of the script, and Whittaker's performance, that you do rather root for Cath to get away with it.