Blu-ray: Terror in a Texas Town |

reviews, news & interviews
Blu-ray: Terror in a Texas Town
Blu-ray: Terror in a Texas Town
Hollywood blacklist Western with contemporary resonance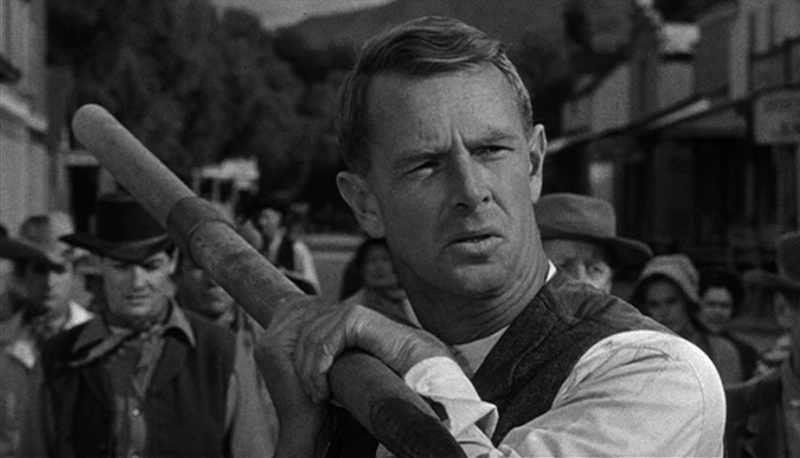 Sterling Hayden as Hansen the saviour
Many of the best Westerns, that quintessentially American genre, are rooted in a Christian view of the world: the dark forces of Satan pitted against angels, saints and the figure of Christ the Redeemer.
In
Terror in a Texas Town
, Joseph H Lewis's last movie, made in
1956
, the conflict between good and evil is laced with strong anti-capitalist undertones, perhaps not surprisingly given that the script was written by the blacklisted screenwriter Dalton Trumbo, with whom Lewis had made his most famous film,
Gun Crazy
, in 1950. In a small Texas town, a wealthy and ruthless entrepreneur, McNeil, seeks to cow the local population of pioneers to give up their land as oil has been found on their ranches.
Brave resistance is embodied in the avenging figure of George Hansen (played with impassive steel by Sterling Hayden), who confronts the sadistic yet melancholy gunman (Nedrick Young) hired by McNeil to eliminate those who would oppose him. The latter is a classic figure of violence, transplanted straight out of the film noir tradition, as well as left-wing mythology: black-gloved and black-shirted, he's a fascist bully-boy who mistreats his girlfriend and takes a perverse pleasure in watching Hansen being humiliated, or in killing his harmless victims.
The excellent cast assembles mostly blacklisted Hollywood actors, who all bring a tangible passion to this clarion call for the courage needed to fight the forces of greed. Perhaps most of all, Hayden in the role of the saviour Hansen is someone who confronts, in a memorable finale, the dark angel of death and pierces his chest with nothing more than a harpoon.
The socialist ideals of those hounded by McCarthy, Richard Nixon and other "true" Americans, were deemed "un-American", and yet many of the country's founders believed, as often radical Christians, in social and economic opportunity. This powerful Western brings together many of the myths and strands of American cultural history. Without preaching or making overt political references, Terror in a Texas Town was a film that broke the codes of Hollywood in the 1950s, and returns in this beautiful-looking Blu-ray edition as a story that resonates clearly with the conflicts of our times.