Pina Bausch's Rite of Spring, English National Ballet, Sadler's Wells |

reviews, news & interviews
Pina Bausch's Rite of Spring, English National Ballet, Sadler's Wells
Pina Bausch's Rite of Spring, English National Ballet, Sadler's Wells
Dancers wow in iconic Stravinsky piece, but Forsythe and van Manen need more work
Dancers of English National Ballet in Pina Bausch's 'Rite of Spring'.
Is English National Ballet's current predilection for acquiring European repertoire some kind of anti-Brexit statement, or just smart brand positioning?
Last night's performance at
Sadler's Wells
, a sequel in all but name to the programme called
Modern Masters
they performed two years ago, put William Forsythe's
In the Middle, Somewhat Elevated
(famously created for the Paris Opéra Ballet) alongside eminent Dutch choreographer Hans van Manen's
Adagio Hammerklavier
and - coup of coups -
Pina Bausch
's
Rite of Spring
, still performed almost exclusively by her own company, Tanztheater Wuppertal. The previous modern masters bill had paired Forsythe with Czech choreographer Jiří Kylián and John Neumeier of the Hamburg Ballet.
This is a sensible furrow for Tamara Rojo to plough when presenting 20th-century choreography in the English ballet market: the two Royal companies (London and Birmingham) have the Ashton/MacMillan British heritage repertoire more or less stitched up between them, and American greats like Balanchine and Robbins are – for both practical and stylistic reasons – probably still out of the company's reach in its current form. But by offering this European repertoire, Rojo opens herself up to the risk that her company might not perform it as well as their iconic originators on the Continent did (a particular danger in the case of Forsythe and Bausch), and to the potential hostility of London audiences, who have not always taken well to European choreographers like van Manen and Kylián.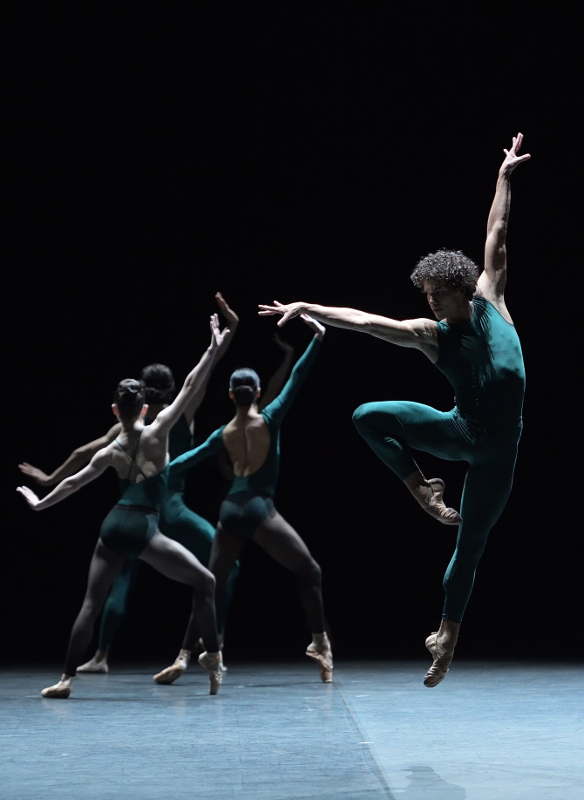 Last night's performance showed that both these issues are live ones, though ameliorated – as usual with ENB – by the charm and enthusiasm of the dancers. Forsythe's In the Middle is a fiendish piece, and Rojo didn't take the easy route by choosing to cast six out of the nine dancers in role debuts. The result was a performance lacking in both attack, and in that air of effortless superiority that characterised the original cast of Paris Opéra "wunderkinder". James Streeter in particular, much though I have admired his solid work in other contexts over the years, seemed an odd choice for the central male role: he is a perennial nice guy type and Forsythian sharpness appeared to be just out of his reach. If Rojo was aiming to show that home-grown dancers could do Forsythe as well as the flash principals who fronted last time (Alina Cojocaru and Alejandro Virelles), she failed: Streeter and Lauretta Summerscales made a valiant effort, but most of the fizz and excitement came from the other side of the Atlantic: from Canadians Cesar Corrales and Crystal Costa, Mexican Isaac Hernández (pictured above right) and Americans Tiffany Hedman and Precious Adams, with long-limbed Adams in particular doing a nice line in nonchalant attitude. Adams also stood out in Rite of Spring for her lithe power and commitment to the steps: she is a corps member clearly ready to start moving up the ranks.


Hans van Manen is an acquired taste for British critics, apparently. I have not acquired it. Adagio Hammerklavier is supposed to be an elegant, restrained, subtle investigation of the all but invisible moments of silent communication established couples enjoy – represented by six dancers and set to the slow movement of Beethoven's piano sonata no. 29. It reads to me, however, as both melodramatic and emotionless, a combination that might sounds paradoxical until you recall that you have observed stiff-necked, dead-eyed people go through the motions of lovers' tiffs and reconciliations clad in frankly ill-advised quantities of white chiffon and diamanté before – in the pages of OK! magazine. I am sure the six dancers did their best (pictured above life: Fernanda Oliveira and James Forbat). I am sure pianist Olga Khozianinova did her best too, though thanks to the theatre's infuriating miking, I was somewhat surprised to realise at the curtain call that the piece had been played live.

No such infuriation for Rite of Spring, thank goodness, which was played as it should be by the English National Ballet Philharmonic under Gavin Sutherland's baton. Bausch's 1975 piece is one of the all-time great Rites, made so by its supremely confident matching of movement to music: one can't help feeling that Bausch captured the essence of the now-lost Nijinsky original, which so challenged Diaghilev's dancers with its stomping and shuffling choreography. From the opening peaceful scenes of women moving as drowsily as the bassoon playing in the pit to the violent haka-like sequences that accompany the iconic bass drum and the terrifying chest-beating of the Chosen One as the brass crescendo in the final sacrificial dance, it's a mesmeric, utterly convincing merger of dance and sound. If the English National Ballet dancers looked occasionally a touch too balletic, and generally rather less dangerous than Bausch's own company, that detracted only slightly from the power of the performance; and their absolute commitment to what they were doing was not in doubt. Tiny Francesca Velicu was heartrending as the Chosen One, and visibly overcome by the intensity of her own performance.

It is an enormous privilege for the company to have Bausch's Rite in their repertoire, and an equally enormous pleasure for English audiences to be able to see it (one they expressed vocally last night at the curtain call). I feel similarly about Forsythe's In the Middle, whose revival I applaud, though I look forward to seeing the company's account of it get stronger. Adagio Hammerklavier felt like mere sandwich paste between these two greats; if it makes no reappearance, I will not mourn it.
English National Ballet perform Rite of Spring, In the Middle, Somewhat Elevated, and Adagio Hammerklavier at Sadler's Wells until 1 April.
a mesmeric, utterly convincing merger of dance and sound
rating
Explore topics
Share this article