Top Trumps, Theatre 503 |

reviews, news & interviews
Top Trumps, Theatre 503
Top Trumps, Theatre 503
America's new president gives rise to galvanic, sometimes scary theatre
Saturday, 21 January 2017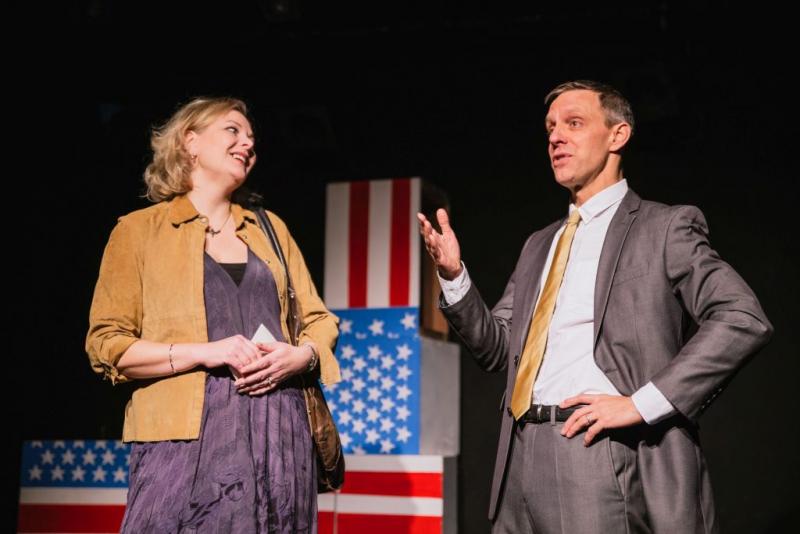 T****ed: Sara Stewart and Trevor White in Neil LaBute two-hander
There's an irony to be found in the fact that America's 45th president is already abolishing any and all things to do with the arts even as his ascendancy looks set to provide catnip to artists to a degree not seen since the heyday of Margaret Thatcher.
By way of proof, consider the smart, savvy theatrical pop-up that is
Top
Trumps
, in which a dozen
playwrights
provide a kaleidoscopic range of responses to recent events that offers empathy and reason for alarm in equal measure.
Battersea's 63-seat Theatre 503 is to be commended on a four-performance-only venture that surely deserves a broader airing, even as one wonders how many other dramatists might be brought to the table, as well. (I bet the likes of Tony Kushner and Christopher Shinn have something to add to the topic.) For now, it's worth clawing your way into one of today's final two shows, not least to savour the pre-interval playlet, Two Years On, which may just rank among its name writer Neil LaBute's very best plays to date.
The landscape inhabits the public realm alongside the domestic
Satire with a perfectly honed sting, the play casts Sara Stewart and Trevor White as a pair of Trumpistas exulting two years from now while standing in a bank queue to deposit the stock market dividend payments that Trump's presidency has allowed; they interrupt reflections on their good fortune to wonder in passing whatever happened to people of colour, who tend not to be seen much anymore. Other plays take other approaches, perhaps most rendingly in Lorna French's Baby Girl, in which an African-American daughter (Yvette Boakye) attempts to come to grips with her father's new job, emblematic though it is of making a pact with the devil.
The portmanteau line-up mixes verbatim responses – Chris Adams's A Stronger Arm, drawn from the American writer's own conversations with his Trump-supporting, security-obsessed mum – with wild flights of fancy. I loved the sheer daring of the games-playing that fuels What Am I?, the Lily Bevan play that brings together a quartet of Americans united most prominently in their unbridled loathing of Hillary. But there's nothing remotely funny about Roy Williams's Hardcore, which displaces black-on-black racism to the netherworld of the London tube. (Trieve Blackwood-Cambridge from that play, pictured below)
Not each play is by the dramatist one might have expected. Had I not checked the programme, I'd have assumed that the overlapping verbal mosaic of the final play, Positive Things, was by Caryl Churchill, not the New York-based Helen Banner. Churchill's entry, in turn, is the comparatively straightforward, if characteristically acute, Beautiful Eyes, in which an anxious mum (Michele Austin, who has about her a Viola Davis-like gravitas) frets aloud about the politics of her son's chosen partner: the play has the best punchline of the night.
The landscape inhabits the public realm – we see Nigel Farage (White again) and Theresa May (Pandora Colin) making for uneasy airplane seatmates – alongside the domestic, issues like fake news (an App is shown converting critical sentences into suitably Orwellian Trumpese) coexisting with an attempt to get behind the mindset that made this event possible in the first place: "We've become so wussified," Austin's Hillary-hater remarks in What Am I?
Thinking about the play following an inauguration in which Trump wasted no time pouncing on the "enemies" that make his rhetoric possible, I can't say I was anything less than terrified by the totality of Top Trumps, in which mention of his more rabid followers throwing pig's blood at people's houses sounds not all that unlikely. On the other hand, the event goes beyond a ready-made echo chamber to position us all somewhere on a spectrum that does at least posit art as an antidote or corrective, in this instance to life. The difference is that after two hours the plays are over, whereas Trump's tenure has only just begun.
The difference is that after two hours the plays are over, whereas Trump's tenure has only just begun
rating
Share this article