Captain America: Civil War |

reviews, news & interviews
Captain America: Civil War
Captain America: Civil War
Rousing romp from the Marvel universe is funny, sad, satirical and spectacular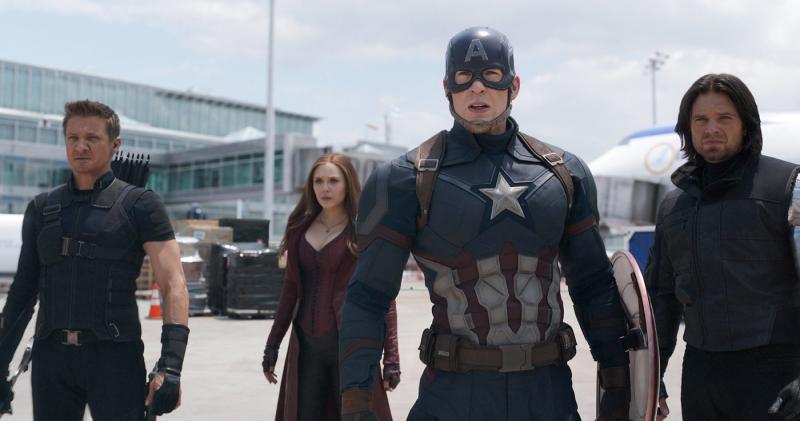 Chris Evans as Captain America, with Hawkeye (Jeremy Renner), Scarlet Witch (Elizabeth Olsen) and Winter Soldier (Sebastian Stan)
This rousing instalment from the Marvel universe shares self-evident similarities with Batman vs Superman, the latest effort from their DC rivals. In both films we see superheroes at loggerheads, and in each case it's because they find themselves in a changing world where it's no longer acceptable for super-beings to roam around the planet leaving massive swathes of collateral damage in their wake.
But what this latest Captain America has, which the DC flick sorely lacks, is – despite episodes of incredible violence and emotional anguish – exuberance, exhilaration, humour and even joy. It's 150 minutes long, but leaves you thirsting for more.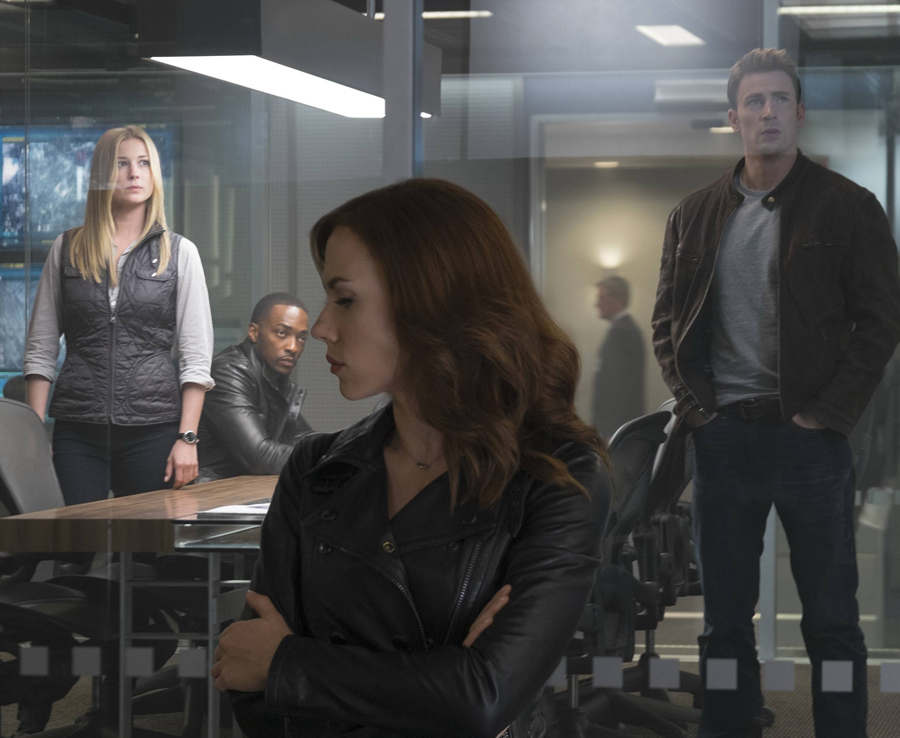 Like the previous Captain America outing, The Winter Soldier, this was directed by Anthony and Joe Russo, and they've done a superb job of marshalling a horde of Avengers characters while keeping a coherent grip on the narrative. The fuse for the action is lit in a thunderous sequence where the Captain (Chris Evans) and his team are trying to prevent heavily-armed terrorists from stealing a germ warfare agent from a laboratory in Lagos, Nigeria. A huge explosion rips the building apart, and instead of virtuous defenders of humanity, the Avengers are suddenly cast as reckless instigators of massed civilian casualties (above, Scarlett Johansson as Black Widow with Emily VanCamp, Anthony Mackie and Chris Evans).
The full weight of governmental officialdom descends upon them in the august personage of Secretary of State General Thaddeus Ross (William Hurt). He tells them it's the end of the line for old the romp-and-stomp, shake-and-bake Avengers. Their operations must be brought under UN oversight, via an authentically bureaucratic-sounding international agreement called the Sokovia Accord (after an earlier catrastrophic incident in Sokovia – see Avengers: Age of Ultron for further details). Captain America flatly refuses to countenance the Avengers having their hands tied in this way, but a chastened Tony "Iron Man" Stark (Robert Downey Jr.) agrees that their wings must be clipped for their own good.
Thus the lines are drawn and the Avengers split into two camps, but against this broad backdrop there are numerous subplots and personal stories being played out. Chief among them is Captain America's relationship with Bucky Barnes (Sebastian Stan), his childhood buddy and former World War Two comrade, yet now the brainwashed Winter Soldier reponsible for countless assassinations and heinous black ops. But there are signs that traces of the real Bucky still remain (just as long as nobody triggers his killer programming by reciting the Manchurian Candidate-style code words), and since he's the Captain's last tenuous link with the 1940s world he used to know, he's desperate not to give up on him (below, Iron Man tends to a crashed War Machine).
It all comes to a head in a climax of fist-clenching tension, where Tony Stark's tortured memories of his dead parents run slap into the Captain's impossible dream that you can wash away the bad and just keep the parts you like. There's a sudden surge of poignancy, too, when the Captain is forced to reassess his past with Peggy Carter. Behind the scenes, the Avengers' internecine struggle is stoked by the mysterious Zemo (Daniel Brühl), another legacy of the Sokovia affair. His cause is convincing because it's rooted in plausible human emotions, rather than cliched cackling megalomania.
Even if none of this other stuff was going on, it would be worth turning up just for the climactic clash between the opposed Avengers squads at an airfield in Germany. It's a riot of special-effects choreography and deft character interplay, the Russos somehow managing to give every Avenger sparks of individual identity among the outlandish combat manoeuvres. Much mirth is extracted from the addition of a very young Spiderman (Tom Holland). Having initially protested that he had too much school homework to join Iron Man's team, when he finds himself hand-to-hand with the likes of Hawkeye (Jeremy Renner) or Falcon (Anthony Mackie), he subsides into fan-boy exclamations of how cool it all is. There's also a surprise star turn from Ant-Man (Paul Rudd), who does an outsized party piece ("Okay, tiny dude is huge now," reports Don Cheadle's War Machine).
Funny, sad, satirical, spectacular... this is that rare blockbuster that proves that more can be more.