The Caretaker, Old Vic |

reviews, news & interviews
The Caretaker, Old Vic
The Caretaker, Old Vic
Timothy Spall leads an empathetic but overly broad Pinter revival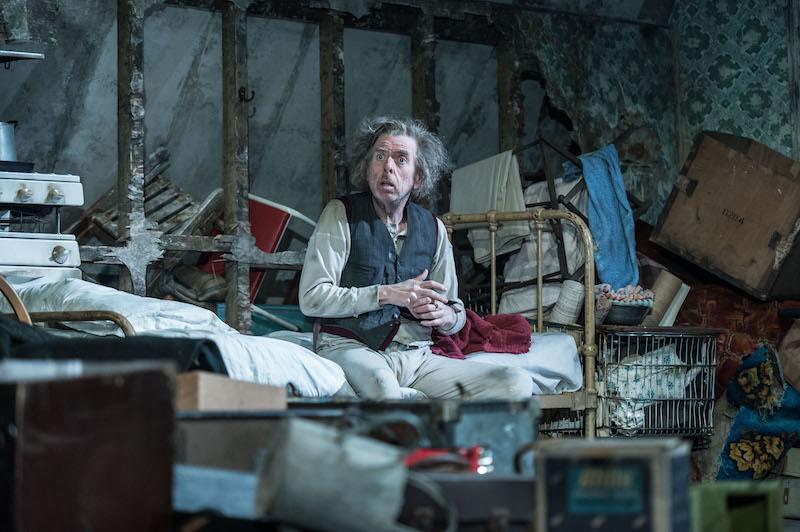 Down and out: Timothy Spall as invasive tramp Davies
It's raining. Well, of course – it's April in London. But it's also pouring down on the Old Vic stage, hammering an already battered slate roof. When it lifts to reveal the semi-derelict attic, site of Harold Pinter's groundbreaking 1960 play, the rain stays in your mind: an outside world that can be merciless towards the weak. And in Matthew Warchus's revival, the trapped trio are very much victims – of one another, of society, and of their own failings.
This is Pinter writ large and with great empathy, if not subtlety. Rob Howell's beautifully detailed junkyard is a dilapidated period treasure trove, from the precarious stack of newspapers to the rusting gas stove, dismembered furniture, mouldering boxes and peeling wallpaper. It's the perfect backdrop for the larger-than-life turn from Timothy Spall, who makes a welcome return to the stage. (Spall pictured below with George MacKay)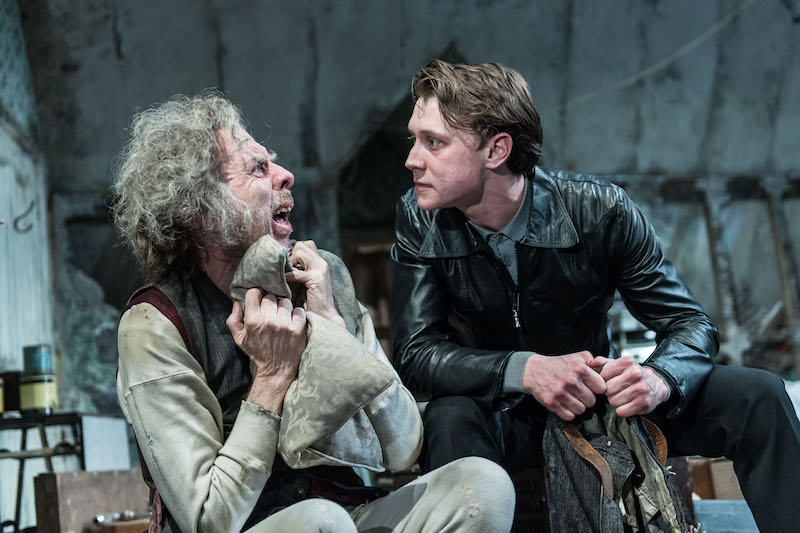 Davies, his invasive, perennially ungrateful tramp, is somewhere between Dickensian grotesque, fastidious dandy and vaudevillian clown, with a shock of grey hair, eloquent physicality – the florid hand gestures are a marvel – and richly musical speech. He plays to an audience, whether he has one or not, and makes a comic meal out of every line, grunt and gesture: modelling a smoking jacket, "helping" by lifting a blanket half an inch, rejecting a patterned shirt with a contemptuous cry of "Check?"
It's a performance that could easily dominate, but Daniel Mays and George MacKay, as the damaged man who offers shelter and his aggressive brother respectively, are a match for Spall's theatrics. MacKay's Mick, in all-black attire and slicked-back hair, is a feline ninja, watching from the shadows and suddenly springing into attack. He takes his speeches at a gallop, peppering his victim with bewildering patter, in sharp contrast to the halting delivery of Mays's hunched, broken Aston (pictured below).
Yet all three yearn for connection, even as they alienate those around them. Warchus emphasises their neediness, and the tragedy of grand plans unfulfilled: Davies's faith in the magic of faraway Sidcup, Aston's dream of a shed, Mick's hopes for redecorating and money-making. None are able to offer comfort or even listen to one another. In a mesmeric sequence, Aston reveals his horrifying experience of forced ECT in a mental hospital, but – emphasised by the light falling everywhere but Aston – he remains trapped in isolation. Davies can only use such information as a means of attack, flipping from fake ingratiation to bitter aggression and thus bringing about his own ruin.
But Warchus shies away from the lurking darkness of Pinter's play. Even when they're locked in a three-way power struggle, he foregrounds the fact that these men are, variously, destitute, socially excluded, demonised, forgotten – a resonant reading of economic divide. But MacKay's high-speed delivery, if bravura enough to draw applause, takes some of the bite out of his bullying and suggests an underlying insecurity, while Spall makes Davies's needling, wheedling and racism pitiful character flaws in an often charming rogue. Though somewhat bloated at three hours (with two intervals), it's a busy production, lacking loaded silences and ominous ambiguity. A thoroughly engaging version of this Irving Wardle-dubbed "comedy of menace", but skewed too much towards the former.
Warchus foregrounds the fact that these men are, variously, destitute, socially excluded, demonised, forgotten
rating
Explore topics
Share this article