London Film Festival 2015 |

reviews, news & interviews
London Film Festival 2015
London Film Festival 2015
theartsdesk casts ahead to an LFF programme bursting with possibilities
Friday, 25 September 2015
Agyness Deyn in Terence Davies's competition film, 'Sunset Song'
It's that time of year again, with autumn casting a shroud over London and the LFF offering the perfect tonic. The only problem is that with 238 fiction and documentary features over 10 days, even diehard cinephiles with no desire for human contact or fresh air would be hard pressed to sift and select. The festival programmers attempt their customary guidance, with films tucked (sometimes too neatly) into themes such as Love, Thrill, Debate and Dare.
For our part,
theartsdesk
's film writers offer some very personal tips – films we've seen and would highly recommend, others that we ourselves are eager to see. And once the LFF gets underway, we'll be reporting on some of those new discoveries.
The London Film Festival runs 7-18 October
Jasper Rees
Son of Saul (Official Competition)

From Hungary, Son of Saul by debut director László Nemes visits the familiar inferno of Auschwitz but from an unfamiliar angle: it's the story of a sonderkommando, selected to do the Nazis' dirty work for them in the gas ovens, who attempts a good deed. We already know this has merit: it won the Grand Prix at Cannes.
Bang Gang (First Feature Competition)
The complexity of portraying sex on screen is only one of the intriguing elements of Bang Gang. Eva Husson's film visits a group of students who set up their own orgy club, a private utopia in which nuts, bolts and screws soon come loose. French, naturally.
Hollywood has just dramatised tragedy at high altitude in Everest. Wealthy westerners may come and go but their omnipresent – and increasingly disgruntled - guides are the subject of Jennifer Peedom's documentary Sherpa. In the grimmest manner imaginable, she got lucky, arriving on the mountain just as another tragedy unfolded.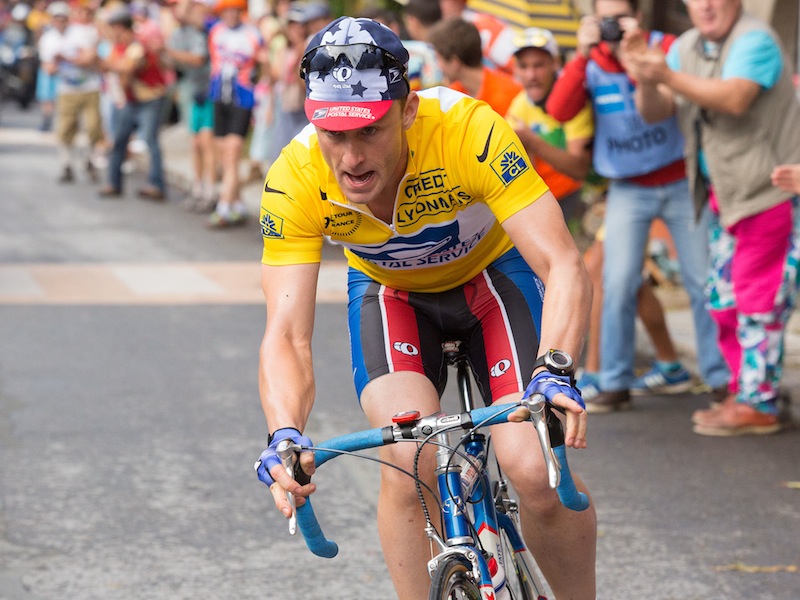 The Program (Debate)
Stephen Frears's highly anticipated film about Sunday Times journalist David Walsh's lonely pursuit of cyclist and drug cheat Lance Armstrong (Ben Foster, pictured right) will make a welcome antidote to The Armstrong Lie, the documentary in which Alex Gibney extracted only a mealy-mouthed mea culpa.
It's a regular bleat that there aren't enough roles for older actresses not called Meryl Streep. There certainly aren't enough for foul-mouthed septuagenarians. Here's one for Lily Tomlin as a gobby old lesbian drop-out raising money for her pregnant granddaughter. You know what to expect from director Paul Weitz (American Pie, Little Fockers) but Tomlin brings along her own special brand of gimlet-eyed humanity.
Graham Fuller
The Forbidden Room (Strand Gala)
Winnipeg auteur Guy Maddin (aided by co-director Evan Johnson) brings his passion for decayed, lost, and imaginary silents and early talkies to a crescendo in an experimental digital delirium named after a vanished 1914 Lon Chaney drama. The multiple hyperbolic narratives, which Maddin frantically nests and un-nests, involve a lesson on taking a bath, an endangered submarine, a forester from a Germanic fairytale, the femme fatale he seeks, an interlude in a jungle nightclub, and vampire bananas – but that's not the half of it. Blink and you'Il miss Charlotte Rampling: immersion is the name of the game.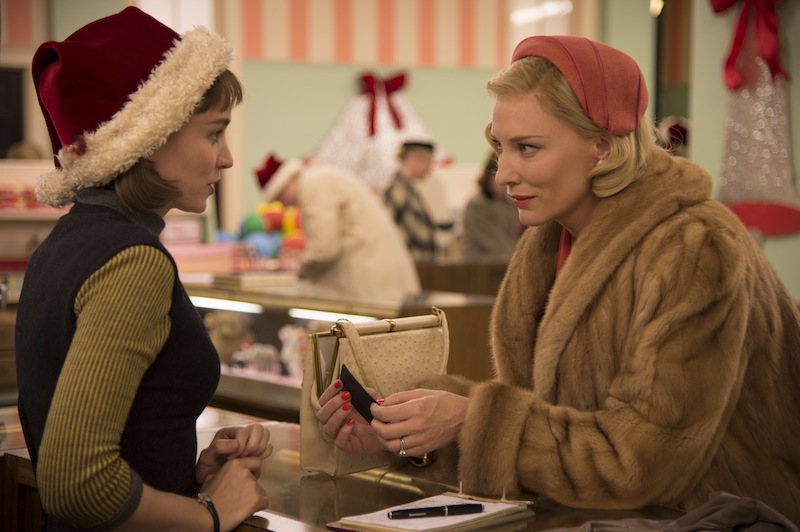 Carol (American Express Gala)
Future crime novelist Patricia Highsmith was working behind a Bloomingdale's counter in 1948 when she was struck by a "magnificent" vision of a fur-coated blonde shopper. It inspired Highsmith's pseudonymously published 1952 best-seller The Price of Salt, which describes the then-illegal affair of aspiring young photographer Therese and 32-ish Carol, a closeted lesbian who's divorcing her rich husband and fears losing custody of their daughter. Todd Haynes's timely romantic thriller, starring Rooney Mara and Cate Blanchett (pictured above), both tipped for Oscar nominations, will draw comparisons with his 2002 taboo-breaker Far From Heaven.
Tom Birchenough
Terence Davies had his eye set on Sunset Song for well over a decade, and his adaptation of Lewis Grassic Gibbon's 1932 classic novel of pre-World World One rural Scotland has been billed as an "intimate epic". Let's hope that the troubled family atmosphere of the book resounds with the director's best (earliest) work. Agyness Deyn plays heroine Chris Guthrie as she grows to maturity, while Peter Mullan looks like he'll be in his element as her dominant father, whose religion casts a difficult shadow over the already harsh environment, in which the tribulations of war test Davies's characters no less than the rigours of life on the land.
Francofonia (Documentary competition)
War and its disruptions are at the centre of Alexander Sokurov's Francofonia, which is centred on the life of the Louvre following the Nazi occupation of Paris, in particular the relationship between the man in charge of the museum and the German sent to oversee (possibly plunder?) France's art collections. But that's just the foreground for a work that's said to breathe with the spirit of the Louvre and its historical ghosts. Sokurov's 2002 Russian Ark, about St Petersburg's Hermitage, was a groundbreaker in many ways, not least for the audiences it attracted as well as, indirectly, launching a line of films about the world's great museums. Francofonia is bound to be distinctive – it's in the documentary competition, though certainly looks like it stretches that form. It's long been time to stop calling Sokurov a maverick; he just does things differently.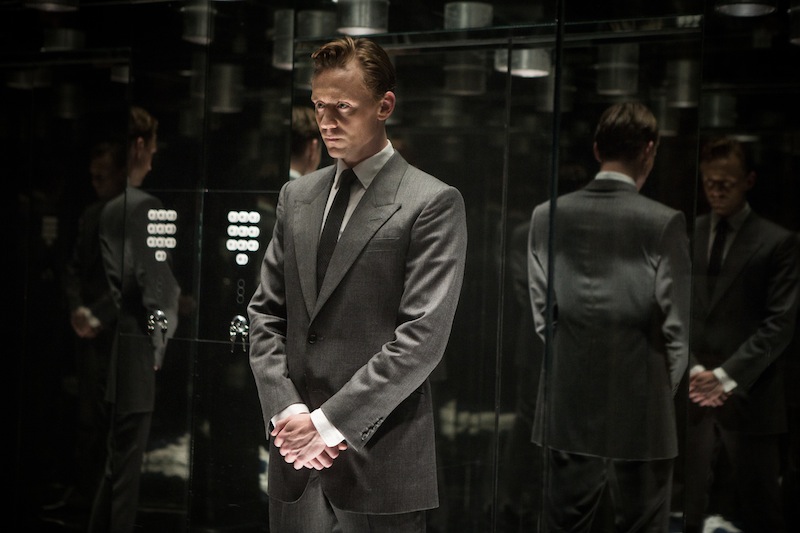 Nick Hasted
British cinema's most heartfelt extremist, Ben Wheatley (Kill List, A Field In England) tackles British literature's equivalent, JG Ballard, in this doubtless full-on adaptation of Ballard's 1975 novel about social breakdown in a block of flats. Jeremy Irons sounds just right as Royal, the block's epicene, top-floor-dwelling architect. With Tom Hiddlestone (pictured right).
Tilda Swinton's second film as muse to director Luca Guadadigno, following the operatically sensual I Am Love, finds her perfectly cast as a Bowiesque rock star lounging with Matthias Schoenaerts on a volcanic Sicilian isle. Unexpected guests Ralph Fiennes and Dakota Johnson help super-heat the emotions.
French master Jacques Audiard (A Prophet, Rust and Bone) brings his jolting visceral power to bear on the complexities of immigration, as an ex-Tamil Tiger settles down in Paris with a bureaucratically expedient, fake family. There will, though, be blood.
A Monster with a Thousand Heads (Dare)
Uruguayan director Rodrigo Plá's LFF debut The Zone was a sweaty thriller about gated communities. The source of cold-hearted iniquity this time is a corrupt medical insurance company, causing a cancer-ridden man's wife to seek vengeance.
One of the LFF's treats is seeing neglected work back on the big screen. Be sure to catch Carol Reed and Graham Greene's very funny follow-up to The Third Man, filmed in Cuba just after the revolution, with Alec Guinness as the innocent inventing reports to Secret Service boss Nöel Coward, with startling results.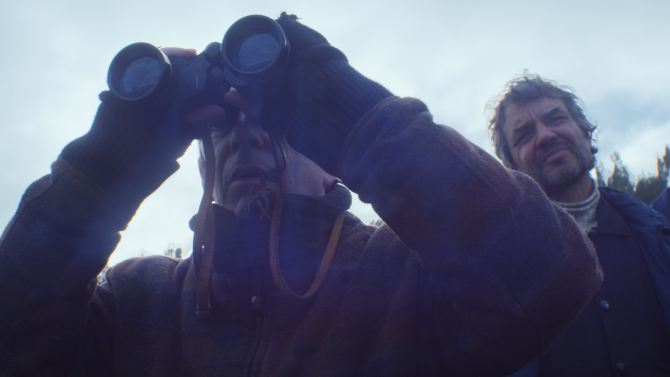 Demetrios Matheou
With the last of his Pinochet trilogy, the upbeat No, Chilean Pablo Larrain may have lulled us into forgetting the predominantly dark side to his filmmaking sensibility. The Club brings us back down to earth, brilliantly, and with perhaps the most disturbing display of evil on display at this year's festival. A group of disgraced priests are "retired" by the church to a house in a Chilean coastal town, where they are too busy racing dogs to repent, when their undeserved holiday home is disturbed by a trio of unwelcome visitors.
A return to form for Atom Egoyan, this stars Christopher Plummer as an elderly German Jew living in the US, who on the death of his wife sets out to find, and kill the Nazi who murdered his family in Auschwitz. And so the old man goes on the road, with little more than his nemesis's alias to go on, and dementia dogging his every step. A film about memory, guilt, redemption and revenge, with the horror of genocide casting its shadow over everything, and a coup de grâce that will take the breath away.
Last year's festival featured writer/director Alex Ross Perry's Listen Up Phillip, a terrifically bitter tale of egocentric writers whose rampant egos damage all around them. In that film, women were collateral damage; here, they're front and centre and causing the mayhem themselves. Elizabeth Moss and Katherine Waterston are the two friends brought together by adversity, who sink further into a Bergmanesque mire of madness and shifting power.