You Won't Succeed On Broadway If You Don't Have Any Jews, St James Theatre |

reviews, news & interviews
You Won't Succeed On Broadway If You Don't Have Any Jews, St James Theatre
You Won't Succeed On Broadway If You Don't Have Any Jews, St James Theatre
Jumbled revue is salvaged by its bright young things
Life is a cabaret: the cast put their best foot forward
Well, here's an oddity. You Won't Succeed... is too fragmented for musical theatre, too bombastic for cabaret, and about as profound as a first-draft Wikipedia page. Channelling the self-referential levity of the Monty Python show from which it takes its name would certainly help, but it's mainly played straight. And what insight into the indelible Jewish contribution to musical theatre does two and a half hours' investment get you?
Those guys…they wrote some great songs. Oy vey.
The weakest aspect is the low-rent video clips – with basic animation and soporific voiceover – guiding this surface-level chronological history of Jewish composers on Broadway, from Gershwin and Berlin to Schwartz and Larson. Why not let the live performers narrate? There's curious compartmentalisation for a show celebrating the advent of the triple threat: singers sing, dancers dance, and acting mainly falls by the wayside.
It fatally detracts from this energetic showcase for emerging talent. Creators/directors Michaela Stern and Daniel Donskoy express pride in their diverse team, but have purposely distanced the show from any political statement. Strictly entertainment, then, and with such a weak framework, it must stand or fall on individual numbers.
Yanked out of narrative context, too many songs rest on dead-eyed Glee gloss rather than emotional engagement. Bucking the trend are quick-witted Natalie Lipin's light, bright "The Lady is a Tramp" and a winningly folksy "Over the Rainbow" from Sophie Evans (pictured above, runner-up in Lloyd Webber's televised Dorothy search) – though its stripped-back charm is trampled by a cheesy pas de deux.
Evans also teams up with poised soprano Mira Ormala for "I Could Have Danced All Night", slyly reimagined as a competitive duet, but, perhaps fearing no earthly woman could compete with Imelda Staunton, "Everything's Coming Up Roses" is cross-cast. It gifts committed Danny Lane a memorable new line reading of "Mama is gonna see to it". The transitions between numbers produce some unintentionally hilarious moments, such as an overly bubbly "Big Spender" shifting into earnest "A House Is Not a Home". If you ever need to clear a brothel, sing Bacharach.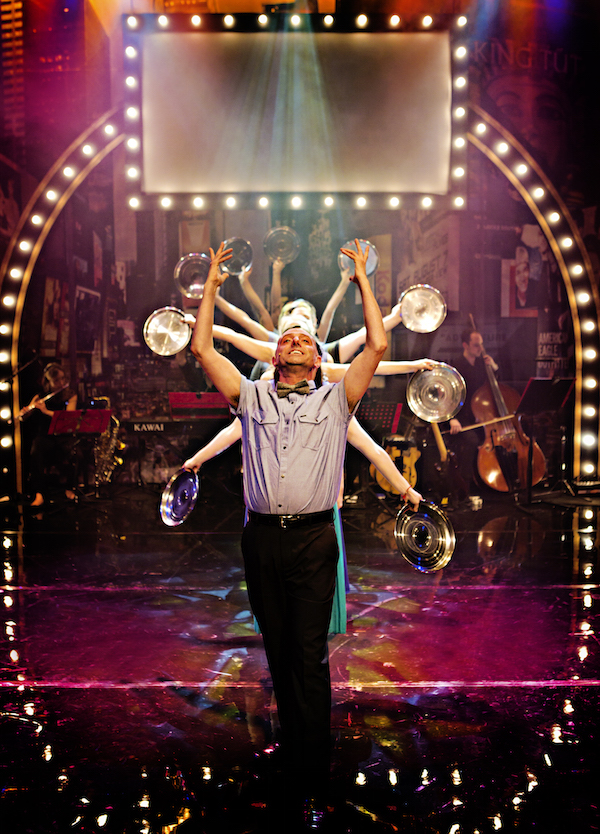 Once it embraces the camp, the show kicks into high gear, with a leg-warmer-bedecked "Fame", manically neurotic "Four Jews in a Room", and full-throttle Rent medley. Spamalot alumna Sarah Earnshaw impresses with her belter "One Night Only" and precise comic rendition of Sondheim's high-speed patter in "Getting Married Today". But you can't discount the veterans. Original Les Mis cast member Jackie Marks gives a stirring "I Dreamed a Dream", while nimble John Barr (pictured left) breaks out his best 'Allo 'Allo! French for Disney's ode to Broadway, "Be Our Guest".
There's more enthusiasm than exactitude in the delivery of Chris Whittaker's thuddingly literal pastiche choreography, and technical kinks like over-miking to compete with the onstage band. Feeble shortchanging of Jewish creative history, but a promising evening for future British musical stars.