The Importance of Being Earnest, Vaudeville Theatre |

reviews, news & interviews
The Importance of Being Earnest, Vaudeville Theatre
The Importance of Being Earnest, Vaudeville Theatre
This affectionate production of a classic does what it says on the tin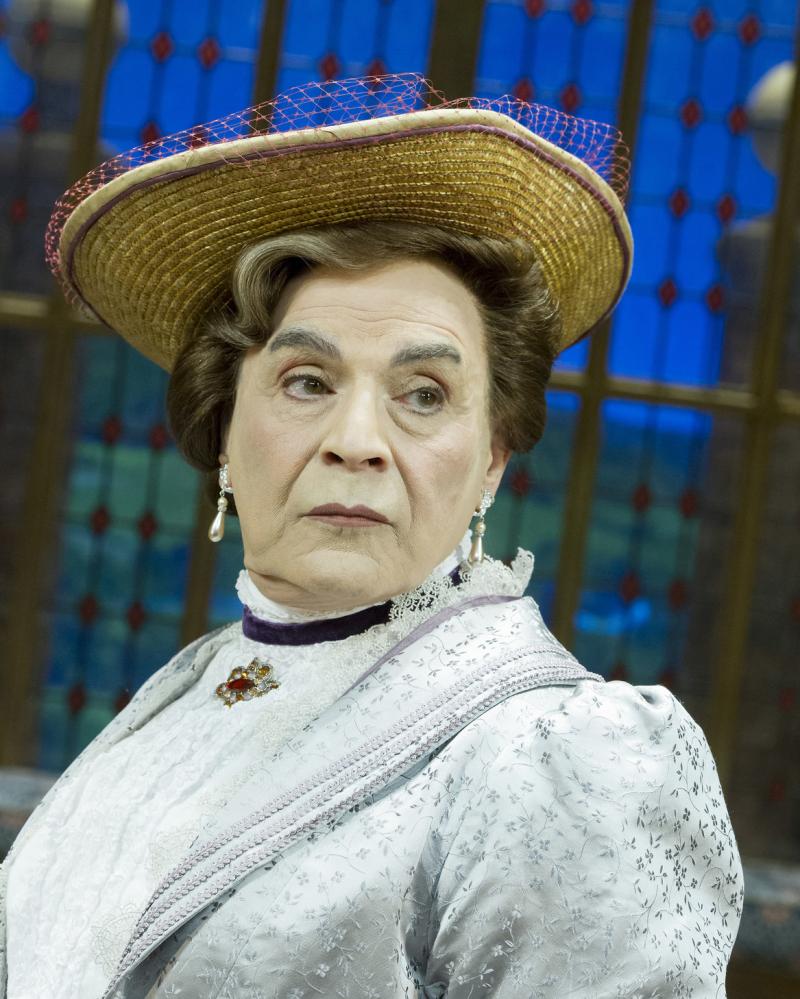 Imperious matriarch: David Suchet takes a turn in Lady Bracknell's hats and heels
Geoffrey Rush has done it, Gyles Brandreth has done it, Stephen Fry came close to doing it, and now David Suchet is giving it a go – donning drag and a perpetually disgusted expression to play everyone's favourite drawing-room gorgon, Lady Bracknell.
Having completed its tour around England, Adrian Noble's affectionate production of
The Importance of Being Earnest
now sets up home in London's Vaudeville Theatre, cucumber sandwiches at the ready, hoping to charm summer audiences with an English classic that'll tick boxes for any tourists not quick enough to get tickets for Wimbledon.
There's a strong sense of playing to a home crowd here – no surprises, no embellishments, just good, clean comedy delivered with the merest of nods to a contemporary audiences. Allied to some delicate cuts (despite two intervals you're still out by 10pm), the results are pleasantly pacy, gaining impetus as the evening progresses.
The unexpected heroes of the night, however, are Michele Dotrice and Richard O'Callaghan as ageing lovers Miss Prism and Dr Chasuble
Peter McKintosh's sets are lavish affairs, long on cornicing and wood panelling (with a nice sideline in rose-covered arbours), and well worth the extra interval. Sturdy traditionalism frames performances which take Globe-style liberties with tone, while sticking to the spirit of Wilde's arch conservatism, generating a pleasant dramatic friction that never intensifies much beyond a gentle tickle.
As Lady Bracknell, Suchet sports a stupendous bosom and a series of showstopping hats, all of which help distract from the inevitable sensation that we're watching Hercule Poirot in drag. It's to Suchet's credit that the play remains very much the ensemble piece; his matriarch – though never knowingly under-done – balances imperiousness with a gleeful twinkle, hinting at a past more scandalous than we might imagine.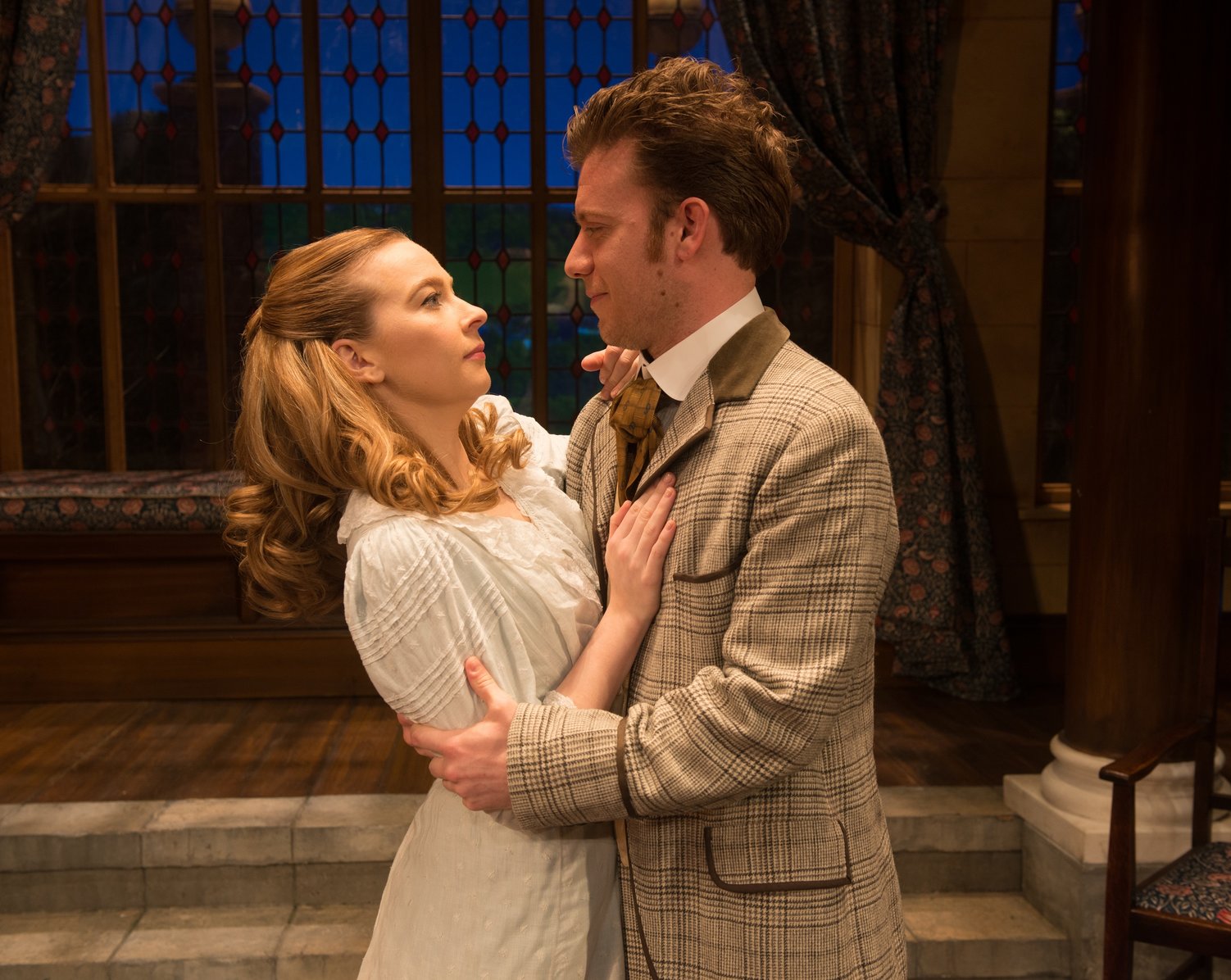 There are an odd variety of accents on display here – everything from smoothly patrician RP (Imogen Doel's Cecily, pictured right with Philip Cumbus as Algernon) to an altogether more workaday approximation from Gwendolyn (Emily Barber). With both Barber and Suchet erring towards the less formal, was there perhaps a suggestion that, under the haughty entitlement and affectations, this was a family rather more arriviste than they acknowledge? Lady Bracknell's inadvertent confession of her lack of fortune before marriage is mined for rather unexpected effect here, and rarely has a Gwendolyn been more deliciously, excessively vulgar than Barber's.
The chemistry between Philip Cumbus's Algernon and Michael Benz's Jack is the engine that drives this production, coming into its own in a deliciously anarchic muffin-eating spat. Benz plays Jack more nice-but-dim than usual, allowing Cumbus the space to make much of Algie's epigrammatic pronouncements and elegant cynicism – a clear leader in the partnership.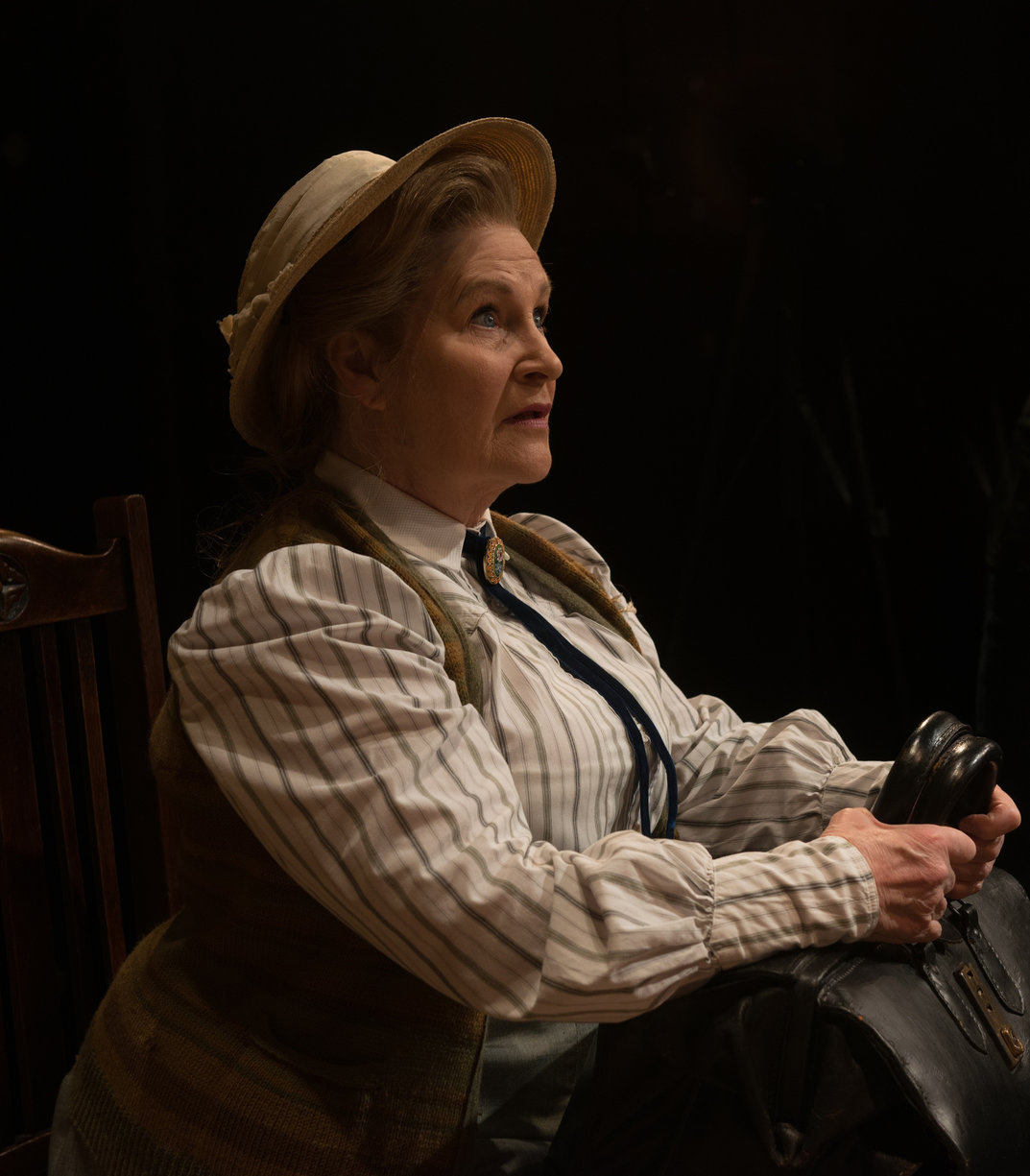 Doel's Cecily is a breathily excited Victorian teenybopper, ready to get the vapors/weep/become engaged at a moment's notice, and only ever a miniskirt away from a Taylor Swift fan-convention. The unexpected heroes of the night, however, are Michele Dotrice (pictured left) and Richard O'Callaghan as ageing lovers Miss Prism and Dr Chasuble. Quivering with girlish passion, Dotrice balances comedy with a startling pathos in her "female of repellent aspect", sustaining a touching flirtation with O'Callaghan's rumpled and rather life-soiled vicar.
This is an Earnest that knows its audience and plays unashamedly to that crowd. It won't be to everyone's taste, but if there is a faint odour of mothballs about the production then it is none the worse for that. Anyone fleeing genocide, rape, political parables and excessive nudity down the road at Covent Garden will find happy refuge here.