Weyes Blood, The Old Blue Last |

reviews, news & interviews
Weyes Blood, The Old Blue Last
Weyes Blood, The Old Blue Last
Sublime blend of acoustic folk and Goth-flavoured electronica comes to Shoreditch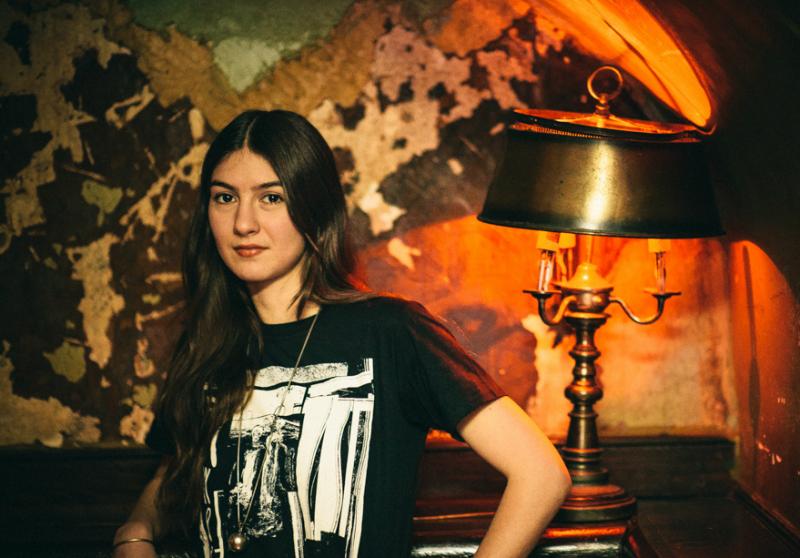 Natalie Mering, aka Weyes Blood
Pennsylvanian singer-songwriter Natalie Mering, aka Weyes Blood, performed her intoxicating brew of Gothic folk-tronica in Shoreditch last night, as part of a short UK tour playing the songs of her second album, The Innocents. Allusive, multi-layered (both in terms of tracks and themes), generically ambiguous and wryly humorous, she wasn't perhaps an obvious choice for a lagered-up Saturday night crowd wanting boogie beats.
Though her songs are almost impossible to dance to, she held the rapt attention of the room.
Her voice is rich and deep, almost a baritone, though it never loses an intense sensuality. In the US she plays live with a backing band (see below), but funds have dictated this be a solo tour with laptop. She samples her voice and accompanies herself, giving a rather beautiful, haunting choral effect. Last night this was done quite subtly via loop pedal, though on the album there are passages of elaborate polyphonic effect. For a small event like last night's the simpler version works well, drawing attention to the fine timbre of her voice.
Her stage name apparently draws on the febrile religiosity of Flannery O'Connor's 1952 novel Wise Blood, and in songs like "Bad Magic" and "Requiem for Forgiveness" there's a strong sense of supernatural awareness. It's not expressed very explicitly, and acts as a musical flavour more than a theme. Her outfit, a full-length turquoise lycra catsuit under a pristine short white dress, emphasised the otherworldliness of her act (that, or she'll be making her debut at Wimbledon later this year), rather than its folksiness. When performing, she's refreshingly self-contained, without the look-at-me antics of many singers, her eyes closed, as if contemplating a higher reality.
Mering is now 26, and The Innocents was released last October to widespread praise, but she's some way from being a household name. She's hard for publicists to pigeonhole, and has ploughed a determinedly independent furrow, dropping out of college to write and perform, and spending much of the rest of the time on alternative, find-yourself projects like herbology and maple syrup production.
Largely a recital of The Innocents, she waited until nearly done for a big surprise, a startlingly original version of Fred Neil's "Everbody's Talkin'". In the wrong hands a bland, jangling, feelgood piece, by bringing down both tempo and pitch to a droning baritone she drew out the darker implications of lines such as "I can't see the faces/ Only the shadows of their eyes" brilliantly. Fred Neil had a similarly publicity-shy profile to Mering's, spending much of his life on dolphin conservation; there's a very rich vein of covers to tap from similar artists who need familiar veneers stripping off.
She may be able to tap syrup from a maple tree, but she can't, to her evident bemusement, yet get much of a reaction from a British audience. (Someone really needs to explain this to visiting American musicians – their disappointment at our sullenness is always painful to observe.) She's an unusually original talent, however, with an act that takes in pop themes of romance, the folkie's sense of place and relationship to the environment, and a vaguely Gothic interest in religion and the supernatural, all in a style that's evenly dependent on acoustic skill and electronic effects. Anyone interested in thrilling new musical sounds needs to tell her to leave those maple trees alone and get writing.
Anyone interested thrilling new musical sounds needs to tell her to leave those maple trees alone and get writing
rating
Explore topics
Share this article