DVD: Wallander – Collected Films |

reviews, news & interviews
DVD: Wallander – Collected Films
DVD: Wallander – Collected Films
Sweden's troubled detective bows out with a dazzling performance from Krister Henriksson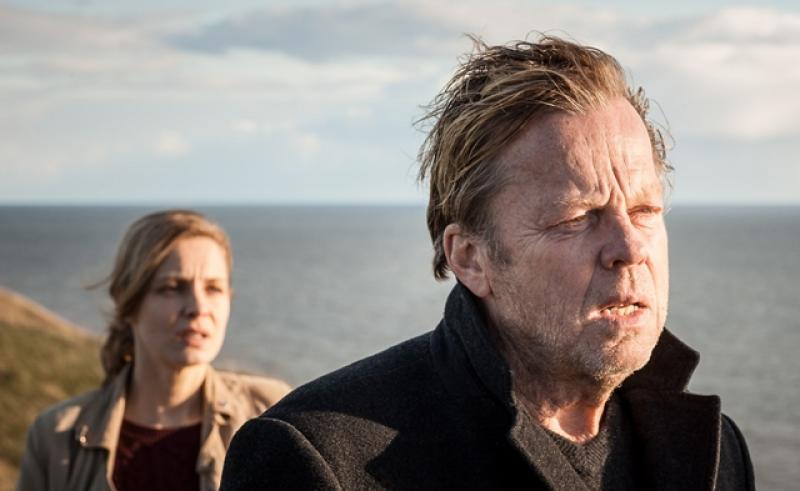 Kurt Wallander (Krister Henriksson) attempts to face down his future while daugther Linda (Charlotta Jonsson) looks on
Last Saturday saw the broadcast of the final Wallander on British TV. The new six-episode series has hit DVD within days of the programme being off air. As the distracted, always-troubled detective, Krister Henriksson had asked that for his return to the role after a four-year gap in this third series, it should end with no possibility of a comeback – after series 2, he'd said he wouldn't play Wallander again yet he did. This time, the series ended with a full stop.
There is no chance Wallander will be coming back.
The conclusion came with Kurt Wallander developing Alzheimer's. The final two episodes, The Arsonist and The Sad Bird were achingly sad, with Henriksson's portrayal of a man losing his identity and attempting to cling to the day-to-day a performance that will never be forgotten. Nonetheless, although the gradual slip into illness was woven seamlessly into each episode, Wallander remains a policier.
A massive suspension of disbelief is demanded as the programme is set in and filmed in Ystad, a town with a population of under 20,000. The new series took in international espionage and betrayal of state secrets, people exploitation for prostitution and corruption in the business world. Could any small town really have such a variety of, and such high-flying, crime? A couple of the episodes were weak in terms of the crime aspects: The Betrayal had stock moneyed types and caricatured young outsiders, all of whom were cardboard; the international intrigue and state corruption of The Troubled Man, although the only episode based on one of Wallander-creator Henning Mankell's books and rooted in historic episodes of Soviet submarines infiltrating Swedish waters, bordered on the preposterous in how it tied the story to Wallander and his family.
But none of this mattered. Wallander's job backdropped what was unfolding for him. For anyone who has not seen the series, watch it in order. The only extra is a new interview with Henriksson which, although interesting, is not focused on this series. Even so, as Henriksson delves into the character, it should not be taken in until after the final, harrowing episode.
Krister Henriksson's portrayal of Kurt Wallander will never be forgotten
rating
Explore topics
Share this article